<![if !vml]>

<![endif]>
<![if !vml]>

<![endif]>
<![if !vml]>

<![endif]>
Not quite a century…
<![if !vml]>

<![endif]>
A large number of Martins Bank's sub-Branches come from amalgamations with other banks, and the very existence of a particular branch is sometimes down to expansion plans from the nineteenth century or earlier.  Most of the banks we have today in the UK come from similar backgrounds, with hundreds of smaller Banks amalgamating, or taking each other over, and a national network of outlets is the result. 
<![if !vml]>

<![endif]>
<![if !vml]>

<![endif]>
<![if !vml]>

<![endif]>
The sub-Branch at Burton in Kendal comes from the joining together of the Bank of Liverpool with Messrs Wakefield Crewdson and Company's Kendal Bank in 1893, which already has a  comprehensive coverage of South Westmorland, with branches at ARNSIDE, MILNTHORPE, and  KIRKBY LONSDALE, all within about ten to twelve miles of each other.
<![if !vml]>

<![endif]>
Transportation methods being what they are in those days allows small towns and villages the luxury of a number of services, including banks, that sadly have all but disappeared from many of those places today.
<![if !vml]>

<![endif]>
Burton opens just one day a week, and in World War Two it is amongst a number of branches "closed for the duration" as Martins staff are called up to fight.  
<![if !vml]>

<![endif]>
<![if !vml]>

<![endif]>
Image: Barclays Ref 0030/0488
<![if !vml]>

<![endif]>
<![if !vml]>

<![endif]>Continuing our look at Martins Branches "then and now", we are grateful to Michael C L Hodgson Estate Agents of Kendal for the modern day view of Burton Branch, below.  The building, a private residence since 1980, has been up for sale since January 2014.  The owners are aware of the history of their property, not least the oddity of the old Bank safe being situated in the BATHROOM, of all places!
<![if !vml]>

<![endif]>
<![if !vml]>

<![endif]>
Image: Barclays Ref 30/488
<![if !vml]>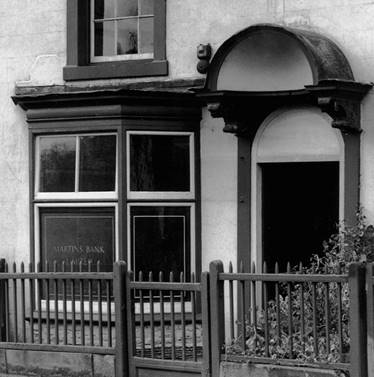 <![endif]>
Image Courtesy Michael C L Hodgson Ltd Kendal
Title:
Type:
Address:
Index Number and District:
Hours:
Telephone:
Services:
Manager:
11-05-50 Burton in Kendal
Sub to 11-05-50 Kendal
Main Street Burton in Kendal Westmorland
211 Northern
Tue 1030-1200 and 1230-1400
No Saturday Service
Burton in Kendal 495
No Nightsafe
Mr C Clark Manager (Kendal)
1890
27 June 1893
18 December 1918
3 January 1928
1942
1946
15 December 1969
26 February 1980
Currently
Opened by Messrs Wakefield, Crewdson's Kendal Bank
Bank of Liverpool
Bank of Liverpool and Martins
Martins Bank Limited
Closed for World War 2
Re-opened
Barclays Bank Limited 20-45-28 Kendal
Closed
Private Residence