<![if !vml]>

<![endif]>
<![if !vml]>

<![endif]>
<![if !vml]>

<![endif]>
<![if !vml]>

<![endif]>Martins Bank's Branch at 32 Lowndes Street opens in 1930 and enjoys just ten years in service before being destroyed by enemy action in 1940. Temporary premises are found nearby at No 48 Sloane Street, which doubles as (and is actually KNOWN as) Lowndes Street Branch for many years. 
<![if !vml]>

<![endif]>
In Service: 16 June 1930 until destroyed by bombing in September 1940
<![if !vml]>

<![endif]>
<![if !vml]>

<![endif]>
<![if !vml]>

<![endif]>
Extracts from Martins Bank Lmited Annual Report and Accounts 1930 © Barclays
<![if !vml]>

<![endif]>
<![if !vml]>

<![endif]>
Extract from Martins Bank Lmited Annual Report and Accounts 1939 © Barclays
You can read more about this on our 48 SLOANE STREET page.  We are sorry that no images can currently be found of the original branch at 32 Lowndes Street, but thanks to Martins colleague Geoff Taylor, you can at least see its incarnation at 48 Sloane Street, which later becomes an office in its own right, before downgrading to a sub branch to 153 Sloane Street.  Someone who served at all three of these branches is Manager Mr K R Wright, whose story is told below in his retirement write-up in Martins Bank Magazine…
<![if !vml]>

<![endif]>
From 32 Lowndes Street to 48 Sloane Street …
<![if !vml]>

<![endif]>
<![if !vml]>

<![endif]>At the end of 1958 Mr K R Wright retires after over forty-six years' service, for 28½ of which he has been Manager at Sloane Street.  To mark the occasion he gives a cocktail party at 153 Sloane Street on December 30 which is attended by around one hundred of his past and present colleagues.  Some of them have travelled from as frar away as Cheshire and Yorkshire to say goodbye to Mr Wright.  Having joined the service in 1912 at Lombard Street, he serves his country in World War I with the Northumberland Hussars and Middlesex Yeomanry, sustaining injury in France in 1918.  Returning to the bank after the war, his association with London SW1 begins in 1930 when he is appointed as the first Manager of 32 Lowndes Street.  Following the destruction of the building by a bomb in 1940, and the business  being conducted for a time in temporary premises, Mr Wright became the Manager of Sloane Street – first at No 48, and from 1948 at No 153.
<![if !vml]>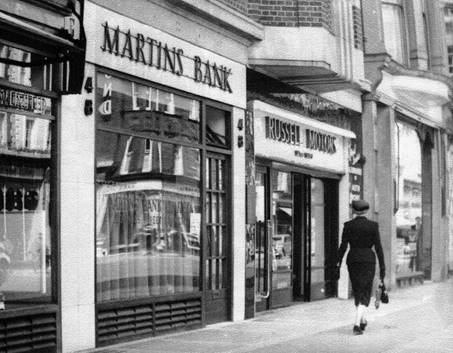 <![endif]>