<![if !vml]>

<![endif]>
<![if !vml]>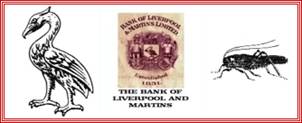 <![endif]>
<![if !vml]>

<![endif]>
The story of Martins Bank's fifty year long connection with Bournemouth begins in 1925, when the town is still in the county of Hampshire, and the Bank of Liverpool and Martins opens a new Branch at 128/130 Christchurch Old Road.  In 1934 the Branch relocates to 49 Old Christchurch Road, and it is this office that survives the 1969 merger with Barclays and lasts until until 1975.
<![if !vml]>

<![endif]>
<![if !vml]>

<![endif]>
Image © Martins Bank Archive Collection
<![if !vml]>

<![endif]>
<![if !vml]>
<![endif]>
Extract from the Annual Report and Accounts of the Bank of Liverpool
and Martins Limited 1925 © Barclays
<![if !vml]>

<![endif]>
<![if !vml]>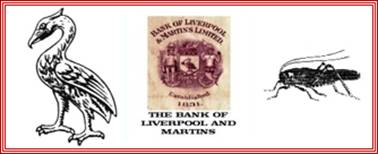 <![endif]>
Image © Barclays 1934
<![if !vml]>

<![endif]>
<![if !vml]>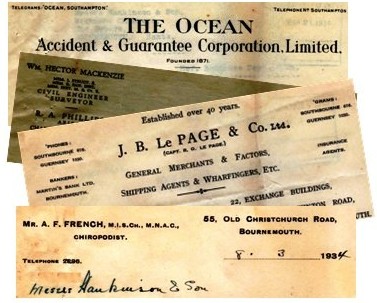 <![endif]>Some newly discovered papers shows the Bank's attempts to make the new Branch pay for itself through the installation of tenants in the upstairs rooms. Various companies and individuals are invited, and the plan is, the longer the rental period, the better the income for the Bank.  The letters and documents, which are written between interested parties and either Bournemouth Branch, London 68 Lombard Street Branch, or the Bank's Bournemouth Solicitor, also give us the best information currently to hand about the date of closure of 128/130 Old Christchurch Road – most probably Saturday 10th March 1934, with the new branch opening on Monday 12th March.
<![if !vml]>

<![endif]>
<![if !vml]>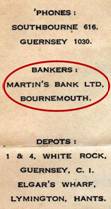 <![endif]>Amongst various Bournemouth businesses invited to make an offer on the shiny new offices are: - The Ocean Accident and Gurantee Corporation of Southampton, who are not interested now but might be in the future, Messrs J B Le Page & Co Limited, (Merchants, Factors, Shipping Agents and Wharfingers), who take Room 11 on the third floor, Wm Hector Mackenzie, Civil Engineer who "couldn't find anything suitable" amongst the rooms being let, and similarly, Mr A F French, Chiropodist writes to the Bank's solicitors, Messrs Hankinson & Co to say that after inspecting the property, he too finds it unsuitable! 
<![if !vml]>

<![endif]>
<![if !vml]>

<![endif]>
It is not an easy task then, to let out rooms in Bournemouth in 1934, but interesting to note, that for the successful letting of Room 11 to Messrs Le Page, the solicitor receives a commission from the Bank of £2. 5/- (£2.25).  Further correspondence reveals that there is a tenant referred to only as Mr Child, who is paying a rent of £30p.a. 
<![if !vml]>

<![endif]>
Martins Bank's Inspection Department at 68 Lombard Street is keen that the solicitor persuades prospective tenants to offer at least the same amount for similarly sized rooms, just in case Mr Child should get wind of someone paying less, and take legal action against the Bank!  (And they say we have a litigation culture today as if it is something new!)  It is pleasing to note that JB Le Page's Letterhead includes details of their bankers, none other than Martins Bank Limited, Bournemouth.
<![if !vml]>

<![endif]>
Title:
Type:
Address:
Index Number and District:
Hours:
Telephone:
Services:
Manager:
11-119 Bournemouth 
Full Branch
128/130 Old Christchurch Road Bournemouth Hampshire
164 South Western
Mon to Fri 1000-1500
Saturday 0900-1130
Bournemouth 1922
Night safe Installed
Mr H G Allison Manager (1934)