<![if !vml]>

<![endif]>
<![if !vml]>

<![endif]>
<![if !vml]>

<![endif]>
Burnley is a town that gets to know Martins Bank very well over the years.   At various times there have been Branches at both No 7 and No 13 Hargreaves Street, St James Street, Brierfield, Colne Road, Duke Bar Habergham and Manchester Road.   These are a mixed bag of Branches, mainly from the Craven Bank merger of 1906, and the Lancashire and Yorkshire Bank merger of 1928, apart from Manchester Road which is a completely new Branch built and opened by Martins Bank in 1963.  In the days of the Craven Bank, the Branch is known as Colne Road, and this is Changed to Duke Bar in 1926 by the Bank of Liverpool and Martins. Just as well really, as the Lancashire and Yorkshire Bank also has a Branch in Colne Road, which will become a Martins Bank Branch in 1928.
<![if !vml]>

<![endif]>
<![if !vml]>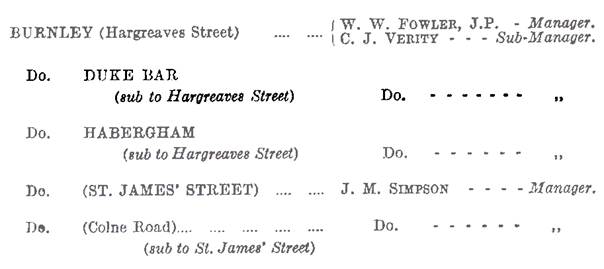 <![endif]>
Image © Barclays 1930
<![if !vml]>

<![endif]>
<![if !vml]>

<![endif]>
Duke Bar falls victim to the first of three periods of Branch consolidation by Martins, and is closed in 1931.  Some Branches  - especially in areas where the Bank's representation is already strong - are axed following the rebuilding in 1930 of 68 Lombard Street and the construction of Martins' new Head Office in Liverpool, which opens in 1932.
<![if !vml]>
<![endif]>
Title:
Type:
Address:
Index Number and District:
Hours:
Telephone:
Services:
Manager:
11-141 Burnley Duke Bar
Sub to 11-141 Burnley
13 Briercliffe Road Duke Bar Burnley Lancashire
104 Craven
Not Known
Not Known
Burnley 2258
Counter Service only
Burnley Manager
Prior to 1906
23 March 1906
18 December 1918
3 January 1928
1931
Currently
Opened by the Craven Bank Limited
The Bank of Liverpool
The Bank of Liverpool and Martins
Martins Bank Limited
Closed
Insurance Broker