<![if !vml]>

<![endif]>
<![if !vml]>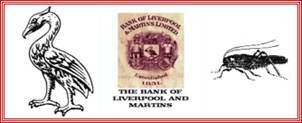 <![endif]>
<![if !vml]>

<![endif]>
1923 really is a bumper year for the opening of new Branches and sub-Branches by the Bank of Liverpool and Martins. Five years after the two Banks were amalgamated, expansion is key to success, and with a batch of Branches in London and Kent, the combined business is keen to spread across the country to develop a truly National Bank.
<![if !vml]>

<![endif]>
One of twenty new offices opened in 1923, the sub-Branch at Bickley does not last very long under the newly created Martins Bank, which arrives on the scene on 3 January 1928.  By September, Bickley is closed.  Opened originally as a sub branch to Bromley, Bickley is run this way until 1926 when it becomes a sub-Branch to Chislehurst. 
<![if !vml]>

<![endif]>
<![if !vml]>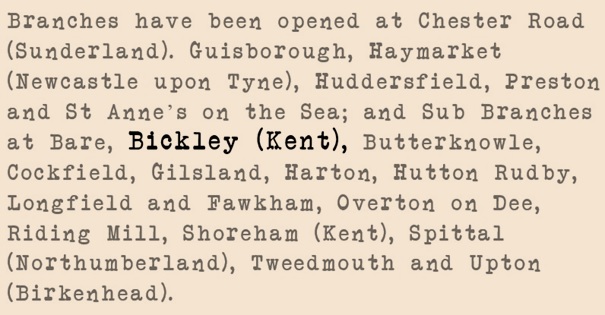 <![endif]>
Extract from Bank of Liverpool and Martins Annual Report and Accounts 1923
<![if !vml]>

<![endif]>
<![if !vml]>

<![endif]>
Bickley is a sub-Branch to Bromley from 1923 to 1926…
<![if !vml]>

<![endif]>
<![if !vml]>

<![endif]>
…and a sub-Branch to Chislehurst from 1926 to 1928.
<![if !vml]>

<![endif]>
Images © Barclays 1923 and 1926
<![if !vml]>

<![endif]>
<![if !vml]>
<![endif]>However, within months of the amalgamation of the Bank with the Lancashire and Yorkshire Bank, which creates Martins Bank Limited in 1928, Bickley is closed after less than five years in service. We must assume that for this and many of the smaller Branches to be closed down so soon, the new Martins Bank has had a "clear-out" of those offices that might be performing less than  satisfactorily, are simply too expensive to maintain, or that need to be moved to follow the direction of business as towns and villages grow. This last point is important, as towns and villages are growing and changing, adding new shops, banks and services at a time when cash is king and there is a physical need for these buildings.  With full branches both at Bromley AND Chislehurst, the disruption in service to customers by the closure of Bickley is probably minimal. Bickley is amongst a large number of Martins early sub-Branches for which there are no external or internal photographs. If you can help with this or any of Martins' 980+ Branch buildings, please do get in touch with us at the usual address – gutinfo@btinternet.com .
<![if !vml]>

<![endif]>
Title:
Type:
Address:
Index Number and District:
Hours:
Telephone:
Services:
Manager:
11-135 Bickley                                            
Sub to 11-135 BROMLEY 1923-1926,
then to 11-188 CHISLEHURST 1926-1928
Bickley Bromley Kent (full address sought)
404 London
Not Known
Not known
No Telephone
Counter Service Only
Mr Edgar H Jones-Bennet (Bromley) 1923
Mr A V W Forsdyke Manager (Chislehurst) 1926
7 December 1923
1926
3 January 1928
September 1928
Opened by the Bank of Liverpool and Martins
Parent branch changed from Bromley to Chislehurst
Martins Bank Limited
Closed