<![if !vml]>

<![endif]>
<![if !vml]>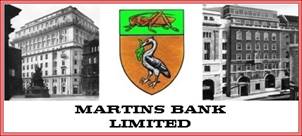 <![endif]>
Closing a noticable gap…
<![if !vml]>

<![endif]>
<![if !vml]>

<![endif]>Bromborough Branch is converted from a café in 1963, and dispenses good cheer until the merger with Barclays when the business is transferred to their own existing Branch, a few doors away.  As a self accounting sub-Branch to Ellesmere Port, Bromborough is likely to have been a busy little branch, and it opens for the full six day banking week. Back in 1963, the doors have hardly been open five minutes (well, five DAYS actually) before Martins Bank Magazine pops in for a visit, and they are full of praise for the work done by the Bank's Architect Mr Silcock
<![if !vml]>

<![endif]>
<![if !vml]>

<![endif]>
Branch Images © Barclays Ref 30/438
<![if !vml]>

<![endif]>
It is his job to produce new and enticing looking branches in the 1960s. The branch also reflects a well used device of the Bank of Liverpool – the choice of a property with a corner aspect – that way, your signage is displayed in two streets at once!
<![if !vml]>

<![endif]>
<![if !vml]>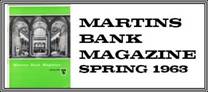 <![endif]>Visiting a new branch five days after its opening may constitute a record but this was not in our minds when an optimistic weather man, encouraged no doubt by a fitful sun, forecast a slow thaw. Although sceptical, we set forth for Bromborough in conditions which did nothing to encourage local residents to try their new bank. Only the buses ploughed relentlessly back and forth: those cars which had to stop in the village sought to halt on level surfaces or down­hill gradients to ensure a reasonable take-off, and housewives were plainly confining their activities strictly to unavoidable shopping sorties.  Yet the welcome in the branch would have warmed any caller and we were pleased to find Mr. R. W. Nuttall, the Clerk-in-Charge, optimistic about the premises and the business potential.
<![if !vml]>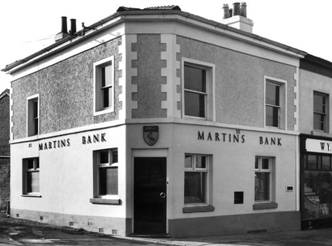 <![endif]>The new office, though temporary, is sited centrally at The Cross in a former cafe and the conversion, for which the Bank's architect, Mr. D. D. J. Silcock, deserves praise, has been very well done. Bromborough, though largely a dormitory area to-day, still retains much of the village atmosphere and towards the Mersey there is considerable industrial development.  The new branch closes a noticeable gap between those on the fringes of Birkenhead and Ellesmere Port. Mr. Nuttall has valuable experience on which to draw and those who use the new branch will get good service. He began his career at Sale branch and apart from war service with the Fleet Air Arm, worked in Manchester District branches until going to Nantwich as second in command in 1953. He attended the Domestic Training Scheme in 1957/8 and joined the visiting inspection staff in January 1959. In his spare time he still enjoys flying, when he can, despite an unpleasant experience five years ago when he landed a plane in the south of France on one wheel but without any damage.
<![if !vml]>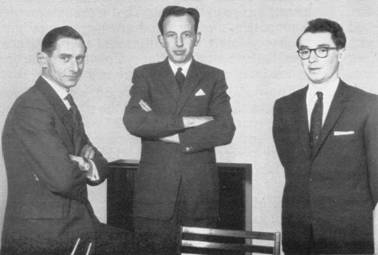 <![endif]>
Mr. Brian Woods, who will take charge in Mr. Nuttall's absences, is a happy choice for the new office, having a natural ability to get on with people. He entered the Bank in 1946 and all his experience has been gained in the Liverpool District: before going to Bromborough he was on securities and overseas work at East branch. Many will remember his father, Mr. W. R. Woods, as Assistant Manager in Liverpool City Office and now in retirement. The third member of the staff, Mr. David L. Irving, joined us at Claughton Village branch in October after a year at Oxford University. He attended a cashier's course and had machine instruction immediately before going to Brom­borough, all of which might have induced a state of mental indigestion, but it was encouraging to find his thoughts a long way ahead of the position he occupies at present. We were loath to leave this cheerful office for the skating rink outside and we wish them well.
<![if !vml]>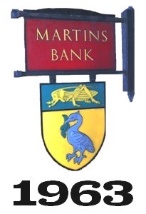 <![endif]>
Mr D L Irving
On the Staff
1963
Mr B Woods
On Staff 1963 to 1969
Clerk in Charge 1968-69
Mr R W Nuttall
Clerk in Charge
1963 to 1967
Mr F Bush
Clerk in Charge
1967 to 1968
Title:
Type:
Address:
Index No and District:
Hours:
Telephone:
Services:
Manager:
11-22-20 Bromborough                           
Self Accounting Sub to 11-68-30 Ellesmere Port
The Cross Bromborough Wirral Cheshire
092 Liverpool
Mon to Fri 1000-1500
Saturday 0900-1130
BROmboro 1190
Nightsafe Installed
Mr B Woods pro Manager