<![if !vml]>

<![endif]>
<![if !vml]>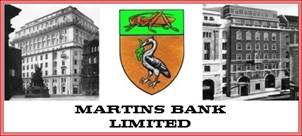 <![endif]>
<![if !vml]>

<![endif]>
<![if !vml]>

<![endif]>1964 sees a rash of new Branches and sub-Branches, along with the re-organisation or refurbishment of many more by Martins Bank.  This really is an optimistic period for the Bank, coming as it does just after the 400th Anniversary Celebration of the founding of a banking service at 68 Lombard Street, the successful installation of the first regular-use banking computer and cheque sorting equipment, and the prospect of steady future expansion which has been brought about through years of careful trading and rapidly increasing profits.  Sutton Coldfield Branch opens in the Spring, a tasteful affair from the outside, but with some questionable décor – including a sort of leopard skin mural - on the inside, (as we shall see below!) Obsessed as it so often is by the history to be found in towns chosen for new Branches of the Bank, Martins Bank Magazine visits Sutton Coldfield not long after it opens, to have a look round and meet the staff…
<![if !vml]>

<![endif]>
<![if !vml]>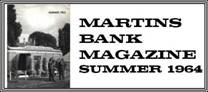 <![endif]>
<![if !vml]>

<![endif]>
<![if !vml]>

<![endif]>
Image © Barclays Ref 0030/2848
<![if !vml]>

<![endif]>
The Royal Town of Sutton Coldfield preserves its Charter among the town's archives: out­wardly, despite its proximity to Birmingham, it preserves the air of a country town and can probably claim to have more gables in the main street than any town of its size. Today it is primarily residential and takes pains to maintain the charm and dignity of an old town while keeping pace with modern development. To John Harman, born 500 years ago and who later became Bishop Vesey, must go much of the credit for the survival of the town in which he was born and to which, in 1527, he persuaded Henry VIII to grant a Charter to form the 'Warden and Society of the Royal Town of Sutton Coldfield'.
<![if !vml]>

<![endif]>
<![if !vml]>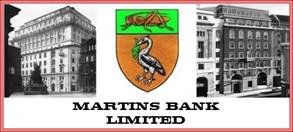 <![endif]>
Image © Martins Bank Archive Collection
<![if !vml]>

<![endif]> 
Bishop Vesey also founded the famous Grammar School, built houses and bridges, paved the streets and ensured the preser­vation of the 2,400 acres comprising Sutton Park where the World Jamboree was held in 1957 and which remains much as it was in the days when Warwick the Kingmaker hunted the deer.  
<![if !vml]>

<![endif]>
As a resident and ratepayer of the town Mr R. S. Arrand, the Manager of our new branch, still has the right to collect acorns in Sutton Park for his sows—if he had any—and if this seems a quaint privilege it is worth remembering that at one time it was much valued. Although we saw no piggeries in or around the town we found plenty of activity, excellent shops and ample proof that socially, culturally and educationally Bishop Vesey's successors, the Town Council, are very much alive to present needs.
<![if !vml]>

<![endif]>
"Goodness me, Sir, it's awfully SQUARE around here"…
<![if !vml]>

<![endif]>
Our office is admirably sited in the shopping centre with a neat but narrow frontage and much greater depth than one would expect. It is well fitted out with two floors above the main office.  Mr Arrand's career appears in the Appoint­ments pages of this issue, and we are glad that his wife, formerly Miss Pat Kirk of Market Street branch, Nottingham, was able to join us for lunch while Mr L. J. Williscroft, fresh from a Domestic Training Course, kept the branch ticking.
<![if !vml]>

<![endif]>
Mr Williscroft has served at Birmingham, Walsall and West Bromwich branches and on Relief since entering the service twelve years ago and he attended an Overseas Course in 1956. The younger members of the staff are Mr A. A. Bird, hooker for Tamworth rugby club, with eighteen months' bank service, and Miss P. A. Mulliner who joined the Bank only a fortnight before the branch opened and to whom we have already apologised because the photograph fails to show our readers what a charming girl she is.
<![if !vml]>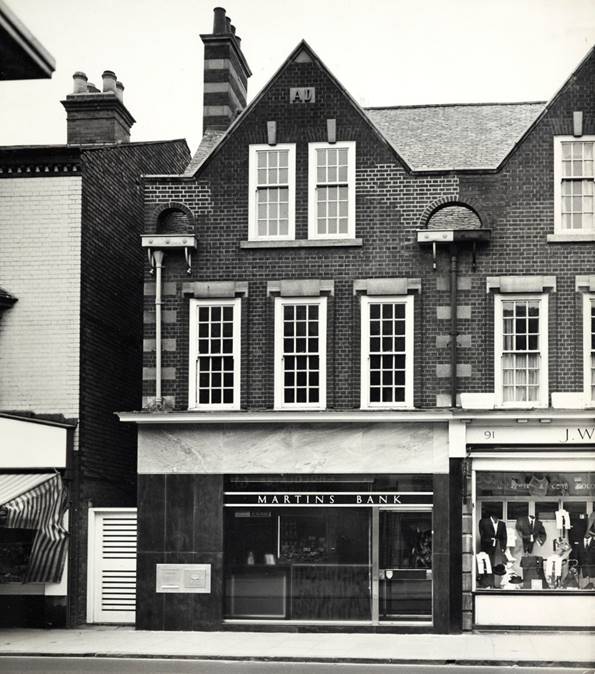 <![endif]>
Image © Barclays Ref 0030/2848
<![if !vml]>

<![endif]>
<![if !vml]>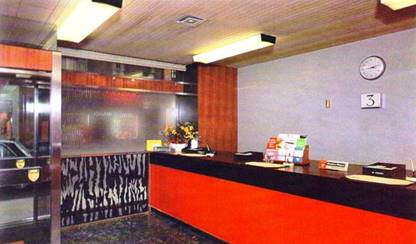 <![endif]>
Newspaper Image © Trinity Mirror/Findmypast
Image created courtesy of THE BRITISH LIBRARY BOARD.
Image reproduced with kind permission of The British Newspaper Archive www.britishnewspaperarchive.co.uk
Title:
Type:
Address:
Index Number and District:
Hours:
Telephone:
Services:
Manager:
11-42-80 Sutton Coldfield
Full Branch
89 The Parade Sutton Coldfield Warwickshire
597 Midland
Mon to Fri 1000-1500
Saturday 0900-1130
021 854 8493
Nightsafe Installed
Mr R S Arrand Manager