<![if !vml]>

<![endif]>
It's just like the  
corner shop, really…
<![if !vml]>

<![endif]>
<![if !vml]>

<![endif]>In this image we have a rare glimpse into the life of the bank -  and this quiet corner of Barrow in Furness – in 1937.  It looks almost like the set of an old gangster movie.  Martins Bank opens a sub-Branch in Rawlinson Street in 1930, and it lasts for almost fifty years. We were contacted by Peter Potter, whose parents and brother both worked for Martins.  He sent us his brother's 1960s recollections of the sub-branch at Rawlinson Street…
<![if !vml]>

<![endif]>
<![if !vml]>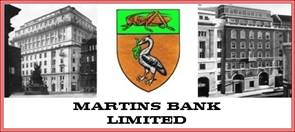 <![endif]>"My father and mother worked in Martins Bank, finishing off in Millom, Cumberland. My brother John began work at Martins Bank, Rawlinson Street, Barrow-in-Furness. The sub-branch had a small, grey brick, front, with the entrance on the left and the Martins Bank Ltd sign and logo across the front.
<![if !vml]>

<![endif]>
There was a window to the right of the door, showing the customer part of the bank, but filled with advertising. Inside the bank there was a counter at a right angle from the door, and a bank clerk's entrance through a door in a large panel at a right angle with the left wall and from the end of the counter.
<![if !vml]>

<![endif]>
There was a table and some chairs against the left wall, allowing customers to write cheques or other papers. There was no mechanisation, other than adding machines in the bank, because most of the paperwork and money was sent or taken to the main branch in Barrow, in Duke Street"…
<![if !vml]>

<![endif]>
<![if !vml]>

<![endif]>
Image © Barclays
<![if !vml]>

<![endif]>
<![if !vml]>

<![endif]>It's good to see a former branch still providing a service of some kind, and what better than a quick sandwich to take away, or a longer sit down with a pot of tea?  Rawlinson Street may no longer have the romance of the 1930s going for it, but it's clearly still thriving…  Our thanks to our friends at Google Maps UK, for this unusually sunny shot of the former Bank Branch.
<![if !vml]>

<![endif]>
Title:
Type:
Address:
Index Number and District:
Hours:
Telephone:
Services:
Manager:
Martins Bank Limited 11-43-00 Barrow in Furness Rawlinson Street
Sub branch to 11-43-00 Barrow in Furness
153 Rawlinson Street Barrow in Furness Lancashire
204 Northern
Mon Wed and Fri 1100-1300
No Saturday Opening
Barrow in Furness 3630
No Nightsafe
Mr T R Ion Manager (Barrow in Furness)
10 June 1930
15 December 1969
30 June 1978
Currently
opened by Martins Bank Limited
Barclays Bank Limited 20-04-68 Barrow in Furness
Closed
Sandwich and Coffee Bar