<![if !vml]>

<![endif]>
<![if !vml]>

<![endif]>Careful to choose yet another building with character, Martins Bank opens its Branch at Basingstoke in 1963.  The brick and stone frontage of this London Street property immediately gives the impression of a Bank that will provide security and permanence – all this of course with the Barclays merger just too far out of sight around the corner.  Martins Bank Magazine wastes no time in visiting the Branch shortly after it opens, and the resultant article tackles local Pub names, the achievements of the staff, and some local history…
<![if !vml]>

<![endif]>
A New Branch in
Old Hampshire…
<![if !vml]>

<![endif]>
<![if !vml]>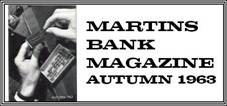 <![endif]>
<![if !vml]>

<![endif]>
our branch in Basingstoke is well placed in London Street off which runs Wote Street.
<![if !vml]>

<![endif]>
<![if !vml]>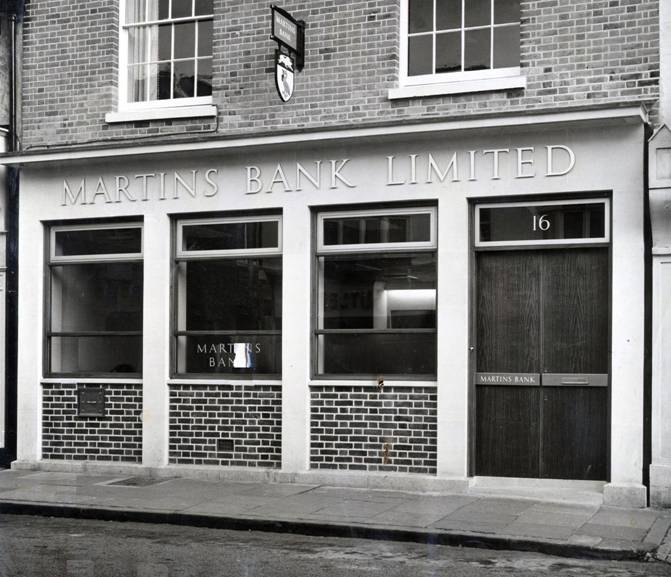 <![endif]>
Black and White Images © Barclays Ref 30/122
<![if !vml]>

<![endif]>
<![if !vml]>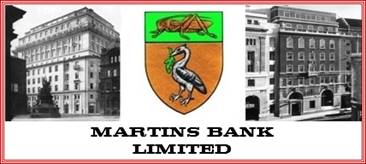 <![endif]>As we wandered round the town and were charmed by it we wondered what a wote was (if readers will forgive the alliteration). One so often hears the lament that all towns to-day look the same - clothiers, multiples and the like - and while many industrial centres now have a harsh sameness this is not so of the older country towns like Basingstoke where one finds the best of both worlds.  True, a fifteen-year plan for modernisation is already in hand which will mean the loss to our branch of the fruit trees in the back garden, but ancient and modern will stand side by side in much of the town where, even now, this does not seem incongruous. Rather was it the established order of things in Basingstoke which surprised us: for example, The Self Defence - not The Angel as one might expect - stands opposite the fine old Parish Church of St Michael but it was incongruous to see an empty Securicor armoured van parked between them. Another hostelry, The Royal Exchange, almost faces a prominent building which, alas, proved only to be the Haymarket Theatre where, beneath an impressive picture of Michael Redgrave, appeared the hopeful words 'Bingo every Monday'. There is, too, a maternity home called, rather unimaginatively, The Shrubbery.  Despite these peculiarities there is a worthwhile dependability about the town and three times within an hour we caught the smell of freshly baked bread - once in Wote Street.Mr A. J. W. Wastell, who is Mr Batey's right- hand man, is a Londoner who has taken to the country, edging out of the metropolis via Southall where he entered the Bank in 1952. Domestic circumstances made it necessary to move his home to Camberley a short time ago so, when Basingstoke opened, he was almost on the spot.
<![if !vml]>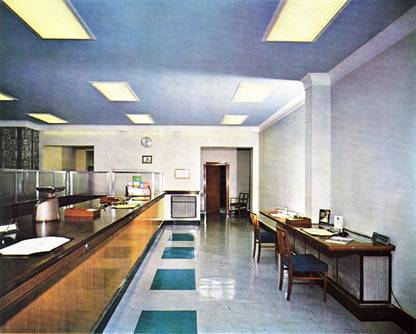 <![endif]>Where so much depends on the service provided by a new branch his frank, friendly and helpful manner with customers is of immense value. He has, moreover, the advantage of his a.i.e. and a Domestic Training Course to support his qualities.  Mr B. A. Collins, who joined us only eighteen months ago from a building society, has settled in well both at the branch and in his lodgings for his home is in Bournemouth, while Miss S. M. Bellord is a lively girl who lives so close to the branch that she can go home for lunch.  Another of our embryo ambassadresses, if we may coin the term, Miss Bellord is soon going to make a success of counter duties.  Basingstoke is a lively, happy branch and it must be encouraging to Mr Batey and his staff to see their determination to ensure good service and increase the business meeting daily with success. We also record our gratitude to Mr Batey, not only for our transport to and from London Airport, but for arranging for us to see the processes of manufacturing industrial diamonds and for obtaining from the Curator of the Museum, within 24 hours, the following explanation of 'wote': 
<![if !vml]>

<![endif]>
<![if !vml]>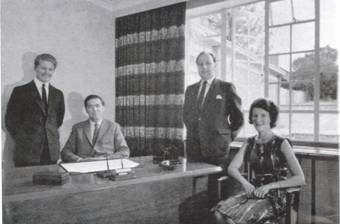 <![endif]>"The original records commenced in the 15th century and between that time and the latter part of the 19th century it was always known as Ote or, latterly, Oat. This was presumably because of its leading off the Market Place. The broad Hamp­shire dialect however, pronounces ote as wote and We were immensely glad to find that Mr and Mrs Batey, who went out of their way to make our visit so enjoyable, have been fortunate in buying a lovely modern house in the district which most took their fancy.when the Post Office produced a new directory some seventy or eighty years ago, it can only be presumed that the street names were dictated and that, because of this dialect, Ote became recorded as Wote". When Queen Mary's School was founded in 1556, its Charter referred to Wote Street and, here again, the official explanation is that this was a mistake by the clerk who was scribing the docu­ment.
<![if !vml]>

<![endif]>
Mr A J Wastell
On the Staff
1963 to 1966
Miss S M Bellord
On the Staff
1963
Mr R D Batey
Manager
1963 to 1967
Mr B A Collins
On the Staff
1963
Mr B B Harrington
Manager
1967 onwards
Mr K J Richardson
Limited Authority
1968