<![if !vml]>

<![endif]>
<![if !vml]>

<![endif]>
<![if !vml]>

<![endif]>
Like so many of the branch buildings inherited by Martins Bank, this one at Batley is indeed a most grand affair, endowed with the sort of ecclesiastical look that is so very popular with so many of the Banks of the late 1800s.  It is 1876, and still some twenty-six years before the absorption of the West Riding Union Bank by the Lancashire and Yorkshire Bank. At this time the West Riding Union Bank has been trading well, building up good reserves and surplus funds sufficient to be able to build a number of new branches, and a brand-new office of the West Riding Union Bank is built at Hick Lane, Batley.  It speaks volumes, and serves as a good lesson to today's banks and governments, that the West Riding Union puts money aside for the bad times. Most Banks will have "reserves" and contingency monies, but many overstretch themselves financially, hence the constant round of mergers and amalgamations in the late nineteenth and early twentieth Centuries. 
<![if !vml]>

<![endif]>
In 1878 a large number of local businesses founder and the West Riding Union Bank is actually able to absorb the losses incurred from its own resources. There are ample funds with which to do this, and it would seem that the phrase credit crunch has yet to be coined in this very canny part of Yorkshire!  For our somewhat short Batley feature, we wind forward to 1966, when Martins Bank Magazine bids farewell to Mr Slater, who has managed Batley Branch for some eighteen years…
<![if !vml]>

<![endif]>
In Service: 1876 until September 1998
<![if !vml]>

<![endif]>
<![if !vml]>

<![endif]>
Branch Images © Barclays Ref 0030-0129
<![if !vml]>

<![endif]><![if !vml]>

<![endif]><![if !vml]>

<![endif]>
<![if !vml]>

<![endif]><![if !vml]>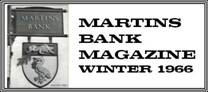 <![endif]>The informal presentation to Mr Slater of a table lamp and a cheque with the best wishes of past and present colleagues and friends marked his retirement as Manager of Batley Branch at the end of August. 
<![if !vml]>

<![endif]>
His career began in Leeds in 1923 but from 1934 he had worked in the Manchester District.  Apart from four years in H M Forces he had been Clerk in Charge at Manchester Fallowfield Branch from 1936 to 1948 when he was appointed Manager at Batley.
<![if !vml]>

<![endif]>
<![if !vml]>

<![endif]>
   1922 – Lancashire & Yorkshire Bank…
<![if !vml]>

<![endif]>
<![if !vml]>

<![endif]>
Image © Martins Bank Archive Collections – W N Townson
<![if !vml]>

<![endif]>
<![if !vml]>

<![endif]>
   1940 – Martins Bank Limited…
<![if !vml]>

<![endif]>
<![if !vml]>

<![endif]>
Image ©  Barclays - Ref 0030-0129
<![if !vml]>

<![endif]>
<![if !vml]>

<![endif]>
   1970 – Barclays Bank Limited…
<![if !vml]>

<![endif]>
<![if !vml]>
<![endif]>
Image © Barclays - Ref 0030-0129
<![if !vml]>

<![endif]>
Title:
Type:
Address:
Index No and District:
Hours:
Telephone:
Services:
Manager:
11-48-00 Batley 
Full Branch
Hick Lane Batley Yorkshire
708 Manchester
Mon to Fri 1000-1500
Saturday 0900-1130
Batley 4103
Nightsafe Installed
Mr E H Bennett Manager