<![if !vml]>

<![endif]>
<![if !vml]>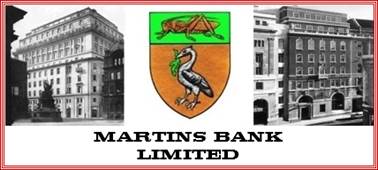 <![endif]>
<![if !vml]>

<![endif]>
<![if !vml]>

<![endif]>A magnificent building, Martins Branch at 59 London Street Norwich is deemed surplus to requirements when Martins and Barclays merge.  This is because of Barclays' long-term connections with the area, and the resultant large number of branches in the City, including one at 30 London Street. 
<![if !vml]>

<![endif]>
<![if !vml]>

<![endif]>Unusually however, Martins Bank's Branch is retained by Barclays until 1976. From 12 December 1969 until 13 Februry 1970, they are used as relief offices for 30 London Street, but not as a sub-Branch or a self accounting sub-Branch. From 16 Feb 1970, the premises are once more used as a Branch whilst alterations are made to 30 London Street. 
<![if !vml]>

<![endif]>
The news is much better however, for the Martins sub-Branch at EATON AND CRINGLEFORD, which in 1969 is a newly built branch in a part of Norwich where Martins is the first bank to trade.  It is therefore very valuable to the owners of the new name above the door, and it remains open until 9 November 2018, just missing out on its fiftieth anniversary.
<![if !vml]>

<![endif]>
On this page we journey through thick fog to Norwich in 1949, and in 1969 we seem to have double vision! Look out also in the branch details section for early examples of something still quite new in the 1960s – POST CODES…
<![if !vml]>

<![endif]>
In Service: 22 Aug 1946 to 12 Dec 1969 (Temporarily re-opened 16 Feb 1970 until 27 Mar 1970)
<![if !vml]>

<![endif]>
<![if !vml]>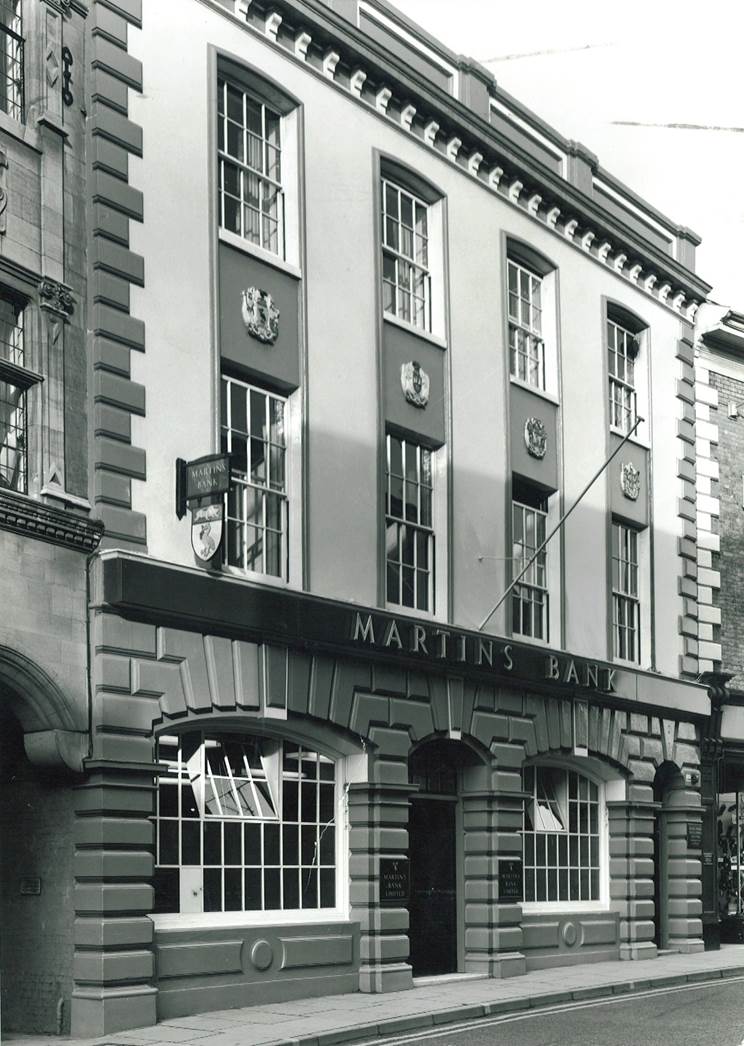 <![endif]>
Image © Barclays Ref: 0030-2128
<![if !vml]>

<![endif]>
<![if !vml]>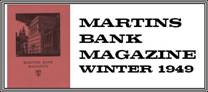 <![endif]>One of the worst fogs within living memory blanketed out Norwich on the night of our arrival, November 15th, over an hour late, but Mr. C. E. Moore, Manager of our Norwich branch, was waiting to guide us through the gloom to our hotel. The warmth and friendliness of our reception by our Norwich colleagues was ample recompense for the inhospitable welcome of the raw Norvicensian night. Mr. Moore's bank service commenced in 1916 and he served at Great Crosby, Southport, Head Office, Central, Aintree and Birkdale branches before his appointment as Manager at Ormskirk in 1932. He opened Norwich branch in 1946 and has worked up a very nice business there.
<![if !vml]>

<![endif]>
She is keen, competent, and as one would expect from her background and upbringing, thoroughly conscientious in all she under­takes. She has recently started a Brownie Pack at St. Peter Mancroft Church. Our plan of spending the evening in Mr. Moore's home was defeated by the fog, but on the following day we had a very pleasant lunch with Mr. and Mrs. Moore before continuing our travels. An outpost the branch certainly is, its nearest neighbour being a trunk call away and if "o'er heathen lands afar thick darkness broodeth yet" so far as knowledge of Martins Bank is concerned, Mr. Moore and his staff are doing a very good best to change the darkness into light.
<![if !vml]>

<![endif]>
<![if !vml]><![endif]>

<![if !vml]><![endif]>

Images © Barclays Ref: 0030/2128

<![if !vml]><![endif]>

<![if !vml]><![endif]>

Most of his social activities in Ormskirk he has been able to resume in Norwich. He was Treasurer of the Ormskirk Scout Association and is now Treas­urer for Norwich. He was a prison visitor at Walton Gaol and does similar work at Nor­wich Gaol. His A.F.C. activities in Ormskirk have found their counterpart in Norwich. Rotary alone has not reclaimed him, there not having yet arisen a vacancy in his classification. His second man is G. Johnson whose entire service since his entry in 1923 was spent at 68 Lombard Street, apart from war service from 1942-1946. He went to Norwich when the branch was opened. P. E. Stone, who is missing from the photograph on account of absence through illness, entered the bank at Norwich in June of this year. B. Solomon also entered the service at Norwich this year, starting in January. Both are local boys. The only girl is Miss P. A. Moore, daughter of the Manager. She entered the bank in 1945 at Maghull and went with her father to Norwich in 1946.

<![if !vml]><![endif]>

<![if !vml]><![endif]>

<![if !vml]><![endif]>

Images © Barclays Ref: 0030-2128

<![if !vml]><![endif]>

<![if !vml]><![endif]>Double Your Money!

<![if !vml]><![endif]>

It seems Norwich is famous for more than being the home of "Sale of the Century".  It is the place where the work choices of their husbands bring together a pair of twins, who realise their dream of working in the same office.  Our Norwich Branch is this dream workplace, and even in the publicity shot, Winifred and Jean are seen to be wasting no time by checking coin together…

<![if !vml]><![endif]>London twins Mrs. Winifred Roe and Mrs Jean Daley hoped they might some time work together. They achieved their ambition recently, when both their husbands were moved to Norfolk, and Jean got a job at our Norwich branch where her sister was already working.

<![if !vml]><![endif]>

<![if !vml]><![endif]>

<![if !vml]><![endif]>

Images © Barclays Ref: 0030-2128

<![if !supportMisalignedColumns]>
<![endif]>