<![if !vml]>

<![endif]>
<![if !vml]>

<![endif]>
<![if !vml]>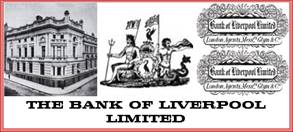 <![endif]>
Branches, Branches Everywhere…
<![if !vml]>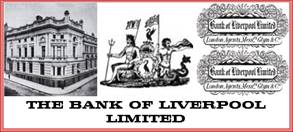 <![endif]>
Just what IS it about the Wirral Peninsula?  Could it be the spectacular sea views, or perhaps that it is situated so close to major towns and cities of the North West?  Maybe it is simply the reassurance that wherever you go on the Wirral, you are never more than a mile or two away from from the bank that gores to extremes to be helpful!
<![if !vml]>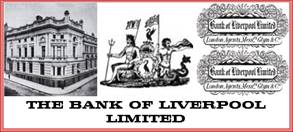 <![endif]>
<![if !vml]>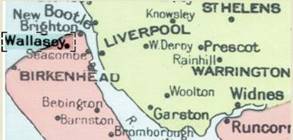 <![endif]>
<![if !vml]>

<![endif]>
<![if !vml]>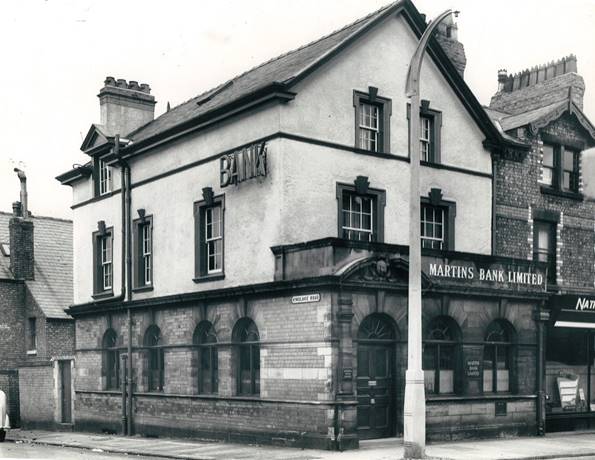 <![endif]>
Branch images © Barclays Ref 0030/0923
<![if !vml]>

<![endif]>
In Birkenhead, (which is also home to the brand new state of the art STATIONERY DEPARTMENT) you can hardly move for Martins Bank's Branches, and at Wallasey things are just the same – branches everywhere.  Headed by fine premises at 297 Wallasey Village, Wallasey boasts a further six branches and sub branches, down the years.  Not to be confused with the town of the same name in Cumberland, Egremont is an area of Wallasey. The towns of Wallasey and Birkenhead are in fact divided into "suburbs" which are remembered for such famous places as New Brighton and Rock Ferry.  Martins' Branch at Egremont is a self accounting sub office to LISCARD. Like many of the Bank's prime site offices, it occupies a prominent corner position, the branding visible from two directions. September 1965 sees a large gathering of staff getting ready to wish another Martins Manager a long and happy retirment, after a lifetime devoted to the Bank.  Mr Foster has clocked up a very impressive 41 years' service, and therefore deserves a good send off…
<![if !vml]>

<![endif]>
<![if !vml]>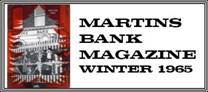 <![endif]><![if !vml]>
<![endif]>some 80 friends were present at a party held at Egremont branch on September 24 to say farewell to Mr Arthur Foster, manager for the past seventeen years. As Mr Foster had requested that there be no speeches the District General Manager, on handing him a cheque on behalf of subscribers, asked all present to drink to a long and happy retirement. 'Mac' Foster is a popular and well-known figure in cricket circles, latterly having been organiser of the Cricket Festival in which he has played or umpired since its inception.  Few people can claim to have entered the service and retired at the same branch but Mr Foster can do just this, for he entered at Egremont in 1921 and thereafter worked at Merseyside branches becoming Clerk-in-Charge at St Hilary in 1938. From 1942 he served with the Indian Army, returning to St Hilary branch in 1944 and being ap­pointed Manager at Egremont in 1948.
<![if !vml]>

<![endif]>
Miss Doreen W Wedgwood
<![if !vml]>

<![endif]>
<![if !vml]>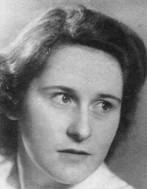 <![endif]><![if !vml]>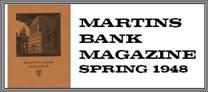 <![endif]>Doreen Wedgwood is the daughter of Mr C W Wedgwood (Head Office Relief Staff) and since 1947 she has been on the Staff of the Bank at Egremont Branch.  She has recently left us to take up a scholarship awarded to her by the Wallasey Education Committee to the Royal Academy of Music, Manchester.  Doreen is a singer of no ordinary quality.  She first attracted attention by her singing of "Hear my Prayer" at Oldershaw High School Wallasey, on Speech Day. She has also done solo work at Claremont Methodist Church, Wallasey. Dr Caleb Jarvis, organist at St Andrews Church, West Kirby, and chorus master of the Welsh Choral Society and of the Philharmonic Choir, considered her powerful soprano voice of such promise, that an introduction was obtained to Sir Malcolm Sargent.  He was so impressed that he arranged for isobel Baillie to hear her, and the opinion of this well-known singer was that with proper training and application, she might develop into one of the outstanding singers of the future.  And so she has left us to seek fame and, we hope, fortune in the world of music.  We shall follow her career with great interest and we feel sure that the day will come when we shall be able to point out with pride that she started her career in Martins Bank Limited…
<![if !vml]>

<![endif]>
Mr E E Betenson
Joined the Bank Here
1915 to 1917
Mr A Foster
Joined Here 1929
Manager 1948 to 1965
Mr J F Holford
On the Staff
1939 to 1939
Doreen W Wedgwood
Staff Member
1947 to 1948
Mr P B Billeau
Clerk in Charge
1965 to 1968
Mr R S Thomas
Clerk in Charge
1968 onwards
Title:
Type:
Address:
Hours:
Telephone:
Services:
Manager:
11-63-30 Wallasey Egremont
Self Accounting Sub to 11-48-50 LISCARD
72 King Street Egremont Wallasey L44 8GY Cheshire
Mon to Fri 1000-1500
Saturday 0900-1130
051 639 2811
Nightsafe Installed
Mr R S Thomas Clerk in Charge
1898
18 December 1918
3 January 1928
15 December 1969
18 August 1978
Currently
Opened by the Bank of Liverpool
Bank of Liverpool and Martins
Martins Bank Limited
Barclays Bank Limited 20-29-45 Egremont Wallasey
Closed
Empty