<![if !vml]>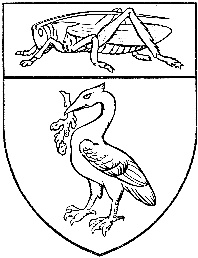 <![endif]>
<![if !vml]>

<![endif]>This might be seen as a little more honest and direct perhaps than the "Anytown" used by many banks in similar literature, or indeed Barclays' own fictitious "High Street, Caxton" branch! 
<![if !vml]>

<![endif]>
These days, when the words "a job for life" really are indicative of a past age, we can hardly imagine what it must be like to serve the same employer for more than forty years.  As we have seen in the many retirement features in the Archive, it is not uncommon for some Martins managers to have clocked up forty-five or more years. 
<![if !vml]>

<![endif]>
1960 is a leap year, so when on 29 February Bishop Auckland Manager Mr Russell retires, the Bank effectively squeezes an extra day out of him!  Martins Bank Magazine now reports on the events of Mr Russell's last day in the Bank, and look out for the gentle sexism of the day when his wife is described as giving a "charming little speech" having accepted the gift of a bunch of flowers…
<![if !vml]>

<![endif]>
<![if !vml]>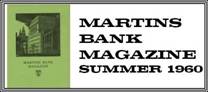 <![endif]><![if !vml]>

<![endif]>Mr. E. B. Russell, Manager at Bishop Auckland, retired on February 29th after 44 years' service. Most of this time he spent in the South West area of Durham where he is widely known and very highly respected. Among his many activities he is a past, President of Bishop Auckland Rotary Club. He was appointed Manager at Wearhead in 1932, Manager at Crook in 1937 and at Bishop Auckland in 1944.
<![if !vml]>

<![endif]>
Mr. L. J. Walton, District General Manager <![if !vml]>

<![endif]>of the North Eastern District, arrived at the branch during the morning of the 29th to express in person his good wishes for the future, and in the evening Mr. and Mrs. Russell entertained past and present col­leagues to a dinner party held in the King's Restaurant, Bishop Auckland. The guests included Mr. G. A. Weatherburn, Inspector, representing the District Management and, later on, Mr. W. S. Blaylock, Inspector, who called in on his way back from Darlington.
<![if !vml]>

<![endif]>
Mr. S. Hading, on behalf of the subscribers, presented Mr. Russell with four sets of crystal glassware, and Mr. Weatherburn spoke a few words on behalf of the Management. Mr. Russell expressed his thanks and the guests were highly entertained by his anecdotes of the early days in the North Eastern Banking Company.
<![if !vml]>

<![endif]>
In more serious mood Mr. Russell said that his chosen career in the Bank had given him a very full and satisfying life and the memories he had to look back on were stimulating and happy ones. He paid tribute to his staff, to his colleagues and to his wife, whose help and understanding had been a constant source of strength.
<![if !vml]>

<![endif]>
At this point in the evening Miss Barbara Sutton presented Mrs. Russell with a bouquet for which she expressed her appreciation in a most charming little speech.
<![if !vml]>

<![endif]>