<![if !vml]>

<![endif]>
<![if !vml]>

<![endif]>
<![if !vml]>

<![endif]>
<![if !vml]>

<![endif]>The Lancashire and Yorkshire Bank opens its Branch at Bispham in 1923, another "corner shop" affair that guards the Northern gates to the Bank's Blackpool kingdom.  The branch is amongst those kept open during World War II when women clerks in charge look after the business whilst the men were away fighting for King and Country.  Bispham is lucky enough to remain open beyond the merger, and shuts its doors for the final time in 1987.  The longest surviving Blackpool Branch of Martins Bank is Whitegate Drive, which stayed open after the 1969 merger as a Branch of Barclays until 25 September 2015.  Martins' kingdom amongst ice-cream and donkey rides has now sadly passed in history…
<![if !vml]>

<![endif]>
<![if !vml]>

<![endif]> 
Image © Barclays Ref: 0030/0272
Images © Barclays Ref 0033/0272
<![if !vml]>

<![endif]>
Bispham sub-Branch was opened in 1923 by Mr C W Aked, who apart from three year's War Service, during which the office was maintained by Mrs Norah Towers, ran the place for thirty years until his retirement on 31 March 1953.  As ever, Martins Bank Magazine was there to record the retirement festivities, which were held also to mark the retirement of Blackpool Branch Accountant, Mr E Barlow…
<![if !vml]>

<![endif]>
<![if !vml]>
<![endif]><![if !vml]>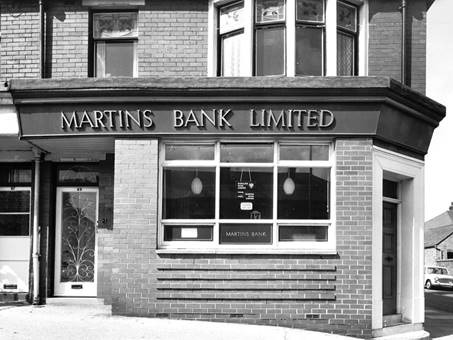 <![endif]>On the afternoon of 31 March, the staff of Blackpool Branch gathered together to pay tribute to Mr E Barlow, Accountant, and to Mr C W Aked, Clerk in Charge at Bispham Office, who were both entering their retirement and to wish them both many years of good health and happy leisure.  Mr Aked had completed forty-seven years in the service of the Bank, and the Halifax Equitable Bank and had opened Bispham sub-Branch in 1923 becoming quite an institution in the Village during his years there. As a reminder of his banking days, he had chosen a travlling alarm clock suitably engraved, and Mr Sharples (Manager, Blackpool) expressed the wish that he would "tick on" for many years to come. both Mr Barlow and Mr Aked expressed their sincere thanks and referred to the happy years and the many friendships they had enjoyed during their periods of service.
<![if !vml]>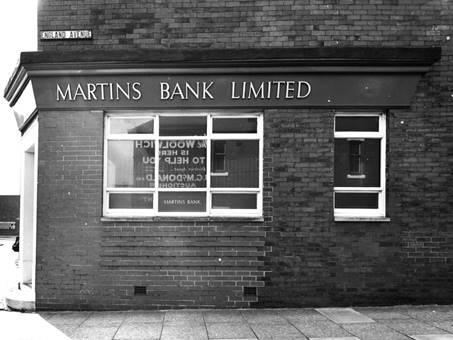 <![endif]>
<![if !vml]>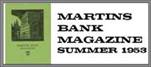 <![endif]>Bispham in colour…
<![if !vml]>

<![endif]>
We are most grateful to Steve Palmer, whose atmospheric images of the Blackpool area appear in his book "Blackpool and Fleetwood, 100 Years by Tram" (Platform 6 Publishing Ltd.,1998), and who kindly provided us with this 1960s colour image of Martins Bank's Branch at Bispham.  Colour pictures of Martins Branches are relatively rare, and it is always interesting to see just how well they bring to life specific periods in our history.  Apart from the old road signs, and the glimpse of overhead tram cables, this picture gives little else away about when it was actually taken. It certainly adds to that nostalgic yearning for those times within living memory when everything seemed much less brash and impersonal than the huge out of town shopping "experiences" of the twenty-first Century.
Title:
Type:
Address:
Index Number and District:
Hours:
Telephone:
Services:
Manager:
Martins Bank Limited 11-85-02 Blackpool Bispham
Sub to 11-85-02 Blackpool
71 Red Bank Road Bispham Lancashire
711 Manchester
Mon to Fri 1000-1500
Saturday 0900-1130
Blackpool 51757
No Nightsafe
Mr C H Jones Manager
1923
3 January 1928
15 December 1969
28 June 1987
Currently
opened by the Lancashire and Yorkshire Bank
Martins Bank Limited
Barclays Bank Limited 20-10-09 Blackpool Clifton Street
Closed
Taxi Service