<![if !vml]>

<![endif]>
The thinking behind this might be to make the Bank more attractive to London-centric investors. In the Summer of 1968, Captain Scarlet is not the only indestructible celebrity. This sturdy little plastic box is (apparently) indestructible, a strong statement about the bank, but sadly ironic considering how these beautiful little boxes have outlasted the bank itself.   Indestructible they might be, but they certainly don't need a super-criminal to break into them and steal the contents.  In a departure from the lockable boxes that can only be emptied in front of the cashier, the grasshopper money box has only a small plastic sliding door between you and your pennies.  The arrival of the grasshopper moneybox is celebrated by the following tongue in cheek article in Martins Bank Magazine…
<![if !vml]>
<![endif]>
Grasshoppers Under Stress…
<![if !vml]>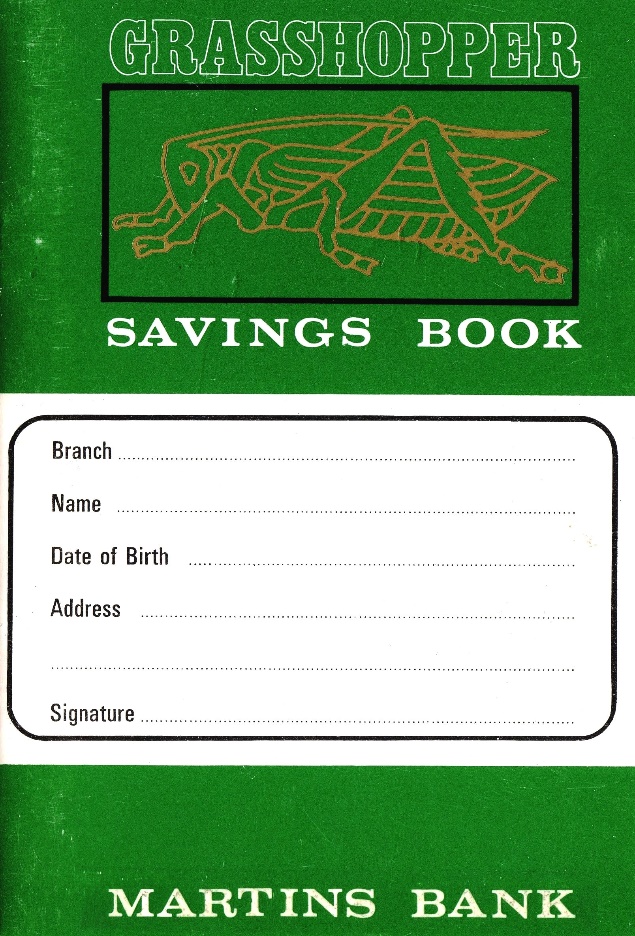 <![endif]>The Childproof Grasshopper Moneybox has taken the nation's children by storm, replacing the traditional piggy-bank, now lying forgotten in dingy attics. In this article we describe the work of the Grasshopper Testing Establishment and pay tribute to the staff whose skill and devotion to duty have brought about this revolution in nurseries throughout the country…
<![if !vml]>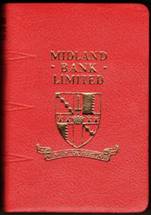 <![endif]><![if !vml]>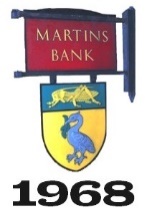 <![endif]>fatigue failures in the initial manufacturing stages of the Mark I Grasshopper brought to the fore the danger to the young saver of lethal knife-edged plastic splinters from disintegrated money-boxes. 'Safety for Savers' became the order of the day and the Grasshopper Testing Establishment was set up at Nether Hopping. The project was naturally highly secret and only after careful screening, were we permitted to make our visit, travelling down with the weekly supply convoy.  Arriving at the heavily guarded main gate we found the duty dog-handler Herbert Rumford-Street and his watchful tripe hound who were on special detachment from No. 2 Mobile Sub-branch (Fred's Caff, Great North Road). Our passes carefully scrutinised, we were ushered through the outer perimeter to the Admin. Office which had been skilfully disguised as a derelict Nissen hut. On the door was a weatherworn notice which we deciphered as TO LET. FOR GENTLE­MEN ONLY — a cunning subterfuge.
<![if !vml]>

<![endif]>Stepping inside we were impressed with the subtle decor, reminiscent of the later Great Western period, of chocolate and cream relieved with quaint motifs — in particular a simple but effective epitaph for the ubiquitous Kilroy. Here we met the Director of Operations, Isaac O'Kelly (Mac to his friends), who showed us an example of the Grasshoppers at that time being tested. 'These beggars nearly got the better of us' he remarked with a wry smile. Briefly he described testing methods, the ultimate aim, he assured us, being the creation of the Indestructible Grasshopper Money­box. Donning our protective suits of imitation plastic and matching gumboots, we began our tour of the Establish­ment. At Econ. Inf. Pub. and Ad. we met charming Joan Farnsbarns, a prominent figure. While reluctant to reveal vital statistics of which she is in sole charge, she entertained us with several amusing anecdotes. She told us that her hobbies are numismatics, embroidery and that she is a black belt. We moved on…
<![if !vml]>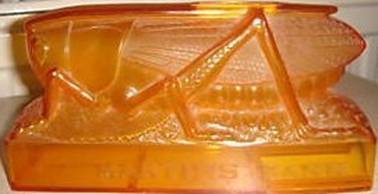 <![endif]>
Grasshopper Testing Establishment, Nether Hopping
<![if !vml]>

<![endif]><![if !vml]>

<![endif]>
At the reception shed we watched a consignment of Grasshoppers being carefully unpacked. Each received a sharp blow with a six-pound hammer before being forwarded to No. 2 bay where Jim Blogworthy and his happy staff select specimens at random into which are dropped foreign coins of equivalent weight to 73/6d and which are then hurled at a thick brick wall. Jim informed us that 17% of the Grasshoppers handled by his section are found defective, as was a similar percentage of his staff. Mr Blogworthy, who served his apprenticeship at Brooks's Bar, is the father of nine children. He has no hobbies.
From a distance we viewed the more sophisticated techniques to test resilience. Even the ordinary domestic explosion (gas cookers, geysers, oil heaters, etc.) is simulated, thus guaranteeing that our money­boxes (or 'bug-banks' as they are laughingly termed) are completely child-proof. Our final call was to the packaging department where the Grasshoppers are boxed together with a simple picture-leaflet explaining to the kiddies exactly what they can do with them.
We were told of the grand opportunities opening up in this field for young men of muscular physique who feel perhaps that their duties in general banking do not give them sufficient outlet. A management training scheme is now in operation for men of the right calibre. It was time to take our leave of Mr O'Kelly and on our way back we recalled the words inscribed above his desk which summed up the raison d'etre of the Estab­lishment — 'We're Bugging Britain'.
<![if !vml]>
<![endif]>
Rainy Day Records…
<![if !vml]>

<![endif]>
In common with the building societies, many 1960s banks still offer Passbook Savings – the bank statement is replaced in importance by the passbook, a record of savings activity kept by the customer, and updated by the bank.