<![if !vml]>

<![endif]>
<![if !vml]>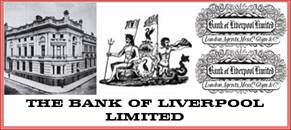 <![endif]>
<![if !vml]>

<![endif]>
<![if !vml]>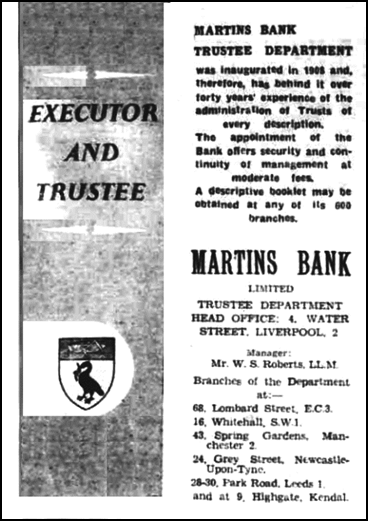 <![endif]>
<![if !vml]>

<![endif]>
In Service 1908 to 21 November 1969
<![if !vml]>

<![endif]>
<![if !vml]>

<![endif]>
<![if !vml]>

<![endif]>
<![if !vml]>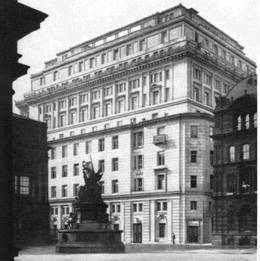 <![endif]>Martins Bank is justifiably proud of its regional structure, local branches, local head office departments, and the quick decisions that can be made to help customers, based on local knowledge.  It comes as no surprise then, to find that the Bank's Trustee and Investment and Income Tax Departments can also be found, arranged in a similar way, covering England and Wales, The Isle of Man and the Channel islands. The first of the Trustee Departments is established in 1908 by the Bank of Liverpool. Sixty years later Martins Bank combines that business with regional Income Tax and Investment Offices to create MARTINS BANK TRUST COMPANY LIMITED. We were delighted to be provided with an insight into what what life was like for the staff of the Liverpool Trustee department in the late 1940s / early 1950s, from Friend of the Archive Derek Lucas who wrote to us about his own time there.  It seems that it wasn't so much a behind the scenes environment, as a quiet backwater from which you had to escape if you wanted to get on….
<![if !vml]>

<![endif]>
Advertisement Image © Northcliffe Media Limited Image created courtesy of THE BRITISH LIBRARY BOARD and reproduced with kind permission of The British Newspaper Archive
<![if !vml]>

<![endif]>
<![if !vml]>

<![endif]><![if !vml]>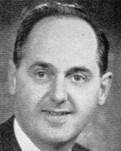 <![endif]>"I was nine years at Water Street in the bank's Head Office Trustee Department, along with, soon after rejoining the Bank after war service, several clerks of my age. I was assigned to the Securities Desk and it soon became apparent that the Bank dealt with numerous and very rich settlements founded by very well-known Liverpool families. In addition, more and more will appointments meant that the Bank had to have a comprehensive service throughout the country and branches had been established to this end. All went well, it was quite exciting to be working in Head Office, even if you were on the fourth floor, but you were where things happened and not in some remote Branch.  However, time passed and by the fifth year one came to realise this career path was in reality a "cul-de-sac".  The Department had three signing officers, an Assistant Manager, a Sub-Manager and the Manager, six in all. I must say the staff were very happy up to a point, but we hadn't joined the Bank to be Executors and Trustees. All our contemporaries were gaining valuable experience in Branch banking which would lead in many cases to promotion and to the higher echelons of Management.
<![if !vml]>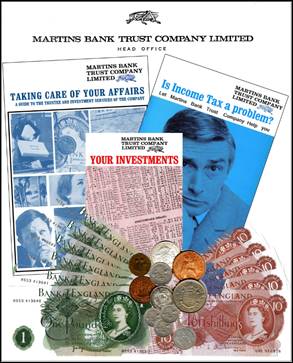 <![endif]>Along with some others with similar views it took several years to be extricated from this 'backwater' and on rejoining the mainstream of branch banking several years of intensive activity to get and keep abreast of those luckier enough to have had a head start, as it were. I don't intend to sound just an old sour grape, but a huge number of staff must have had the same experience and indeed the Staff Turnover must have gathered pace in the fifties and early sixties.  These departments should have attracted recruits from the professions, such as the law and accountancy, a worthwhile experience for any young trainee solicitor or trainee accountant. The lack of appointments, compared to the expansion of the Branch Network, meant that you were placed in a backwater, in some cases for life, no pun intended. If that all sounds very pessimistic I apologise, but being the biggest separate department, outside of the Branch Network, there must surely be a case for it and its records to join Martins Bank Archive"…
<![if !vml]>

<![endif]>