<![if !vml]>

<![endif]>
<![if !vml]>

<![endif]>
<![if !vml]>

<![endif]>
Accrington has the honour of being  alphabetically first in the long list of the 1000+ buildings which have been host to Branches of Martins Bank. In 1888 there is much discussion amongst, and a fair degree of conflict between, the directors of the Lancashire and Yorkshire Bank over plans for expansion.  The County Bank has stated its intentions to open a branch in Accrington, and although there is at first some opposition amongst the board of the L & Y, they too decide to secure premises (at Accrington Conservative Club) from which to do business in the town.  In 1903, as part of a later expansion drive, new premises more suited to the business of the Bank are built at Accrington.   We can see the new building is seen here as a branch of the Lancashire and Yorkshire Bank in 1922. Sadly a later exterior view with Martins Bank signage is still to be found. 
<![if !vml]>

<![endif]>
Accrington Branch only just survives the merger with Barclays, who close it and move the business to their Union Street Branch in 1972. Today, the Royal Bank of Scotland has the premises at 119 Blackburn Road. For our feature, we go back to 1965, and when Manager Mr F J E Cooke retires towards the end of February,  Martins Bank Magazine reports from the Accrington's Railway Hotel, where we find that a large gathering is already tucking in to a buffet lunch…
<![if !vml]>

<![endif]>
In Service: 1889 until 17 September 1971
<![if !vml]>

<![endif]>
<![if !vml]>

<![endif]>
Image © 1922 Martins Bank Archive Collections - W N Townson Bequest
<![if !vml]>

<![endif]>
<![if !vml]>

<![endif]><![if !vml]>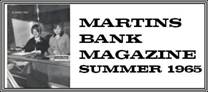 <![endif]>To mark Mr Cooke's retirement after 13 years as Manager of Accrington branch, 21 past and present colleagues, including managers of neighbouring branches, met at the Railway Hotel, Accrington, on February 25th. After an excellent buffet meal Mr H. Slater spoke of the happy atmosphere at the branch during Mr Cooke's managership, and on behalf of subscribers he handed Mr Cooke a cheque which will buy a garden seat for his new bungalow at Wiswell.  Mrs C. Riley then presented a bouquet to Mrs Cooke and Mr J. Speak (Manchester District Inspector) expressed the thanks of the Bank and the General Management.  The following day Mr Cooke was enter­tained to lunch by his District General Manager, and he and his wife invited the present staff and close friends to dinner at the Spread Eagle Hotel, Sawley. His career began in the Lancashire and Yorkshire Bank in 1921 and took him to several Manchester District branches before he joined the Portland Street staff in 1945. A year later he was appointed Pro Manager and in 1949, after a short spell at District Office, he moved to Bolton branch as Assistant Manager. His appointment as Manager at Accrington came in 1952.
<![if !vml]>

<![endif]>