<![if !vml]>
<![endif]>
<![if !vml]>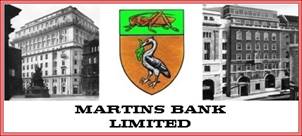 <![endif]>
<![if !vml]>
<![endif]>
<![if !vml]>

<![endif]>The fifteen years that lead up to the 1969 merger with Barclays is quite possibly the last period of real and steady growth in the  "old-fashioned" types of bank branch – untouched by computer technology, still operating systems and policies that go back fifty years or longer.  This "golden era" will shortly be consigned to history with the advent of competition – slowly at first with the invention of the credit card and the cash machine, then moved up a gear by clever advertising.
<![if !vml]>

<![endif]>
In Service: 1953 until 14 July 1972
<![if !vml]>

<![endif]>
<![if !vml]>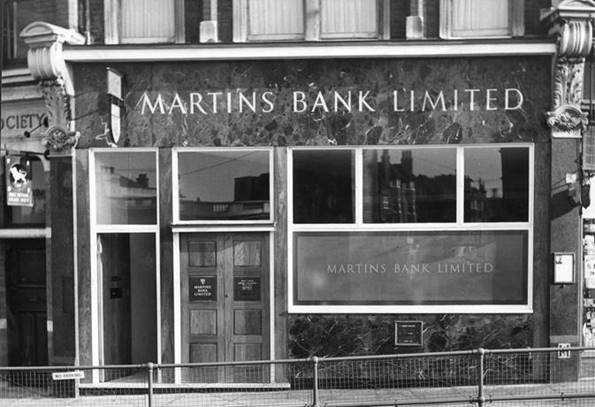 <![endif]>
Branch Images © Barclays Ref 0030-1071
<![if !vml]>

<![endif]>
<![if !vml]>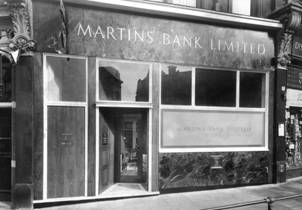 <![endif]>Finally comes the meltdown of branch banking that we see today, where we are encouraged to close branches ourselves by implication: By using the internet to perform banking transactions, we are apparently saying we don't want Branches any more. Although the old Martin's Private Bank provided a number of branches on the edges of London and in Kent, the modern day Martins Bank does not limit its southern expansion to places outside the capital.  From the 1930s to the 1960s a large number of new Branches are opened both in central and outer London, taking advantage of locations where the banking business can easily be poached from the Bank's rivals.  Sometimes branches are acquired FROM other banks when their own branch network plans cause a property to become vacant.  Sometimes a site is just perfect, as in the case of our Martins' Branch at Golders Green, which is visited not long after opening, by Martins Bank Magazine in 1954…
<![if !vml]>
<![endif]>
<![if !vml]>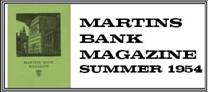 <![endif]>Our new premises at Golders Green are excellently sited opposite the Tube Station at the main cross-roads on the Finchley Road. The office interior is a pleasing departure from the traditional oak or mahogany and the woodwork of light walnut and East African Oliverwood, in conjunction with concealed lighting which shines on walls each different in shades of olive green, lime green and grey, give a bright, welcoming and friendly appearance. The Manager's room is one of the most unusual we have seen, the wall behind the manager's desk being faced with wall-paper of attractive design to which attention is drawn by concealed lighting, and the remaining walls are painted grey, the whole effect being harmonious and restful, though perhaps a trifle exotic. It is one of those odd things that when the provincial is asked what he knows about Golders Green the thought which immediately springs to his mind is that of a crematorium. We shared this odd reaction and even suggested that the staff photograph might be taken with the crema­torium as a background, but the suggestion was received with a forced laugh so we did not pursue it!  
<![if !vml]>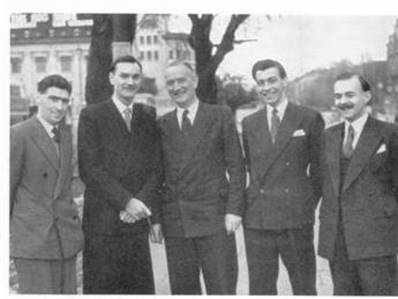 <![endif]>The photograph can hardly be described as a true photograph of our Golders Green staff because on the day of our visit Miss R. M. Barton was away through illness, and as Mr. D. E. Vaux was on holiday two extra "hands" were on duty.  We did not meet Mr. Vaux, though he came in for the photograph, but the other people who appear on it are Mr. F. T. Belcher, a trainee of nearly a year's standing and Mr. J. S. Davies of District Office Relief Staff. The staff is an all-London staff, headed by Mr. V. W. H. Eckett, on whose brow the cares of management sit lightly. Mr. Eckett, who entered the service in 1926 has been at 68, Lombard Street, Swanley, Maidstone, Farnborough, Orpington, London District Office and at Sidcup. He held signing powers at Sidcup from December 1946 until his pre­sent appointment last year, his first managership. Mr. and Mrs. Eckett are both to their home ground, where natives of Golders Green and have been quite pleased to return they have many friends, after living in Orpington since  1937. Mr. D. E. Vaux is second-in-command and Mr. D. S. Gibbens is number three.
<![if !vml]>
<![endif]>
<![if !vml]><![endif]>

<![if !vml]><![endif]>

Branch Images © Barclays Ref 0030/1071

Sometimes the stuff of which dreams are made, happens to ordinary people in ordinary places.  So it is that in 1966, Mr D G Harris, Manager of Golders Green Branch, meets a young man who will go on to carve a lasting legacy for himself on the World stage.  At this stage still known as Cassuis Clay, the future champion of civil rights is being honoured by the Pakistani Community of London…

<![if !vml]><![endif]>

<![if !vml]><![endif]><![if !vml]><![endif]>

<![if !vml]><![endif]>

The only social function attended in England by Cassius Clay in april this year was a reception and dinner given in his honour by the Pakistani Community of London. The photograph shows him with Mr D G Harris (Manager, Golders Green) who attended as the guest of a customer, and found Cassius a very pleasant and intelligent young man.

<![if !vml]><![endif]>