A 'gold' – but not in Mexico
<![if !vml]>
<![endif]>
<![if !vml]>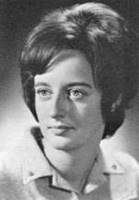 <![endif]><![if !vml]>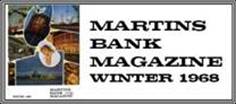 <![endif]>Our congratulations go to Lynda Preston of Colne Branch, who has just attained the Duke of Edinburgh Gold Award.  Her success follows two years' effort which involved her in practical experience of nursing, farming and Girls' Brigade leadership, and writing theses on design and fashion. 
<![if !vml]>

<![endif]>
So rewarding did she find assisting with the hydro-therapy classes for children with physical disabilities at Colne baths that Lynda intends to help again next year.  The award will be presented to her at Buckingham Palace by the Duke of Edinburgh.
<![if !vml]>

<![endif]>
For our second story, we visit the branch in 1963 and join the retirement party for Mr Kinder who has not simply managed Colne branch for the last nine years, his career spans an incredible forty-four years including opening a branch that could not be further away from Colne, at EXETER.  The destruction of Exeter Branch by enemy bombing in 1942 is featured in our MARTINS AT WAR section…
<![if !vml]>

<![endif]><![if !vml]>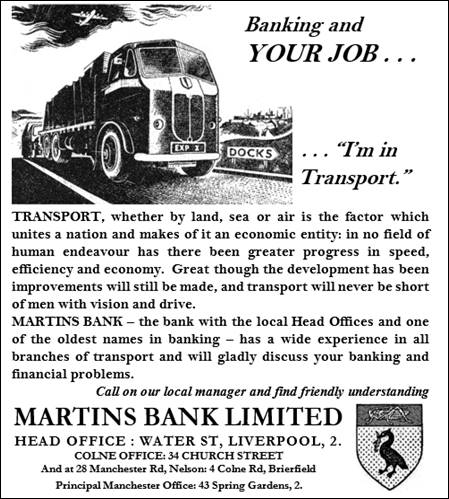 <![endif]>
Restored Image © Martins Bank Archive Collections
<![if !vml]>

<![endif]>
<![if !vml]>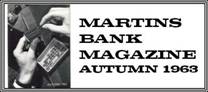 <![endif]><![if !vml]>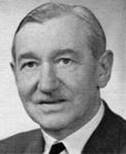 <![endif]>To mark the occasion of the retirement of Mr T. H. Kinder, Manager of Colne branch for the past nine years, friends and colleagues gathered at the Hendley Hotel, Colne, on the evening of June 28th. After an excellent buffet tea, Mr K. W. Baxter, second man at the branch, opened the formal part of the proceedings, wel­coming Mr I. Buchanan (Liverpool District General Manager) and all others present and paying tribute to Mr Kinder on behalf of his staff. <![if !vml]>

<![endif]>
Mr Buchanan, presenting a cheque and cigarette lighter, thanked Mr Kinder most sincerely for his 44 years of service to the Bank and mentioned the active life he has led in Rotary, Masonry and, indeed, 'Golfery' as well. He described Mr Kinder as 'one of nature's gentlemen' and this, together with the!thought that no surname could have been truer to the person, was warmly applauded.  In his reply, Mr Kinder sketched lightly through his career – from his 'salad days' as junior at Clitheroe in 1919, to Keighley and his first tour of duty in Colne in 1927, through to his managerships at Exeter, which he opened in 1939, Garston, Settle and, ulti­mately, Colne.
<![if !vml]>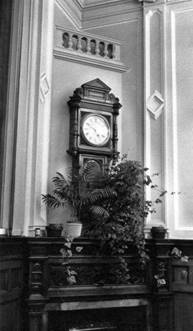 <![endif]>
<![if !vml]>
<![endif]>
He supposed that the reason for the unexpected inclusion of a lighter in his farewell present was in some way due to the fact that he never seemed to have a light of his own and, to those of us who have had the pleasure of working with him, this is just one of those human qualities which endeared him to us all. Finally, in a short but delightful little speech, Miss Margaret Hall, the senior lady of the Colne staff, wished Mr and Mrs Kinder well in their retirement and presented a bouquet to Mrs Kinder.
<![if !vml]>
<![endif]>
<![if !vml]>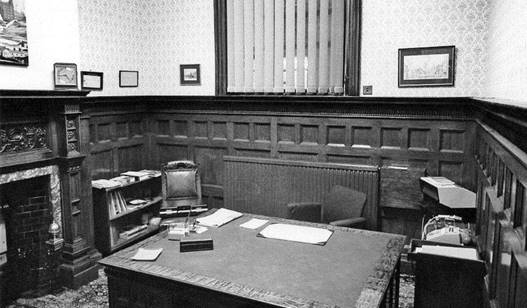 <![endif]>
<![if !vml]>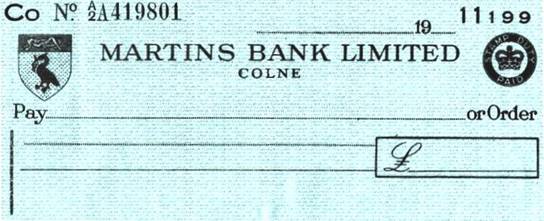 <![endif]>

These images, kindly donated by Alan Pritchard, show the Manager's Room at Colne shortly after the merger with Barclays, a specimen cheque from the 1950s and (above right) the ornate branch clock.

<![if !supportMisalignedColumns]>