<![if !vml]>

<![endif]>
<![if !vml]>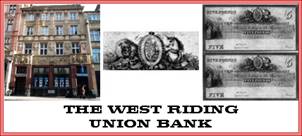 <![endif]>
<![if !vml]>

<![endif]>
The West Riding Union Bank opens its Branch at Mirfield as long ago as 1799. The following extracts from FOUR CENTURIES OF BANKING Volume II © 1968 Martins Bank Limited, give a fairly potted history of Banking in the Mirfield area of Yorkshire.  There are many players in the market, and some banks have evolved through the coming and going of many partners before finally settling down to business.  The first major Bank to operate this Branch at Mirfield is the West Riding Union Bank, which is taken over by the Lancashire and Yorkshire Bank in 1902…
<![if !vml]>

<![endif]>
In service: 11 May 1928 – 18 February 2011
<![if !vml]>

<![endif]>
<![if !vml]>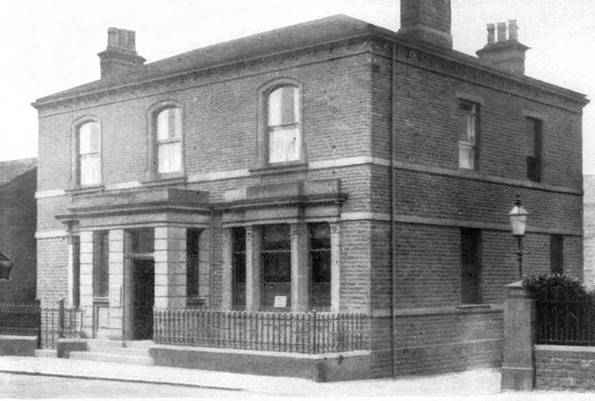 <![endif]>
Image © Martins Bank Archive Collections – W N Townson Bequest
<![if !vml]>

<![endif]>
{Whereas the Craven Bank was acquired by the Bank of Liverpool Limited, and the Halifax Bank by the Bank of Liverpool and Martins Limited, the WEST RIDING UNION BANK was taken over in 1902 by the Lancashire and Yorkshire Bank, before its own absorption into the Bank of Liverpool and Martins in 1928. The West Riding Union Bank evolved out of private banks operating at first in Huddersfield, Mirfield and Dewsbury.}   {Mirfield on the River Calder is also served by the Calder Canal and became a centre for the manufacture of carpets and blankets for cotton spinning.  The Bank started as a private bank of the Wilsons of Huddersfield and Mirfield, it became a local joint stock bank, and then by amalgamation with Hagues, Cook and Wormald of Dewsbury, a district bank of unlimited liability, and finally a district bank of limited liability.}
<![if !vml]>

<![endif]>
<![if !vml]>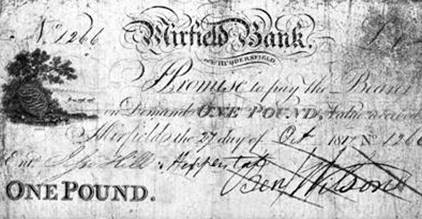 <![endif]>The above images show the Mirfield branch of the West Riding Union Bank as acquired by the Lancashire and Yorkshire Bank.  By the 1960s the building is no longer fit for purpose as a modern day bank, and it is demolished and re-built by Martins.  The image to the right is a rare example of a Mirfield Bank £1 note signed by Ben Wilson, whose portrait hangs at Mirfield Branch. In 1966 Martins Bank Magazine undertakes a number of fleeting visits to the Bank's branches along the River Calder, and the resulting few lines for Mirfield are shown below.  Whilst at first glance the group staff image appears to be spoiled, this is actually a "special effect" designed to represent the flow of the River Calder across the pages of the magazine article (!)  Following our trip down the river, we attend the retirement celebrations of the A C Alderson, Manager of Mirfield Branch from 1949 to 1963.
<![if !vml]>

<![endif]>
<![if !vml]>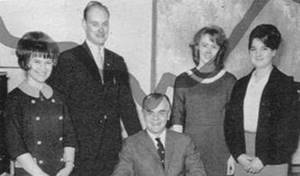 <![endif]><![if !vml]>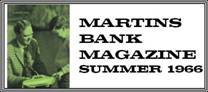 <![endif]>Visibility was down to 150 yards and in a cautious drive to Mirfield through the fog, mist or low cloud, we saw very little beyond the road.  Ben Wilson had a banking business at Mirfield in 1799 and though the old site has been demolished, a stone dated 1824 has been retrieved by Mr Cooper for his room.  The main business used to be wool and barley but today covers malsters, carpet yarns, coach and wagon building and ladies' coatings, and the cheerful staff includes a young lady, Miss Scargill, who left her parents behind in the warm climate of Georgia  to return to Yorkshire 'because she missed it'. On that sort of day, such an attitude gave us fresh heart…
<![if !vml]>

<![endif]>
<![if !vml]>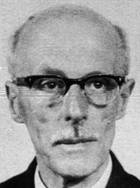 <![endif]><![if !vml]>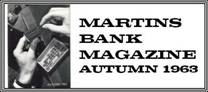 <![endif]> Mr A C Alderson retired at the end of June, as Manager of Mirfield branch, after forty-three years' service and to mark the occasion he entertained some thirty guests to light refreshments and sherry. He was presented with a transistor radio by Mr A. Slater (Manager, Batley) who expressed the sincere wish that Mr and Mrs Alderson would enjoy many years of good health and happiness in their new home at Hampsthwaite in the Yorkshire Dales. Mr R. Tanner (Manchester District Inspector) echoed these sentiments on behalf of the District General Management and thanked Mr Alderson for his years of loyal and devoted service to the Bank. In reply. Mr Alderson, who had earlier lunched with Mr E. H. Priestley (District General Mana­ger), spoke appreciatively of his staff and of the help and guidance he had always received from his colleagues. Mrs Alderson, whose absence from the Mirfield scene will be sadly felt by a number of local committees and societies, was presented with a shopping bag by Miss Jean Pollard and all the guests then drank to the future health and happiness of their retiring colleague and his wife. Mr Alderson entered the Equit­able Bank in 1920, moving to Sowerby Bridge in 1927 and Elland ten years later. He served four years with H.M. Forces returning to Sowerby Bridge in 1946 and later that year moved to Elland where he became Pro Manager the following year.  His appointment as manager of Mirfield branch came in 1949.
<![if !vml]>

<![endif]>