<![if !vml]>

<![endif]>
<![if !vml]>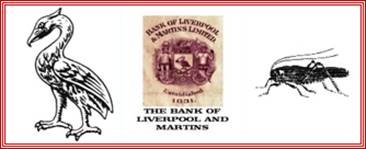 <![endif]>
<![if !vml]>

<![endif]>
Martins Bank is very proud of its branches in Wales, especially as Barclays' presence there is particularly strong.  It is Martins that pioneers the use of bi-lingual cheques -  the idea of a Welsh speaking Manager - and the Bank maintains a consistently high profile in Wales over many years, attending the National Eisteddfod, and many of the Welsh agricultural shows.  Colwyn Bay branch is opened by the Bank of Liverpool and Martins on 1ST December 1927 and has been going strong ever since.  Despite a quite horrible re-design in the 1970s, (see "then and a little bit later" below) the building still retains its corner aspect - a typical style favoured by many banks over the years, because it makes their business visible in two streets at once, especially with carefully placed signage!  Martins Bank Magazine packs a bucket and spade and heads to Colwyn bay for a feature in its Summer 1961 Issue, taking the opportunity to be shown around the childhood haunts of the Magazine's Editor…
<![if !vml]>

<![endif]>
<![if !vml]>

<![endif]>
In Service: 1927 until 7 September 2022
<![if !vml]>

<![endif]>
<![if !vml]>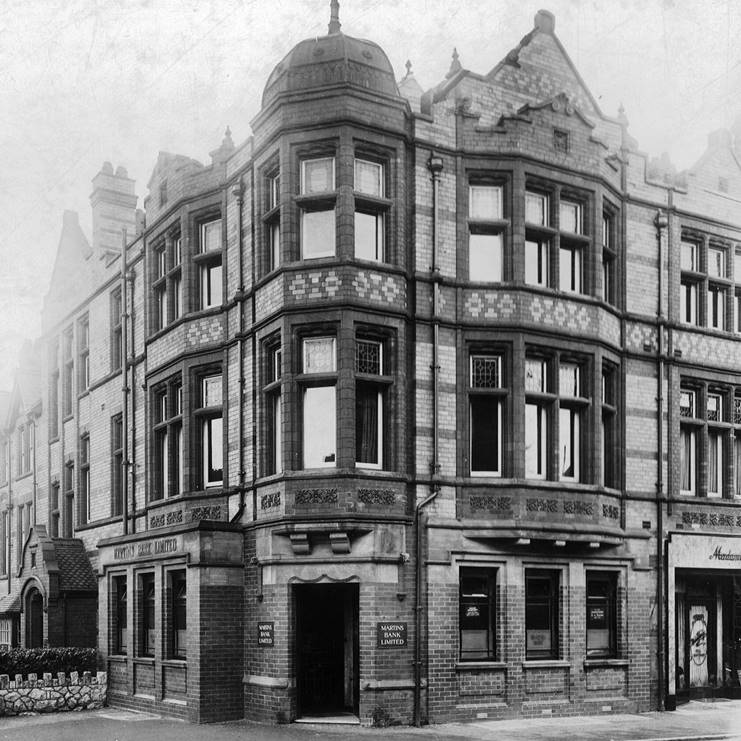 <![endif]>
Branch Images © Barclays Ref: 0030/0700
<![if !vml]>

<![endif]>
<![if !vml]>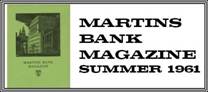 <![endif]>We have spent several very pleasant holidays at Colwyn Bay and so when Mr. Moncreiff wrote urging us to get there as early in the day as possible so that he could show us some of the beauties of the district we realised that he either did not know of our earlier visits or else that he contemplated something oriental—the kind of hospitality which we have always understood is laid on for visiting potentates! We travelled by the first train and presented ourselves at the branch as soon as we could, and after receiving a warm welcome from our Colwyn Bay colleagues a quick look round told us something which we are constantly discovering for ourselves in editing this Magazine, that people use the same word with quite different meanings.
<![if !vml]>

<![endif]>
<![if !vml]>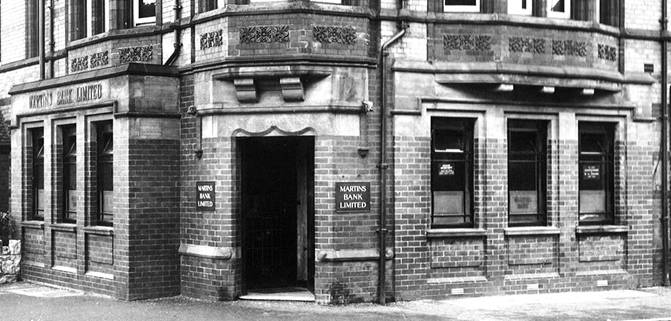 <![endif]>Not only had the staff not been augmented for the day, but one of the two beauties was actually away on sick leave. This was Miss A. Fitzgerald, who entered the service last August after leaving Howell's School. We were sorry not to see her but glad that she was back in time to be included in the photograph. The other girl, Miss H. P. Gray, officially on Head Office Relief Staff, but actually normally stationed at Colwyn Bay, we knew quite well. She was a member of our Swiss 1949 Party and also of this year's Italian Lakes Party. But although we know her quite well, we must confess that we still have difficulty in deciding which is Pat Gray, and which is her twin sister Betty, whom we have also met on both Tours.
<![if !vml]>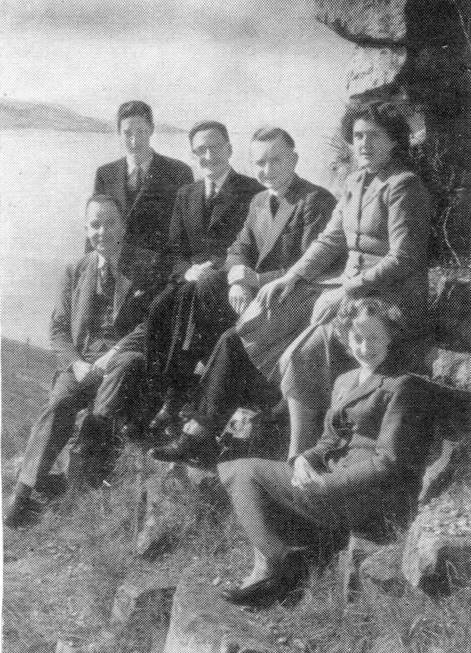 <![endif]>Mr. A. D. Moncreiff is an old friend and following his nine years sojourn in Staff Department from 1926 until his appointment as Manager at Colwyn Bay in 1935 he is widely known through­out the service. He commenced his service at Central branch in 1916 and subsequently served at East, Waterloo, Inspection Department, Birkdale, Head Office Correspondence Department and Stock Loan Department, and at Smithdown. Mr. Moncreiff is performing a very good job of work with one of the local branches of the Sea Cadet Corps in which he holds the rank of Lieutenant, R.N.V.R.(S). His first contact with the Senior Service was made during the latter part of World War I. His other great interest is the British Red Cross Society in which he is Treasurer of the North Denbighshire branch.
We had the pleasure of meeting Mrs. Moncreiff and of lunching with them both, afterwards returning to the branch to complete our visit. Mr. H. C. Taylor is second man and we were interested to discover that he also was an old boy of Central branch, our own first branch. Mr. Taylor served with the Liverpool Scottish in the First World War and was wounded at Hooge, subsequently going to Egypt. He is actively interested in the work of the British Legion and is Hon. Treasurer of the Llanddulas branch, and of the West Denbigh County Committee. He is also a member of the Central Committee of Martins Bank Golfing Society and is Secretary of the North Wales District for the Qualifying Rounds. H. B. Howell-Jones entered the Bank in 1928 and has served at Spring Gardens, Burnage, Manchester District Office, Urmston and Rhyl before going to Colwyn Bay in 1946. He is actively associated with the work of the Society of Friends and we were interested to discover that he knew Quaker friends of ours with whom we had stayed in Bentham a few days before. The junior is P. M. Dunn, a likely-looking lad of 6 feet 4 inches who entered the service at Colwyn Bay in 1949 and is hoping to do his National Service with the Navy later this year. Colwyn Bay is a pleasant place in which to work and live and our branch is attractively situated in the main street. In the sunshine of a beautiful Spring day, with the sun sparkling on the waters of the Bay and masses of purple aubretia flowering on the walls of every cottage garden we can surely be forgiven for the fleeting thought which crossed our minds: - "Why live in places like Liverpool, Manchester and Leeds?"
<![if !vml]>

<![endif]>
Who ever granted the planning permission for this?
<![if !vml]>

<![endif]>
<![if !vml]><![endif]><![if !vml]><![endif]>What a terrible shame! The 1970s, like the sixties before them, bring a lust for change, and a race between architects wielding the power to "shock". The a result is a riot of concrete, glass, and rust-prone steel reinforcements that today makes us shudder and simply ask WHY?  We are indebted once more to Robert Montgomery, who has spent more than ten years taking photographs of bank branches, many of which are no longer trading.  This makes Robert's work all the more important, as the first two decades of the twenty-first century witness the death of the bank branch.  That we now as customers of a bank find ourselves being re-directed to the Post Office if we need cash is a concept that until the 2000s, most people would have laughed out loud at the thought of.  As leases come to an end, many banks don't even pause for thought before weilding the axe, and having made everyone use internet banking, there is now a perfect excuse for closing a branch – no-one uses it any more!  That's progress for you….

<![if !vml]><![endif]>

<![if !vml]><![endif]>

<![if !vml]><![endif]>

Image © Barclays Ref: 0030-0700

Image © Martins Bank Archive Collections – Robert Montgomery
<![if !vml]>

<![endif]>