<![if !vml]>

<![endif]>
<![if !vml]>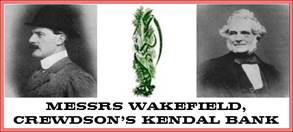 <![endif]>
<![if !vml]>

<![endif]>
Messrs Wakefield Crewdson – the Kendal Bank, opens a branch in Keswick in 1865, making this Branch one of the oldest Branches inherited by Martins Bank still to be in service in the twenty-first century.  Thankfully, these modest but magnificent premises in the Market Square have changed little over the years, and today the branch, along with the rest of Keswick's Market Place still manages to exude the charm and tranquility of earlier days. 
<![if !vml]>

<![endif]>
Situated at the top end of the Lake District, Keswick, unlike a number of other former Wakefield Crewdson Branches in Cumberland and Westmorland, is a standalone Branch, with no sub-Branches of its own to look after.  The branch offers a full banking service across a six day opening pattern.
<![if !vml]>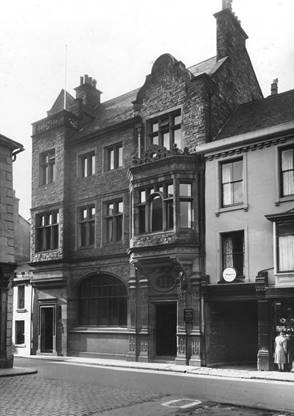 <![endif]>
<![if !vml]>

<![endif]>
In Service: April 1865 until 21 April 2023
<![if !vml]>

<![endif]>
<![if !vml]>

<![endif]>
<![if !vml]>
<![endif]>
Image © Barclays Ref 0033-0298
<![if !vml]>

<![endif]>
For our Keswick feature, we go back to September 1967, to find that Mr J B Wilson, Manager of Keswick for the last nine years, completes forty-three years' service and is about to retire.  As usual, Martins Bank Magazine is there to record the event…<![if !vml]>

<![endif]>
<![if !vml]>

<![endif]>
<![if !vml]>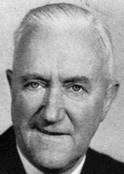 <![endif]><![if !vml]>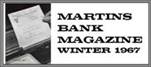 <![endif]>on September 27 to mark his retirement after almost 43 years' service Mr Wilson entertained present and past colleagues at an informal gathering at Keswick branch. During the evening Mr Lowis of the Kes­wick staff spoke appreciatively of Mr Wilson and welcomed Mr Buchanan who presented a pair of binoculars on behalf of subscribers.
<![if !vml]>

<![endif]>
These will provide Mr Wilson with a great deal of pleasure in the Lakeland area which he knows so well. A native of Carlisle, he began his career at Appleby and had been able to enjoy the Northern scene all his banking life, apart from his service with the Forces during the war.  He was appointed Clerk-in-Charge at West End, Morecambe in 1953 and five years later became Manager at Keswick. Miss Kathleen Robinson presented a bouquet to Mrs Wilson, who had always been a helpful and understanding partner in her husband's service to the Bank, and whose presence contributed in no small measure to the success of the evening.