<![if !vml]>

<![endif]>
<![if !vml]>

<![endif]>
<![if !vml]>

<![endif]>
Martins Bank's Branch at King Cross, Halifax,  appears to have moved about a bit over the years, but it is, (we think) still going strong today in the same place it always was – under the Halifax Commercial Banking Company, King Cross was also listed as being in Haugh Shaw Road.  Later, the address was simply King Cross, and today it is 203 King Cross Road.  The answer would appear to lie in the building being situated on the corner of Haugh Shaw and King Cross roads.  Glad we cleared that one up , then…   Our thanks go to Barclays and to Steve Gee for images of King Cross Branch, all of which capture perfectly the period in which they were taken. For our feature we journey back to 1962 and the retirement of Mr Bottomley, who has been Branch Manager for the last twenty of a mind-blowing FORTY-EIGHT years' service…
<![if !vml]>

<![endif]>
<![if !vml]>

<![endif]> 
<![if !vml]>
<![endif]>Mr. A. L. Bottomley, Manager of King Cross branch, Halifax, for the last 20 years, retired at the end of October after nearly 48 years' service.
<![if !vml]>

<![endif]>
To mark the occasion he and Mrs. Bottomley entertained past and present colleagues to an excellent meal at the Royal Hotel, Rishworth, after which Mr. J. Servant, Leeds District General Manager, thanked Mr. Bottomley for his long and efficient service, and expressed the good wishes of all the staff for a very happy retirement.
<![if !vml]>

<![endif]>
In Service: pre 1927 until 12 June 2020
<![if !vml]>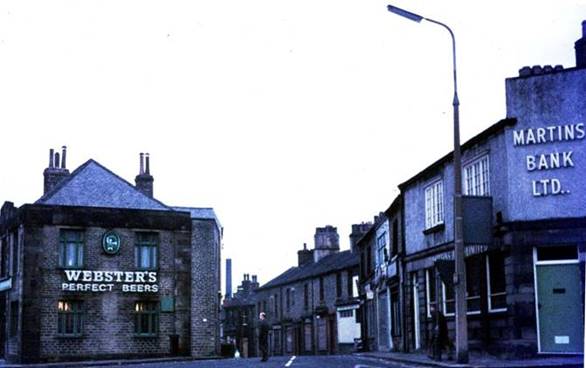 <![endif]>
It's blue up North – King Cross Branch in the late 1960s
Image © Martins Bank Archive Collections - Steve Gee
<![if !vml]>

<![endif]>
<![if !vml]>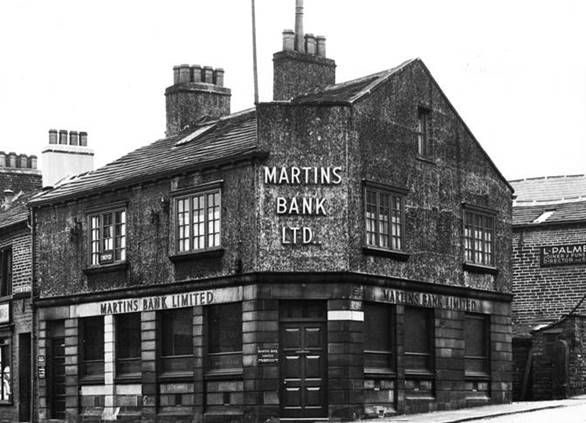 <![endif]> 
Image © Barclays Ref: 0030-1165
<![if !vml]>

<![endif]>
On behalf of the subscribers Mr. Servant then presented a cheque with which Mr. Bottomley is to purchase a nest of tables. Miss Priestley, one of the lady members of Mr. Bottomley's staff, presented a bouquet to Mrs. Bottomley.  In his reply, spiced with typical Yorkshire anec­dotes, Mr. Bottomley recalled his early years in the Bank on a commencing salary of £20 per annum and remarked on the changes which had taken place since then.
<![if !vml]>

<![endif]>
<![if !vml]>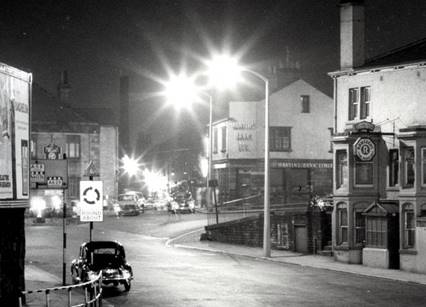 <![endif]>
Image © Martins Bank Archive Collections - Steve Gee
<![if !vml]>

<![endif]>
He thanked all those with whom he had served and the District General Manager and his staff for their unfailing help, and for the gift which, besides being useful, would serve as a constant reminder of the happy time that he had spent in the Bank. <![if !vml]>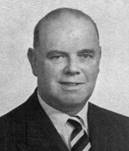 <![endif]>Mr. Atkins (Manager, Halifax) expressed on behalf of all the members of his branch good wishes for a well merited retirement, and Mr. E. Nicholl, who succeeds Mr. Bottomley, paid tribute to the personal attention and understanding help which Mr. Bottomley had given to all his customers, as was evident from the high regard in which he was held by them. Mr. Bottomley's retirement is particularly inter­esting as he was the last member of the staff who began his career with the Halifax Commercial Banking Co. Ltd., which he joined in 1915.

Apart from the years 1917-1918 when he served in H.M. Forces, being commissioned into the Duke of Wellington's Regiment, he remained at Halifax until 1936, when he was appointed Clerk-in-Charge of Hipperholme branch, moving to King Cross in 1942. Mr. and Mrs. Bottomley will continue to reside in the district, where they have many friends and interests.

<![if !supportMisalignedColumns]>