<![if !vml]>

<![endif]>
<![if !vml]>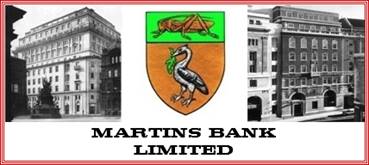 <![endif]>
<![if !vml]>

<![endif]>
<![if !vml]>

<![endif]>Martins Bank's Bristol Trustee Department opens on 1 March 1962 and so continues the story of the goose that laid the golden egg – Martins Bank Trustee and Investment Services really does lead the way in the 1960s and proves to be one of the wisest investments that will ever be made by Barclays. 
In Service: 1 March 1962 until 21 November 1969
<![if !vml]>

<![endif]>
<![if !vml]>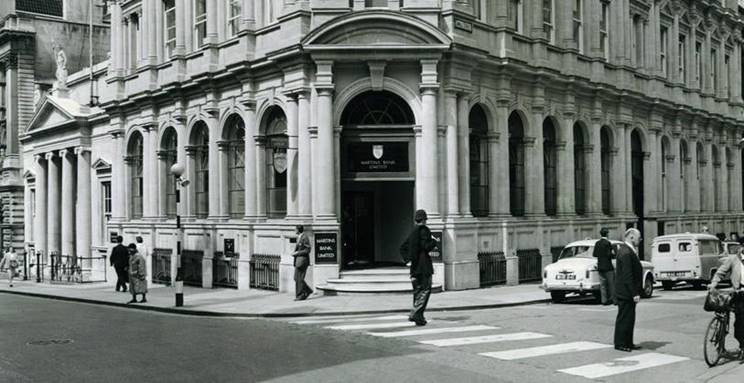 <![endif]>
Image © Barclays Ref 0030/0411
<![if !vml]>

<![endif]>
The idea is not new, but it is really quite simple.  You set up local companies based in or conveniently near to a Branch of the Bank, and offer top notch trustee and investment advice to your wealthier customers in return for a modest fee.  Helped along by high profile customers and share issues along the years, Trust Company is a great example of what Martins Bank can achieve, even though in banking terms Martins is known as "one of the small six"…   One year after Bristol Trust Company gets up and running, Martins Bank Magazine pops in to see what all the fuss is about…
<![if !vml]>

<![endif]>
<![if !vml]>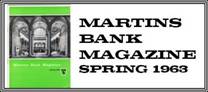 <![endif]>This journey was really necessary, for our Trustee Department at Bristol opened on March 1st, 1962, but had not yet received a visit from us. Other new offices are also overdue for visits but this was the only one offering a reasonable chance for a quick visit in early February. So on the second day of the short-lived 'slow thaw' we decided, after a six-and-a-half hour train journey, to walk to our hotel through ice and slush. Even in these conditions, we were impressed by Bristol and the new developments in this hub of the South West. Mr. Peter Jones and his wife joined us for dinner and later drove us out to Abbot's Leigh where, in a charming house in the old deer park on a ridge overlooking the Severn, they and their two boys have made their new home.
<![if !vml]>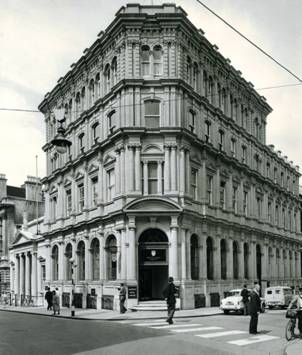 <![endif]>Mr. Jones and his wife hail from Aughton and were eager for news of old friends on Merseyside. Peter G. Jones joined the Bank at Formby in 1939 and, while a Flying Officer in the R.A.F. in India, was awarded the M.B.E. for a gallant attempt, in which he received dreadful burns, to rescue the pilot of a burning plane. He entered Head Office Trustee Department on demobilisa­tion, going to Newcastle Trustee Department in 1953 and receiving signing authority in 1958. While one naturally expects enthusiasm in a new office we were impressed by the sustained energy and enthusiasm of Mr. Jones and his team who must be every bit as keen now to further the success of their department as they were at the outset.  The old saying 'nothing succeeds like success' is shown in the atmosphere of liveliness and vigour at Corn Street which starts at the very top: it must be encouraging to those in the Trustee Department to know that their interest and optimism are shared by their District General Manager and by branch managers in the District who are becoming increasingly 'Trustee and Tax conscious'. Mr. A. R. Harris, who is second-in-command, is a natural terrier for work. Joining Income Tax Department at Head Office from the Inland Revenue in 1957, he completed the Institute of Bankers' examinations in 1962 without the advantages of any branch experience to help him. At the time of our visit he was coping alone at home, for his wife is still on Merseyside having recently presented him with a second daughter.
<![if !vml]>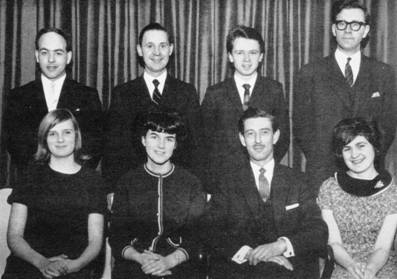 <![endif]>Mr. R. F. Head, who sportingly interrupted a short holiday to come in for the day, entered Head Office Trustee Department in 1959 following National Service. He is a native of Paignton and studied law at the University of Exeter. Mr. J. E. Slowley is a local boy who entered the Bank in September last. A Duke of Edinburgh Award winner and a keen Scout, he seems as determined as his seniors to make a success of his job. Also in the department for a few months' training was Mr. M. J. Wilson, B.A., a Londoner by birth and graduate of St. John's College, Oxford, who joined the South Western District under the Graduate Training Scheme in October 1961. He has already found much of interest in his banking life and was fully employed assisting Mr. Harris with the rapidly expanding business.
There are three ladies on the staff, Miss I. A. Cadogan who entered on January 1st a year ago, Miss C. M. Emmerson who came in August last year, and Miss A. D. Mullen, the youngest, but senior in length of service. It was a pleasure to talk to these girls who, with a combined ex­perience of less than two years, are already prepared and willing to tackle more than routine tasks and train up newcomers in an expanding but happy team. It had been snowing when we left the hotel in the morning and was snowing more heavily as we left Bristol. In Liverpool too, the slow thaw had exhausted itself and, as we write, we are back in the grip of winter. But we keep wondering how long the snow sticks on the roof of 47 Corn Street. Not long, we think, with all that energy below—unless the insulation is very good: in which case nobody will be fooled except our competitors.
<![if !vml]>

<![endif]>