<![if !vml]>

<![endif]>
<![if !vml]>

<![endif]>
<![if !vml]>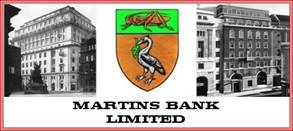 <![endif]>
<![if !vml]>

<![endif]>Opening a branch in Ashford takes Martins back once more to its Southern roots, as it is the old Martin's Private Bank of Lombard Street that originally provides a clutch of London and Kentish Border branches when it merges with the Bank of Liverpool in 1918. 
<![if !vml]>

<![endif]>
The problem for the modern-day Martins is going to be the effect that merging with Barclays will have on the South of England branches it has worked so hard to build for more than fifty years.
<![if !vml]>

<![endif]>
Although the Merger is made official in November 1968, it will take until the end of 1969 to work out the complexities of the Branch Network. 
<![if !vml]>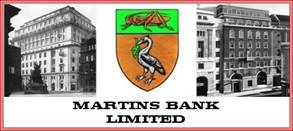 <![endif]>
In Service: 4 November 1965 until 15 November 1982
<![if !vml]>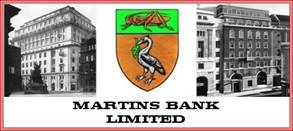 <![endif]>
<![if !vml]>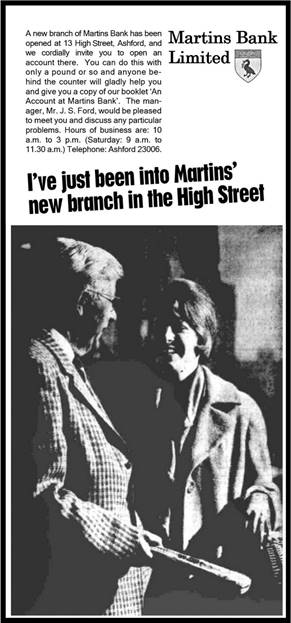 <![endif]>
Image © Martins Bank Archive Collections
<![if !vml]>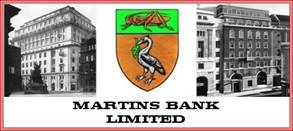 <![endif]>
Things will be better for Martins in its Northern heartlands, with many Barclays Branches closing in favour of bigger or more modern Martins outlets.  In the Midlands and the South, Martins has opened branches in towns and cities where it has been in direct competition with its new owners. Ashford is lucky enough to survive for thirteen years after the Merger. For our feature, we visit Ashford not long after opening, and the Winter 1965 edition of Martins Bank Magazine shows us round. the grainy black and white and the one precious colour image are all that are left to show us Ashford Branch under its original owners…
<![if !vml]>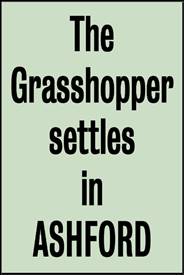 <![endif]>
<![if !vml]>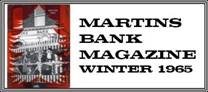 <![endif]>"The mountain sheep are sweeter,
  but the valley sheep are fatter;
  we therefore deemed it meeter
  to carry off the latter"…          ( T L Peacock )
<![if !vml]>

<![endif]>
That little jingle may explain why the man at our hotel had been coming to Ashford once a week from July to November for thirty years to buy sheep. Having bought these products of Kent's rich fields and the Romney Marsh he resold them throughout the West Country and even in the Midlands. On November 5, the day we called at our new branch, the last sheep sale was being held at the market but our friend thought he'd buy very few because too many people would be after them. Just as Ashford market provided a lively interest for sheep buyers, our new office was a source of interest to people in High Street. We had opened the day before and on the morning of our visit, more new customers arrived. Many people stopped to peer in and their comments were invariably favourable.
<![if !vml]>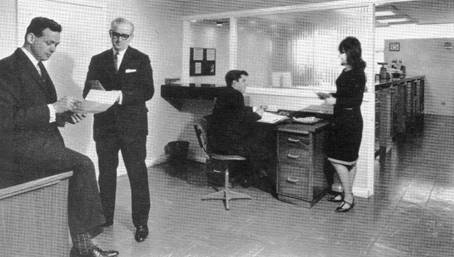 <![endif]><![if !vml]>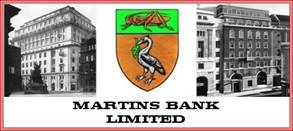 <![endif]>
The branch has tremendous depth. Behind the screen is a working space, an interview room, manager's room, vast machine room, strong room and behind that a car park.  Upstairs are storerooms and staff rooms. There is nothing cut-price about the branch and certainly nothing skimped in the service it provides. Mr J. S. Ford has a great keenness and sense of humour. His promotion in February to Pro Manager came as no surprise to us and his appointment as manager of Ashford branch seems a logical step forward.
<![if !vml]>

<![endif]>
He is a terror for punishment and within three days opened the new branch, coped with us and a hundred other problems, and moved house.  Mr P. J. G. Cleary, a native of Galway who studied medicine for three years before deciding it was not for him, is probably the only man to enter the service by getting off a bus, going into a post office and with a post office pen replying to an advertisement while on holiday in England in 1951. During his spell at Dartford branch he founded the Dartford Irish Club which became the third largest in England and, though it nearly killed him, we predict that something similar will occur in Ashford because we saw it beginning to work at the counter. Good-humoured friendliness, a willingness to be of help and an unmistakable trace of an accent made quite an impression.x Mr M. Cavender with two years' service at Rochester and a twinkle in his eye, is the third man on the staff.
<![if !vml]>

<![endif]>
<![if !vml]>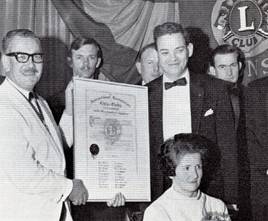 <![endif]>Mrs P. M. O. Loughlin is an experienced short­hand typist who, though she joined the Bank only a few weeks earlier, hopes soon to add cashiering to her repertoire. Ashford has great possibilities.  Like Canterbury it has a wide hinterland and though industry to the west will counteract the closing of the railway workshops the country town atmosphere predominates. We saw no bowlers and few umbrellas in the main street but plenty of sticks, caps and dufflecoats. One man in a dufflecoat said 'I reckon in twelve months a Friesian with calf at foot'll cost you £180'. His companion was willing to pay up to £65 for 'good bullin' 'eifers' if he could get them. It seemed that a lot of money was going to change hands in Ashford and we think the new branch will see quite a lot of it…
A Lion in Ashford…
Being a bank manager in the 1960s doesn't simply mean sitting behind a desk.  Being -  and actively demonstrating that you ARE - a pillar of the community is almost expected of you.
<![if !vml]>

<![endif]>
All in a day's work then for Mr Ford, who has been managing the new branch for less than three years when he rolls up his sleeves and mucks in for charity as president of the local Lions Club.
<![if !vml]>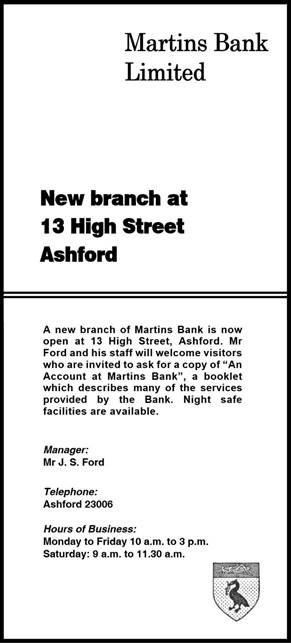 <![endif]>
<![if !vml]>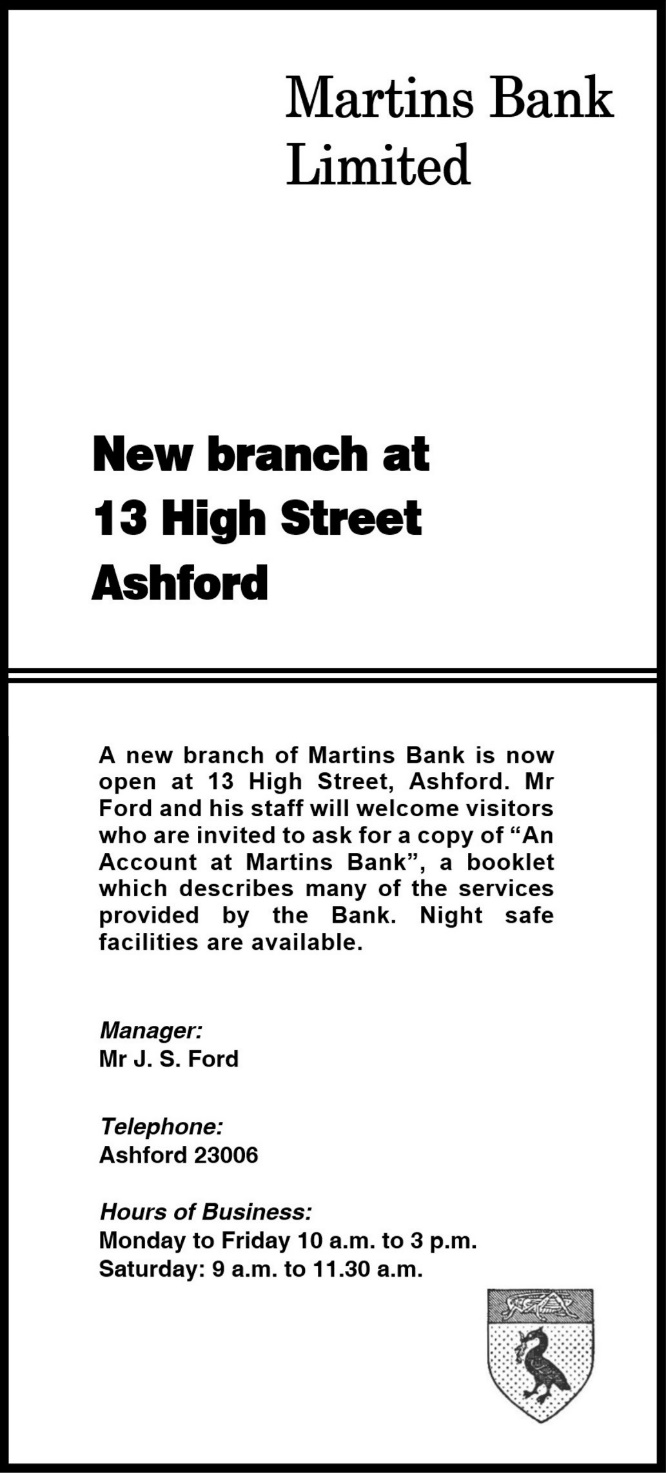 <![endif]>The write up in Martins Bank Magazine is short but sweet, and includes this shot of Mr and Mrs Ford looking very pleased!
<![if !vml]>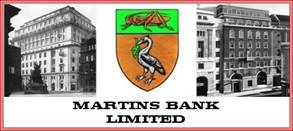 <![endif]>
Pictured at the inaugural dinner of the Ashford Lions Club, the president, Mr. J. S. Ford (Manager, Ashford Branch) receives the Lions Club Charter.  Seated is Mrs Ford.
<![if !vml]>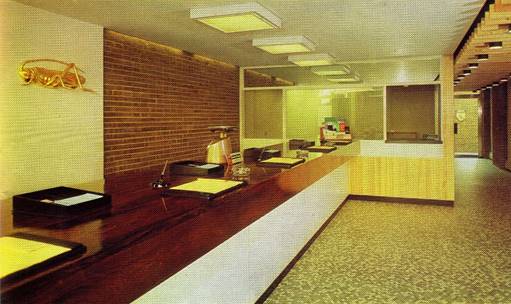 <![endif]>
<![if !vml]>

<![endif]>
<![if !vml]>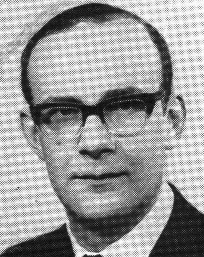 <![endif]> 
Image © Martins Bank Archive Collections