<![if !vml]>

<![endif]>
<![if !vml]>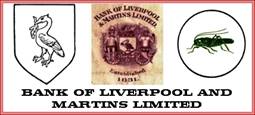 <![endif]>
<![if !vml]>

<![endif]>
Ripponden is opened by the Bank of Liverpool and Martins in 1924, to complement what was then their Halifax District.  This district comprises the Branches of the Halifax Commercial Bank that were subsumed in 1920, and then added to by the new owners up to 1928. 
<![if !vml]>

<![endif]>
Following the amalgamations with the Halifax Equitable and Lancashire and Yorkshire Banks in 1927 and 1928 respectively, the Halifax District is too small to survive in addition to the Bank's new Leeds District, which absorbs the Halifax District.
<![if !vml]>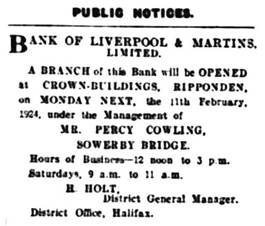 <![endif]>
In Service: 11 February 1924 until 25 July 1942
<![if !vml]>

<![endif]>
<![if !vml]>
<![endif]>
ABOVE - Extract from Kelly's Directory of Yorkshire 1920
<![if !vml]>

<![endif]>
<![if !vml]>

<![endif]>
Branches have been opened during the year at Blackpool, Blyth, Borough Road (Birkenhead), Clubmoor (Liverpool), Harlesden (London) and Hightown (Manchester); and Sub-Branches at Bamburgh, Headingey, Hendon (Sunderland), New Eltham and Ripponden. New Branches will be opened shortly at Bournemouth and Southampton. Premises for New Branches have boon acquired at Farnborough (Kent), Meols (Cheshire) and York.
<![if !vml]>

<![endif]>
Extracts from Annual Report of The Bank of Liverpool and Martins Ltd 1925 © Barclays
<![if !vml]>

<![endif]>
At time of opening, Ripponden is a sub-Branch to Sowerby Bridge 7 Town Hall Street. It is mothballed in July 1942 for the rest of the Second world War, but is not reopened.
<![if !vml]>

<![endif]>