<![if !vml]>

<![endif]>
<![if !vml]>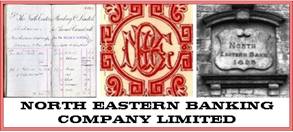 <![endif]>
<![if !vml]>

<![endif]>
The North Eastern Banking Company and the Bank of Liverpool merge in 1914, which produces a wealth of Branch offices that cover all of the North Eastern side of England, from the wilds of Northumberland and the Scottish Border, down to those parts of Yorkshire that have long since become parts of Teesside. Newburn is opened as a  full Branch by the North Eastern Bank in 1903, and is unsual in that it operates a sub Branch at Throckley, TWICE.  The first is opened in 1922 at FIELD HOUSE by the Bank of Liverpool and Martins, and closed in 1936 by Martins who wait until 1967 to open another one, this time at ALLENDALE HOUSE, which remains open as a sub-Branch of Barclays until 1979. 
<![if !vml]>

<![endif]>
In service: 1903 – 12 November 2012
<![if !vml]>

<![endif]>
<![if !vml]>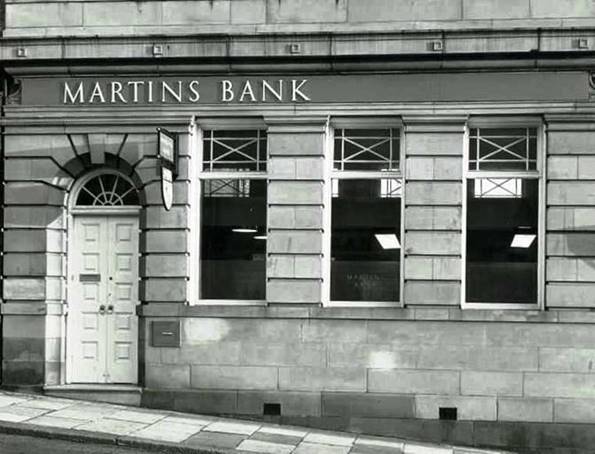 <![endif]>
Image © Barclays Ref: 0030-1976
<![if !vml]>

<![endif]>
Whilst we have a selection of images of the Branch, Martins Bank Magazine doesn't visit Newburn, so our feature is the retirement write-up for Mr W O C Carrick, who has been Manager at the Branch for eleven years, when he retires in 1961 after forty-four years' service…
<![if !vml]>

<![endif]>
<![if !vml]>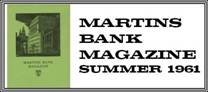 <![endif]><![if !vml]>

<![endif]>On the occasion of Mr. Carrick's retirement from the managership of Newburn branch he and Mrs. Carrick gave a cocktail party for the staff, other colleagues and customers at the Royal Station Hotel, Newcastle upon Tyne. During the course of the proceedings Mr. R. B. Cox made the presentation of a cheque on behalf of the subscribers, whose good wishes for a long and happy retirement he conveyed.  A bouquet was presented to Mrs. Carrick by Miss J. Firth. Mr. W. S. Blaylock, representing the District General Management staff, conveyed the thanks of the General Management to Mr. Cox for his 44 years' of faithful service and wished him a long and happy retirement.
Images © Barclays Ref: 0030-1976
<![if !vml]>

<![endif]>
Mr. L. J. Walton, then North Eastern District General Manager, had previously entertained him to lunch at Grey Street. In his reply, Mr. Carrick thanked his colleagues and told them that he intended to buy a television set, and utilise the balance in planting a rose garden. He entered the service in 1917 at Forest Hall, and was subsequently transferred to North Shields and then to Laygate. He was appointed Pro Manager at King Street, South Shields, in 1940, and Manager at Newburn in 1950. He served with the Royal Air Force from 1942-46.
<![if !vml]>

<![endif]>