<![if !vml]>

<![endif]>
<![if !vml]>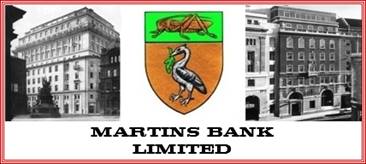 <![endif]>
<![if !vml]>

<![endif]>
<![if !vml]>

<![endif]>Martins Bank opens a Branch at Banbury in October 1958, and takes great pride in this particular outlet. Over a number of years, internal and external images and drawings of the branch feature in several Bank publications with many images reproduced in colour.  Money is also spent on extra detail inside and outside the Branch, and Martins Bank's Coat of Arms can still be seen displayed proudly above the door of the premises in the twenty-first Century.  A sub-branch at Banbury Cattle Market is opened in 1961, and Martins competes with five other banks for the custom of those who use what was one of europe's largest Cattle Markets.
<![if !vml]>

<![endif]>
In Service: November 1958 until 27 February 1969
<![if !vml]>

<![endif]>
<![if !vml]>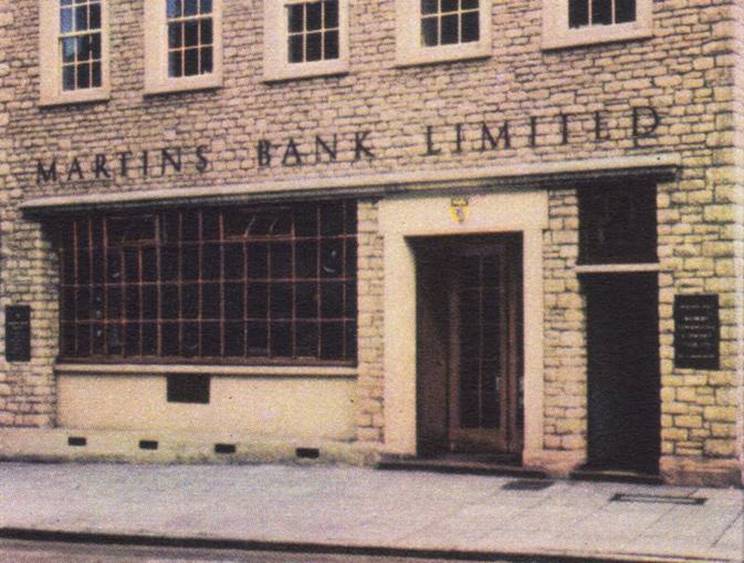 <![endif]>
Images © Martins Bank Archive Collections
<![if !vml]>

<![endif]>
Banbury Branch is showcased as "a good example of a modern branch", in several editions of the Staff Association booklet 'Inside Information', in articles in Martins Bank Magazine, in Martins Bank's Annual Report and Accounts for 1959, and a in glossy booklet which is produced in 1962 and details the progress of the Bank to that date. We have included as many of these images as we can here.  For our main feature we journey to Banbury in 1959, when the team from Martins Bank Magazine drops in to visit what they describe as a young and "vigorous" branch, in a town which in May 1959 has the incredible count of just one one hundred and twenty people on the unemployment register!
<![if !vml]>

<![endif]>
<![if !vml]>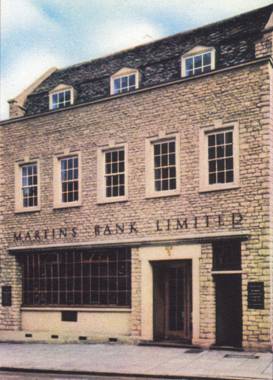 <![endif]><![if !vml]>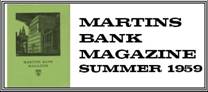 <![endif]>In the nursery we were taught to "ride a cock horse to Banbury Cross" and in our  adolescence we made our first acquaintance with Banbury cakes. Our only other connection with the place was our memory of it as a stopping place on the old Great Western route to London, and we had last stood on its antiquated station about six years ago. It was, therefore, with some surprise that we discovered on the occasion of our visit to the town on 5th May  that the place had received some priority in the modernisation scheme of British Railways, and a fine new station, fully modernised, has taken the place of the old one. Enquiring as to the reason for this, we discovered that plans are afoot for bringing consider­able light industry into the town which will increase the present population of some 21,000 by about half as much again in the next few years.
At the moment it is essentially a market town and its cattle market is open four days a week, once for sheep, once for stores and attested cattle, once for general sales and once for Irish cattle. Three of the other banks have branches there, and it is obvious that we must open one ourselves at the earliest possible moment.  With the developments to come, therefore, we appear to have arrived at just the right time, and in six months our business has made most satisfactory and gratifying progress.
<![if !vml]>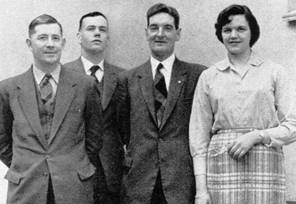 <![endif]>At the moment, with only 120 people on the unemployment register of the town, expansion will have to be controlled, because in a town which has from time immemorial been concerned with the products of the surrounding countryside one cannot change its character and industrialise it without taking careful steps to see that there is an adequate supply of labour for the new projects, and that houses are available for the extra workers. Our branch is excellently situ­ated and the famous Cross can be seen from the point of the street in which it stands. A dignified building of honey-coloured rough stone, with old fashioned bow windows complete with bulls eyes, its appearance lends distinction to this part of the street.  Inside, provision has been made for very considerable expansion and the office is most generously and handsomely appointed. The most striking and unusual architectural feature about the interior is the rough Cotswold stone wall at the end of the counter on the customers' side.
<![if !vml]>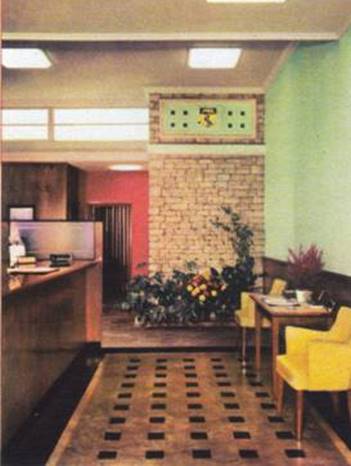 <![endif]>Facing one on entering the door it arrests the attention and the pots of growing plants which surround the base combine with the overhead light to create a conservatory effect which is at one and the same time as restful and pleasing as it is unexpected.x The architect, Mr. P. Lucas, is certainly to be complimented on the originality of thought he has brought to bear on the designing of this branch which is fit to take its place among the best modern buildings of its type anywhere. The same architect was responsible for the design of our new Stratford premises. Mr. and Mrs. Raw met us at the station and we quickly discovered that we had mutual acquaintances. Mr. Raw is related to Mr. Charles Carter, former Chief Inspector of the Bank, and to Mr. C. A. W. Carter, of H.O. Trustee Department.  A native of Sedbergh, his first appoint­ment in the South was to Worcester as Pro Manager. He was there barely a year before being asked to open the branch at Banbury.
<![if !vml]>
<![endif]>His previous experience included Kendal, Barrow, Hanley and Tunstall. Mrs. Raw comes from St. Annes, which we visited the previous week, and knows Mr. A. B. Briggs, the Manager of our new Lytham branch, and his wife quite well.  After meeting the staff and looking over the branch we took Mr. and Mrs. Raw to lunch and then went out for a quick look at their attractive new home, in the village of Middleton Cheney, about three miles outside Banbury. Banbury is surrounded by tiny villages which are being increasingly built up for residential purposes by the workers of the growing town.  Then back to the branch to take the staff photograph (on the roof of the Manager's room). Only the previous day the fourth member of the staff took up his duties—Mr. P. G. Forrest, and the only native of Banbury among them. The female staff is represented by Miss B. J. Albone, a Northampton girl whose parents have come to Banbury to run a shop.  We first had the pleasure of meeting Mr. E. M. Ranson, Mr. Raw's second in command, some years ago at Wakefield, and it is always nice to meet old acquaintances, albeit in new places.  A pressing train time made the schedule of our visit rather tight but it was a most heartening experience to visit this young and vigorous branch and to have such good news of its progress.
<![if !vml]>

<![endif]>