<![if !vml]>

<![endif]>
<![if !vml]>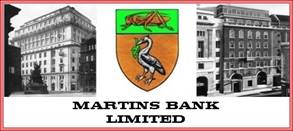 <![endif]>
<![if !vml]>

<![endif]>
<![if !vml]>

<![endif]>This is Martins Bank's permanent branch at the Great Yorkshire Show Ground at Harrogate.  It is constructed and opened in 1962, providing a counter service to the many visitors and exhibitors that flock to this important annual event.
<![if !vml]>

<![endif]>
The Bank's architects have taken their usual care to ensure surroundings that are both businesslike and welcoming to customers. 
<![if !vml]>

<![endif]>
Although staffed as a sub-Branch to Martins Bank at Harrogate, the Great Yorkshire Show Branch is seen more as a permanent trade stand building and is therefore overseen by the Bank's Show and Exhibition Branches Department from 68 Lombard Street London. 
<![if !vml]>

<![endif]>
This department also operates the Bank's MOBILE BRANCHES and its numerous exhibition TRADE STANDS . 
<![if !vml]>

<![endif]>
<![if !vml]>

<![endif]>Our friends at the Great Yorkshire Show tell us that whilst Barclays is still one of the Show's sponsors, the branch itself was closed in March 2001.
<![if !vml]>

<![endif]>
The building was initially taken over by Persimmon Homes who refurbished it but it is now operated as the "Farmers' Meet" by the Great Yorkshire Show company.