<![if !vml]>

<![endif]>
Sadly, Martins Bank Magazine does not record a specific visit to the Trust Company in St Helier, so If you can help with images and/or information about this or any of Martins Bank's branches, please do get in touch with us at the usual address: - gutinfo@btinternet.com. In 1968, the Bank produces one of its final product leaflets before the merger with Barclays – EVERYONE NEEDS A BANK ACCOUNT – from which the following is a short extract outlining the services of the Trust Company:
<![if !vml]>

<![endif]>
<![if !vml]>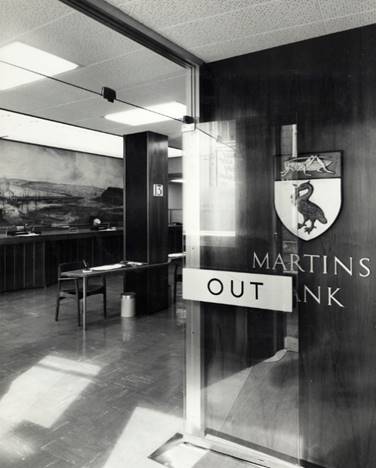 <![endif]><![if !vml]>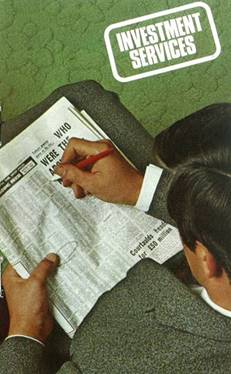 <![endif]>Income Tax
Martins Bank Trust Company, a subsidiary of the Bank, has a special Income Tax Division to help customers with their Income Tax and Surtax problems.With the growing complexity of tax law, more and more people are finding it worthwhile to make use of the Company's experience in this field, and in many cases the modest charge made is more than offset by tax recovered for the customer.
<![if !vml]>

<![endif]>
Looking after investments
If you do not have the time you would wish to devote to looking after your investments, or if, perhaps, you feel the need for skilled advice about their management Martins can help you through the Trustee and Invest­ment Division of Martins Bank Trust Company. The investments remain your own property and the Company manages them in accordance with your particular wishes. Generally, recommendations re­garding investments are submitted for your approval, but if you wish the Company will manage investments in accordance with wider terms of reference. In addi­tion the Company will undertake the collection of dividends, deal with 'rights* issues and attend to all necessary documentation in relation to your investments.
<![if !vml]>

<![endif]>
<![if !vml]>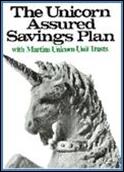 <![endif]>Martins Unicorn Group of Unit Trusts
Unit trusts enable you to invest in a large number of public companies without the bother of the many separate transactions needed to acquire the stocks and shares. You can buy units of the Martins Unicorn Group of Unit Trusts at any branch of Martins and your Manager will help you to select the Trust best suited to your investment needs. You do not need a large amount of money to invest in Martins Unicorn Trusts. There is a savings plan to enable you to buy units month by month, and Martins Unicorn Bonds, in units of £20, provide a simple and con­venient way of investing in the Martins Unicorn Trust of your choice.
<![if !vml]>

<![endif]>