<![if !vml]>

<![endif]>
<![if !vml]>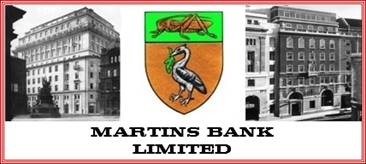 <![endif]>
<![if !vml]>

<![endif]>
<![if !vml]>

<![endif]>St Brelade, along with Jersey's other sub-branch at Gorey is a really good example of the "modern look" that Martins Bank  strives to achieve in the 1960s – and it is a look that would not be out of place today.   Although St Helier is featured in detail in Martins Bank Magazine, this photo of St Brelade is the only printed reminder of this attractive, modern-looking office. Despite having been operated for full hours across the six-day banking week, St Brelade is one of many Martins Branches no longer required at the time of the merger with Barclays.
<![if !vml]>

<![endif]>
In Service: 1960 until 12 December 1969
<![if !vml]>

<![endif]>
<![if !vml]>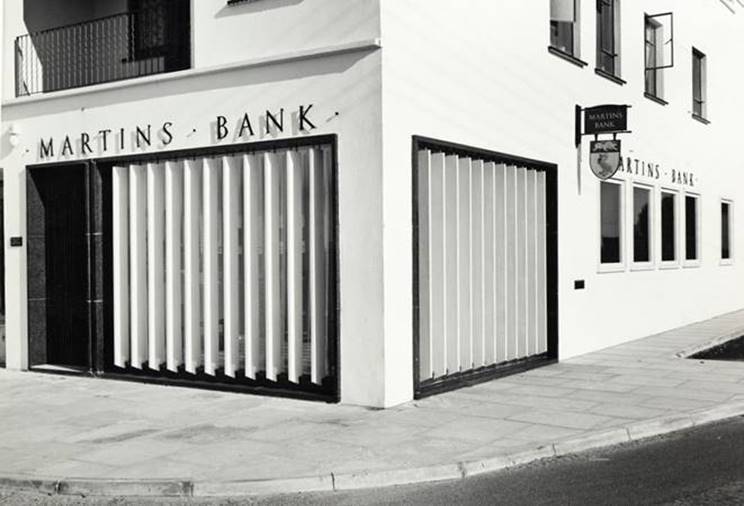 <![endif]>Image – Martins Bank Archive Collections
By closing on 12 December 1969 it joins the illustrious ranks of those branches to have only ever served the customers of Martins Bank.
<![if !vml]>

<![endif]>
<![if !vml]>

<![endif]>From coin counting to coffee beans: Today's building is relatively unchanged, and still recognisable. It doesn't look too bad, for a 1960s concrete concoction, but that modern day grey image doesn't do it any favours.  There was, we think,  always something optimistic about the more "Mediterranean" whitewashed look of the original, redolent of those holidays in faraway places…
<![if !vml]>

<![endif]>