<![if !vml]>

<![endif]>
The amalgamation of the North Eastern Banking Company Limited and the Bank of Liverpool, brings more than 100 Branches, many of them in county Durham itself.   Barnard Castle is originally opened on the first day of the year 1897.  Sadly, neither Barclays nor ourselves can locate a photograph of this Branch, so if you can help with images or information about this or any of Martins Bank's 930+ Branches, please do get in touch with us at the usual address – gutinfo@btinternet.com.  Martins Bank Magazine visits Barnard Castle in 1951, and despite the somewhat stiff and starchy looking group photo, we learn that there is, amazingly, an extremely amenable and versatile staff of only SIX to run not only the main Branch, but also its outlets at  BUTTERKNOWLE  COCKFIELD  GAINFORD  and  STAINDROP.  We also learn that Barnard Castle is in itself, "a most agreeable spot in which to work"…
<![if !vml]>

<![endif]>
<![if !vml]>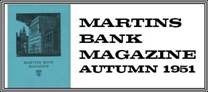 <![endif]>We crossed into County Durham to pay our first visit to Barnard Castle. No sleepy country town this, but a bustling place which caters for visitors from the coast and around. Our office there, though numbering only six, services four sub-Branches at Butterknowle, Cockfield, Staindrop and Gainford. The first person we ran into was Mr. Elton, the new Manager of our Darlington Branch, in Barnard Castle for his Rotary Club meeting. Mr. Elton is another temporarily displaced person, living in one town and working in another. The same applies to Mr. Dunn, the new Manager of Loftus, who still lives at Middleton-in-Teesdale. Following the general post which has recently taken place all these men will be moving soon. Mr. Elton's daughter has elected to stay on at Barnard Castle and there is certainly a lot to be said for her decision, for it is a most agreeable spot in which to work.
<![if !vml]>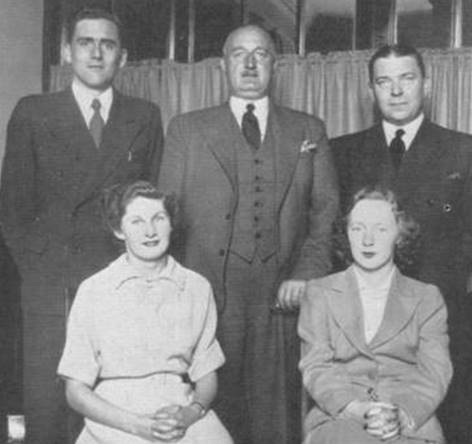 <![endif]>Mr. Gardner has been manager there since April of this year, having prior to that managed our Branch at Guisborough since 1948. A rugby player of some note in his younger days he now follows cricket with keen interest and is also a fisherman and a golfer, though as regards golf he is only just about to take it seriously again after a wartime lapse.  He is also a keen gardener. We were sorry not to see Mr. Garbutt whom we know, but very delighted to call on his father, retired Manager of Barnard Castle Branch.  A country gentleman of the best type, highly respected in the district, his Sherlock Holmes deerstalker cap and distinguished appearance made a picture we shall long remember.  Whether pottering about his beloved garden or fishing in some quiet stream he has grown old gracefully and it was a privilege to make his acquaintance and that of his charming lady.
We were interested to discover that E. N. Baker had spent several years in Cardiff with our old friend Dan Thomas, though all his remaining service, apart from relief work, has been spent in the North-Eastern District. Of course no one could be in Barnard Castle five minutes with­out discovering that the principal activity during that fortnight was the Festival production of Merrie England in the open air in front of the Bowes Museum, and when we discovered that both Miss Elton and Miss Park, to say nothing of Mr. Hoyle, were numbered among the cast of 200 performers, and that Mr. Gardner was Treasurer of the Barnard Castle Musical Pageant Society, nothing less than promptly atten­ding the performance would satisfy us. Mrs. Gardner and their daughter Jill joined us for dinner but before dining Mr. Gardner took us in his car for a quick look round.
There was the castle, perched on its dizzy eminence above the Tees, erected between 1112 and 1132, besieged in 1569 and dismantled by local builders about 1630. Eggliston Abbey, once the home of the White Canons (Praemonstratensians); and the King's Head, where we stayed, following in the footsteps of Charles Dickens who stayed there when gathering the material for Nicholas Nickleby. We had dinner there and then made our way to the imposing Bowes Museum, a copy of the Tuileries, presented to the town as a home for the wonderful art collection gathered there. A wide terrace in front of the house was bounded at each end by a graceful stone staircase giving access to the gardens below. In these gardens stands had been erected and in this noble setting, with an excellent microphone system carrying the volume of singing to all parts of the grounds, Edward German's famous opera was performed. As the shadows of evening gathered, a battery of floodlights lit up the colourful scene, and the pageantry, from the heralds who played the opening fanfare on the terrace to the closing scene when the figure of St. George in shining armour appeared on the now floodlit terrace while St. George's flag was broken on the flagstaff, was magnificent—magnificent. London profession­als played the leading parts, and local amateurs supplied the chorus, while the trumpeters appeared by permission of the Officer Commanding the 1st Royal Dragoons. Only in England, the spirit of which it breathed, could such a pageant be seen, and we would not have missed it for anything. The countryman leads a full life and a varied life and he need never be lonely as people often are in the suburbs of a great city. On our way into Darlington the following day we had a quick look at one of the sub-Branches, Gainford, a tiny little office in a most attractive old-world spot, too often missed by the motorist who rushes past on the nearby main road.
<![if !vml]>

<![endif]>