<![if !vml]>

<![endif]>
<![if !vml]>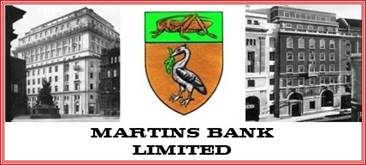 <![endif]>
<![if !vml]>

<![endif]>
<![if !vml]>

<![endif]>Martins Bank's connection with Newport begins in 1938, and by 1969 there will have been three branches in the town. Of those, High Street will be the longest survivor. Our Newport records include a rare colour image (see below) from the Barclays collection.  Look out too at the foot of this page for more examples of the fledgling post code system which in 1969 was still to be finalised into a system of letters and numbers that would work for the whole country…
<![if !vml]>

<![endif]>
<![if !vml]>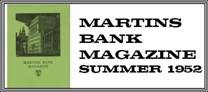 <![endif]>
<![if !vml]>

<![endif]>
In Service: 19 September 1938 until 17 March 1986
<![if !vml]>

<![endif]>
<![if !vml]>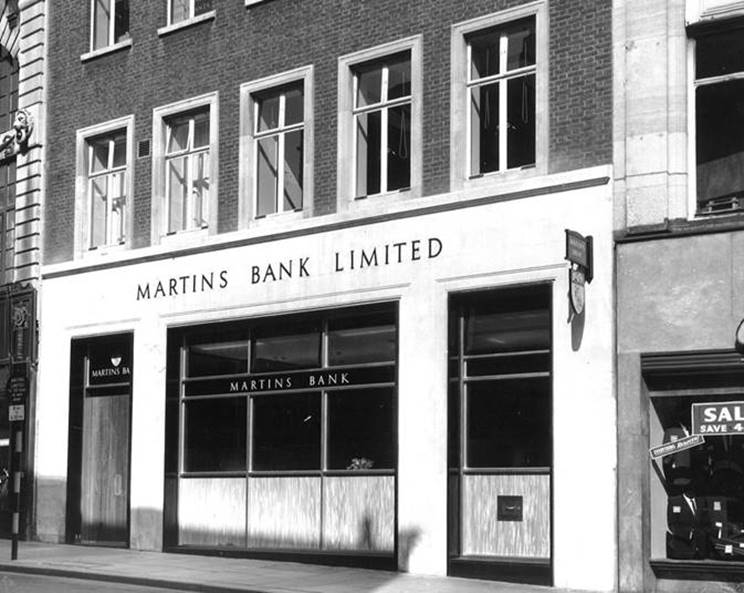 <![endif]>
Image © Barclays Ref: 0030-2041
<![if !vml]>

<![endif]>
South Wales is one of those places about which one forms opinions which have to be entirely recast in the light of firsthand experience. The average Northerner or Londoner, for example, can work up no great enthusiasm for Cardiff and Newport, which he associates with the export coal trade, and by a process of associa­tion of ideas, imagines them to be dirty, de­pressing places. Newport is a town of some 100,000 inhabitants and although maybe it cannot be con­sidered architecturally very impressive it is bright and clean by com­parison with many Lanca­shire and Yorkshire towns.   Five minutes' run in a car from our branch, which is near the railway station, brings you to a beautiful residential district on a hill,  from one side of which a most impressive panorama of Newport is unfolded. On the other side is one of the loveliest views in South Wales, of mountain and valley on the grand scale.
<![if !vml]>

<![endif]>
| | |
| --- | --- |
| <![if !vml]><![endif]> | <![if !vml]><![endif]> |
Images © Barclays Ref: 0030-2041
<![if !vml]>

<![endif]>
The dock area over which the Transporter is situated is much more extensive than we had expected. After the close of business, Mr. and Mrs. Newhouse took us for a drive along the Wye Valley, stopping at Tintern Abbey. We also visited Caerleon, where we inspected the Roman amphitheatre, and Monmouth—a very beautiful run on a perfect evening.
<![if !vml]>

<![endif]>
Near at hand in the Wye Valley, is some of the loveliest country in Wales, and that is saying something. We opened our South Wales branches in 1938 and the footing on which they now stand reflects very great credit on the managers who have worked them up and especially the present managers, Mr. Edward Newhouse of Newport and Mr. W. A. Thompson of Cardiff.  Mr. Newhouse commenced his service at Kendal in 1934 and subsequently went to Ambleside and Lancaster before going to Coventry as second man when the branch was opened in 1937.During the war he served from 1942 to 1946, latterly as a Captain in charge of army vehicle depots. He went to Branch Department, Head Office, for a time after demobilisation, becoming Pro Manager at Castle Street, Liverpool, in 1947 and Manager at Newport later the same year. With him as Pro Manager is Mr. R. Hughes, and Mr. D. L. Horton, both from the Liverpool District, and two local young men, F. Youngson and I. Evans.

<![if !vml]><![endif]>

<![if !vml]><![endif]>

<![if !vml]><![endif]>

The girls are Miss J. Palmer, Miss J. I. Kerr, Miss B. A. Lewis, and Miss J. Blake, the last-named officially on the H. O. Relief Staff.Jean Palmer has only been in the Bank a little over a year. She succeeded her twin sister Joan who was on the staff at Newport during the war and is now married. Her keen­ness on behalf of the Bank is worthy of special mention for, since she entered the service, she has been directly responsible on more than one occasion for bringing new business to the branch. Mr. Hughes has been at the branch ever since it opened and has done a good job of work. We visited Newport on April 23rd and while the day's work was being finished off, we took a stroll through the town, inspecting the castle ruins, quite near our branch, and crossing the River Usk which here flows between deep walls of clinging mud. We were also interested in the Transporter Bridge, similar to that at Runcorn, and are still hoping to learn some day exactly why such structures were built instead of ordinary bridges which seem much less involved and much more satisfactory.

Strange looking numbers…

<![if !vml]><![endif]>Newport, like every other full branch of Martins Bank has to be dragged kicking and screaming into the computer age from around 1963 onwards, with the issue of these computerised cheques. 

<![if !vml]><![endif]>

Encoded with the "MICR Line" in magnetic ink, the rather strange looking numbers along the bottom edge of the cheque can be read by the Bank's new and powerful IBM READER SORTER, which processes 950 cheques every minute – far outstripping the physical working capabilities of even the most diligent of bank clerks! 

<![if !vml]><![endif]>

By 1966 the customer's name will begin to be printed on cheques and other vouchers along with an account number with which to aid computer processing.  Hitherto the only way to recognise a customer's affairs with the Bank, was by knowing his or her signature by sight!  However, with the advent of computerisation, the era of cashiers relying on numbers rather than names, is upon us…
<![if !vml]>

<![endif]>