<![if !vml]>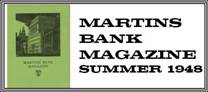 <![endif]><![if !vml]>
<![endif]>On 30th March the staff of Levenshulme branch received word that Mr. Johnson would be visiting them to say farewell; so afternoon tea was hurriedly prepared, and a very informal and happy gathering took place. Mr. Johnson was retiring on account of ill-health, so the occasion was necessarily impromptu.
<![if !vml]>

<![endif]>
Mr. <![if !vml]>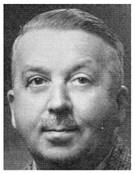 <![endif]>C. A. Jones, the succeeding Manager, made the presentation of a shooting stick on behalf of his colleagues—an unusual gift made at the suggestion of Mrs. Johnson, and voiced the good wishes of all the staff for Mr. Johnson's happiness and improved health in retirement.
<![if !vml]>

<![endif]>
He entered the service of the Lancashire and Yorkshire Bank in 1911, and in 1923 was transferred to Stockport branch.  He went to Brooks's Bar branch in 1928, being appointed Manager in 1931. He took up his appointment at Levenshulme in 1934.