<![if !vml]>

<![endif]>
<![if !vml]>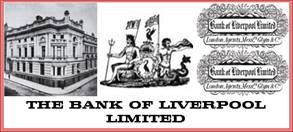 <![endif]>
<![if !vml]>

<![endif]>
At the time of the 1918 Merger of the Bank of Liverpool with Martin's Private Bank, the Foreign Branch of the Bank of Liverpool and Martins' is found at 3 Fenwick Street.  Barclays Group Archives tell us that the records they hold for the Bank of Liverpool include correspondence relating to Fenwick Street which dates back to at least 1884. The Foreign business of the Bank of Liverpool and Martins is conducted from 3 Fenwick Street until 1922, when the Foreign Branch is listed at 6 Water Street for five years. Then in 1928, 3 Fenwick Street is used again until the completion in 1932 of the Bank's new Head Office Building, 4-6 Water Street.
<![if !vml]>

<![endif]>
<![if !vml]>

<![endif]>
In Service: 1919 until 24 October 1932
<![if !vml]>

<![endif]>
<![if !vml]>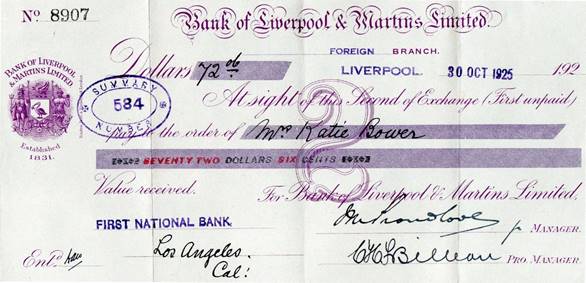 <![endif]> Image – Martins Bank Archive Collections © Stephen Walker 2016
<![if !vml]>

<![endif]>
<![if !vml]>

<![endif]>
Extract from Martins Bank Limited Annual Report and Accounts for 1929 – © Barclays
<![if !vml]>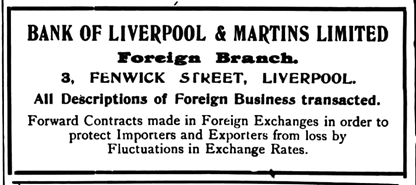 <![endif]>
Our gallery below shows those members of staff who are recorded as working for Liverpool Foreign up to 1932.  Several of them can also be seen on our Liverpool Overseas Page, as their careers continue at the new Liverpool Overseas Branch. Sadly, there are no period images of 3 Fenwick Street as  Liverpool Foreign. This advertisement is from the Millom Gazette, 28 January 1921.
<![if !vml]>

<![endif]>
Image Rights Unknown. Image created courtesy of THE BRITISH LIBRARY BOARD
Image reproduced with kind permission of The British Newspaper Archive
<![if !vml]>

<![endif]>