<![if !vml]>

<![endif]>
<![if !vml]>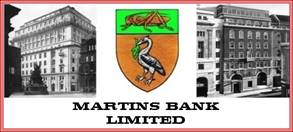 <![endif]>
<![if !vml]>

<![endif]>
<![if !vml]>

<![endif]>In 1959, the latest addition to Martins Bank's brand new South Western Region is this handsome looking branch at Swansea.  Martins has long since been a fan of the "mock Tudor" look, and here are plenty of wooden beams to satisfy that particular craving.  Sadly, Swansea is not part of Barclays' dreams going forward, and the branch closes within a year or so of the merger.  Still, as befits a building of this stature, (not to mention a vague resemblance to a wedding cake) the modern day occupants are a prestigious bridalwear company!  For our feature, we will journey back to the start of it all.
<![if !vml]>

<![endif]>
<![if !vml]>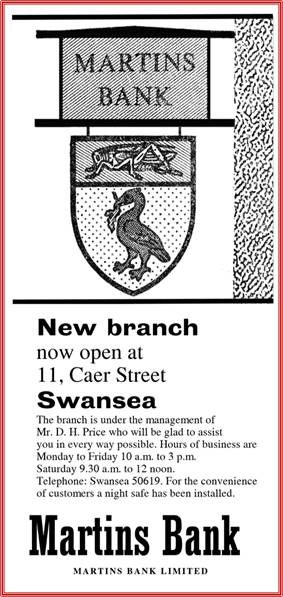 <![endif]>
<![if !vml]>

<![endif]>
Image © Martins Bank Archive Collection
Advertisement restored and re-mastered
by Martins Bank Archive April 2019
<![if !vml]>

<![endif]>
In Service: 12 March 1959 to 22 April 1971
<![if !vml]>

<![endif]>
<![if !vml]>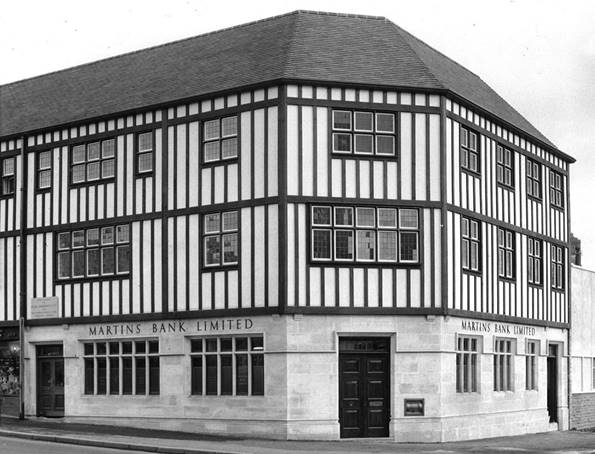 <![endif]>
Image © Barclays Ref 0030-2860
<![if !vml]>

<![endif]>
Where better to begin, than with the visit to Swansea of Martins Bank Magazine, whose staff provide a detailed commentary on what is apparently a "wonderful new branch" and its staff.  The devastation suffered by Swansea in the Second World War is also mentioned. We are sorry, that despite holding a number of photographs of the branch, we have still to come across an example of the unusual clock described in the article – if you can help, please do get in touch with us at the usual address – martinsbankarchive@btinternet.com.
<![if !vml]>

<![endif]>
<![if !vml]>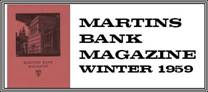 <![endif]>We in Liverpool have often been heard to complain of the lack of appreciation in other parts of the country of the part Liverpool played in the last war, and of the immense damage the city suffered.  The strict cen­sorship was, of course, responsible for the popular idea that, apart from London, Coventry was the only city to suffer vast destruction. A visit to Swansea would surely make the most ardent Liverpudlian feel that the lack of apprecia­tion has not, after all, just been on one side. We ourselves had no idea of the extent of destruction sustained by Swansea.
<![if !vml]>

<![endif]>
The long-term result has been the construction of a new Swansea, a city of broad streets and fine buildings which contrasts very sharply with what remains of the old town. Our branch is wonderfully situated in an excellent spot in the new part of the city, just on the edge of the old main shopping centre. We have thus the best of both worlds, for all our competitors are in the old part, the nearest of them being only a block away. Coming from the main station ours is the first bank to be seen, and the extremely fine external appearance of the building in which it is situated, combined with its position, gives it an advantage which few of our branches possess.
<![if !vml]>

<![endif]>
Coming by train from Cardiff, one's first impressions of Swansea are that it is an ugly place. The steel works at Port Talbot must be one of the largest plants in Europe and the immense amount of new building there, including a new marshalling yard and a new station (in course of construction) leads one to expect similar developments in what is, after all, the second city of Wales. Instead, here is the "old" Swansea, the coal exporting port and centre of the tinplate industry, a prospect of ugly lines of houses climbing rash-like up the fair hillside, dumps of every description and dilapidated buildings.  
<![if !vml]>

<![endif]>
Having reached the terminus one realises that the worst has been seen and from this point onwards all is new and clean and well planned—a city of con­trasts indeed. Swansea guards the entrance to the Gower peninsula which has some of the loveliest coastal scenery in Britain, any number of lovely sandy coves, winding country lanes and comparatively unspoilt villages.

<![if !vml]><![endif]>

<![if !vml]><![endif]>

<![if !vml]><![endif]>

Images © Barclays Ref 0030-2860

<![if !vml]><![endif]>

The interior of our branch is no less attractive than the exterior and incorporates at least one unusual fixture. This is an upholstered front to the counter, a padded counter, in fact. The impact of our South Welsh customers evidently demands some form of shock absorption!  Standing at the counter the customer's gaze is averted by the striking marble wall at the back of the office. 

<![if !vml]><![endif]>

<![if !vml]><![endif]>

<![if !vml]><![endif]>

His wife's familiarity with the area has made the move a very happy one for both of them. Mr. G. L. Humphreys and his wife are Birkenhead people and have no previous connection with South Wales, apart from holiday visits. However, a knowledge of Welsh and a trick of fate have combined to divert Mr. Humphreys from a Liverpool appointment, for which he was already destined, to take over the managership of this new branch, made vacant by the sudden and untimely death of Mr. D. H. Price who had opened the branch only a few short months before.

<![if !vml]><![endif]>

At this point we would like to place on record our tribute to David Price for the help he gave us from time to time by his beautiful photographic contributions to this Magazine. He had thrown himself heart and soul into his new job at Swansea and was supremely happy in it.  The foundations of what will be a very prosperous branch were laid by him and it was tragic indeed that he did not live to see the full results of his labours. Mr. Humphreys commenced his career in 1936 at Charing Cross and served at South John Street, Victoria Street, Liverpool City Office, Wallasey, Ellesmere Port and at various branches on relief. 

<![if !vml]><![endif]>

<![if !vml]><![endif]>

Image © Barclays Ref 0030-2860

A very modern clock is incorporated in the design, the numerals being affixed to the marble.  Woodwork, polished in the lightest possible shade to bring out the beauty of the grain, calls forth the admiring comments of everyone who comes into the place. The accommodation is spacious, tasteful, colourful and in every way excellent. It is the kind of branch which would make those who work at our older crowded branches green with envy and when Mr. Norman-Butler sees it he will be the first to send off a letter of congratulations to the Premises Manager, wishing it was situated in the London District! But if the staff is fortunate in its branch, the Manager is indeed fortunate in his staff. In his second-in-command, Mr. C. H. U. Morris, he has a warm, friendly personality, devoted to his job, utterly dependable and with the ability to inspire the confidence of customers and staff alike.  He entered the Bank in 1939 and has served at Mossley Hill, Helsby, Kirkby, Clubmoor, Liverpool Overseas, Walton and Scotland Road, plus a spell of five years in H.M. Forces.

<![if !vml]><![endif]>

<![if !vml]><![endif]>

All smiles – the Swansea Staff poses for a group photo

during the visit of Martins Bank Magazine in 1959

<![if !vml]><![endif]>

He served with H.M. Forces from 1939-1946 and in 1953 joined the Inspection Staff. He became Pro Manager at Waterloo in 1954 and was appointed Assistant Manager at Castle Street in 1958. Mr. and Mrs. Humphreys have two sons and we were privileged in being received in their pleasant home. None of them has yet got over the feeling of being on holiday, with so many seaside attractions in the beautiful Gower peninsula and a summer such as we have had this year in which to enjoy them.  Mr. A. W. Button entered the Bank this year and travels from the most westerly point of the Gower peninsular, a matter of 16 miles, to Swansea. He is in every way an excellent type of young man who will not be long in making his mark. Representing the ladies is Miss B. H. Thomas who lives in the northern part of the peninsula. She has had previous business experience—three years with the National Coal Board and elsewhere, and is an excellent typist and is rapidly mastering the intricacies of bank book-keeping. A very strong staff indeed and a wonderful team for a new branch.
<![if !vml]>

<![endif]>