<![if !vml]>

<![endif]>
<![if !vml]>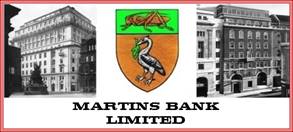 <![endif]>
<![if !vml]>

<![endif]>
What is all that racquet?
There are really only two things on the mind in this part of SW19 for two weeks in the summer: will the sun shine for more than an hour, and how much will they be charging for strawberries and cream this year at the All England Club?  There is also of course, some tennis.  
<![if !vml]>

<![endif]>
Things have changed a lot since Martins' day, when, occupying a very special place on Centre Court, the sub-Branch is open from midday to the close of play on each day of this major World Championship event. The staff at 92 Wimbledon High Street must be glad to have somewhere to hide for the remaining fifty weeks of the year! 
<![if !vml]>

<![endif]>
In Service: 1930 until late 1980s
<![if !vml]>

<![endif]>
<![if !vml]>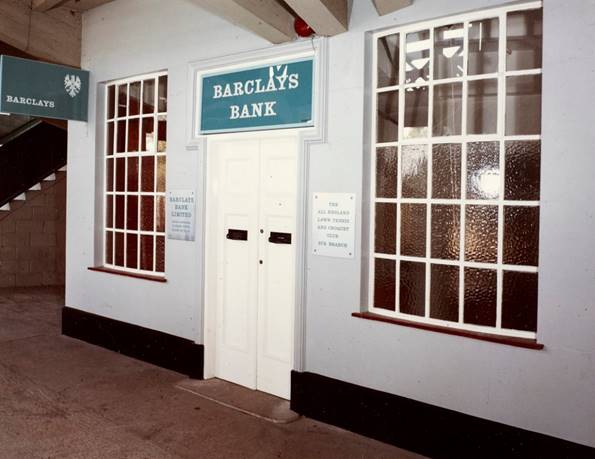 <![endif]> 
Image © Barclays Ref 0030-3231
<![if !vml]>

<![endif]>
Wimbledon Centre Court must surely have been a prize that Barclays had had its eye on for some time – for a principally Northern Bank to establish itself first in this most Home Counties of settings (and of course, Barclays' natural territory) might well have put certain noses out of joint so to speak, so the merger of martins and Barclays brings with it the chance for a new champion to take the reigns. For more than ten years, the prestigious official Wimbledon Programme includes Martins Bank's half-page advertisment for its Branch on Centre Court, and from 1969 onwards, Barclays has the advantage… At a time when both sexism and elitism can still be used to sell a product, we can see the change from 1962's gentle drawing to the 1969 advertisement - designed to entice wealthy, most probably male customers, to partake of a little banking with their tennis…
<![if !vml]><![endif]>

<![if !vml]><![endif]>

<![if !vml]><![endif]>

1962: Image © Martins Bank Archive Collections

Advertisement Restored Jun 2020

<![if !vml]><![endif]>

<![if !vml]><![endif]>

<![if !vml]><![endif]>

1969: Image © Martins Bank Archive Collections

Advertisement Restored Jun 2020
<![if !vml]>

<![endif]>
In 1966, during the hugely successful "Martins go to extremes to be helpful" advertising campaign, a Centre Court sub Branch ad with the title "'vantage server" appears in two slightly different editions. The bowler-hatted Manager, who can be seen in action across much of Martins' advertising at this time, (counting chickens, carrying hods of bricks, digging ditches and even herding cows), takes the part of Wimbledon Umpire to see fair play and offer Banking services! The first example refers just to Centre Court as the location of the Branch, but the second talks of the branch being "here in the North Hall" which is the actual part of Centre court in which the Bank is situated.  The second advertisement also gives opening hours which differ by half an hour to those shown in the first…
<![if !vml]>
<![endif]>
<![if !vml]><![endif]>

"here at the Centre Court"….

<![if !vml]><![endif]>

Image © Barclays Ref 0025-0658

<![if !vml]><![endif]>

… and "here in the North Hall"

<![if !vml]><![endif]>

Image © Martins Bank Archive Collections – restored September 2020
<![if !vml]>

<![endif]>
<![if !vml]>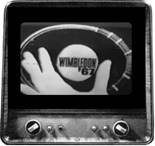 <![endif]>Most people will probably not remember a time when Wimbledon coverage wasn't provided solely by the BBC. In 2016 the TV rights were once again negotiated in favour of keeping the tournament free to view for all until 2024, but in 1967 things are a little different, as the tournament is also covered in full by the London  ITV company Associated Rediffusion, and networked across the Independent Television stations in the United Kingdom.   The image shown here is from a short but tantalising video available on the excellent TV ARK website.  1967 is also a landmark year for the Tournament Itself, with four hours of live action on day six shown on BBC2 in COLOUR for the very first time on British television …
<![if !vml]>
<![endif]>