<![if !vml]>

<![endif]>
<![if !vml]>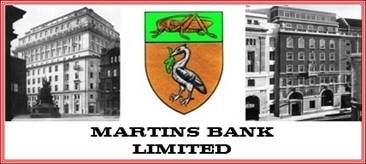 <![endif]>
<![if !vml]>

<![endif]>
<![if !vml]>

<![endif]>Martins Bank opens a second Branch in Cardiff in 1964. Competition is pretty close, as Lloyds Bank is next door. However, Martins' two Branches in the City pale into insignificance, when you realise that by 1968 there are EIGHTY-ONE branch banks and financial instituions in Cardiff! Undaunted, Martins Bank Magazine prints a bold article welcoming the new branch, and there are even colour photographs of the exterior AND interior…
<![if !vml]>

<![endif]>
'Croeso I Gaerdydd'
<![if !vml]>

<![endif]>
<![if !vml]>

<![endif]>there is a story of two Dartmouth naval cadets who made a pact that if, in the future, either heard the other's name mentioned he would say 'What! Old George (or Tom)? Oh yes, wonder­ful chap—perfectly grand fellow!' In the fullness of time both became admirals. If the same gambit has already been tried in banking it is unlikely to have succeeded for in banking it is not so much what we think of ourselves but what a lot of other people know about us that governs our future. As readers may now have guessed, we are about to reveal the truth of the James Promotion Plan. On December 13th, 1963 Mr A. J. A. James, details of whose career appeared in our summer issue, was appointed Manager of the new branch at 11 Windsor Place, Cardiff, which opened on March 19th this year.
<![if !vml]>

<![endif]>
In Service: 19 March 1964 until 31 October 1972
<![if !vml]>

<![endif]>
<![if !vml]>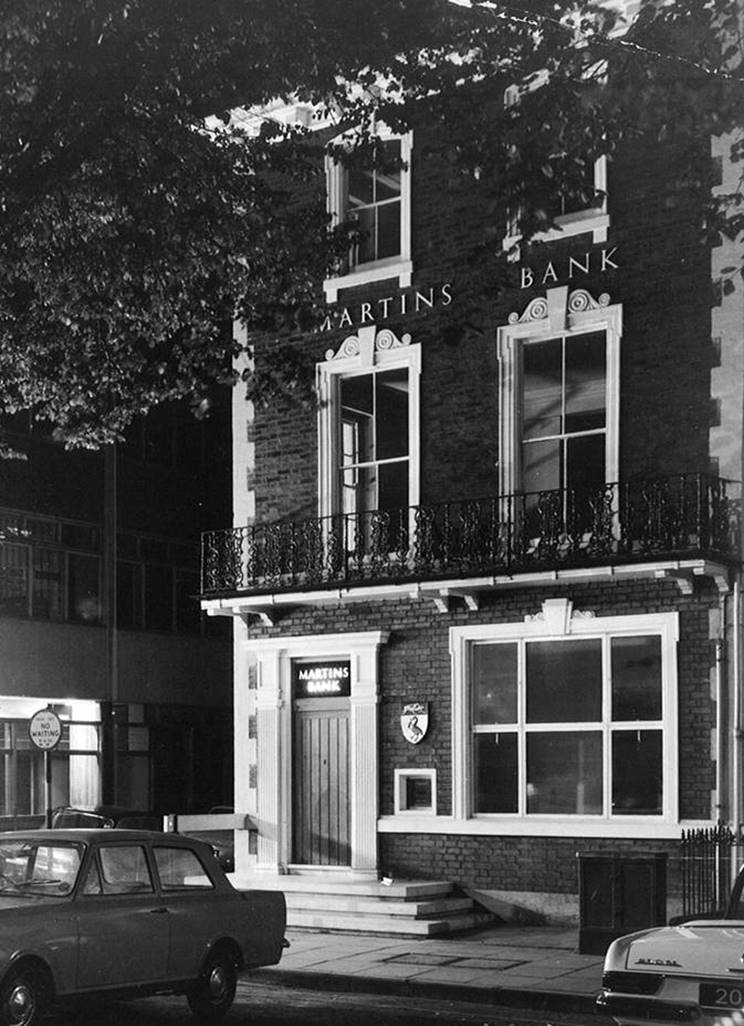 <![endif]>
Image © Barclays Ref 0030-0556
<![if !vml]>

<![endif]>
| | | |
| --- | --- | --- |
| <![if !vml]><![endif]> | For at least six months prior to his appointment it was suggested that Jimmy James had himself conceived the idea of a second branch in Cardiff, that he had even been consulted at various stages of the development and had actually been invited to choose the decorations. It was a game which many people played, in Liverpool and elsewhere, with one of the most popular Inspectors ever to sanction or decline an overdraft, because it was a game which people could play without the risk of anybody getting hurt. 'James for Cardiff!' was the cry and of course, James it eventually was. It just had to be.  If, however, any bright young man thinks he can inaugurate his own James Promotion Plan he must first have ability, personality, energy, knowledge and experience sufficient for people to recognise these as exceptional so that they start the plan for him. | <![if !vml]><![endif]> |
They will only do so if certain of success and that, we believe, is why the Churchills and Dexters - and the Jameses - of life are said to elect themselves. We were met at Cardiff station in the evening by Mr James and before going to a hotel 'up the valley' for dinner and to talk shop until midnight we were taken on a quick tour of the city, past 'Arms Park' and the Castle, up and down wide tree-lined avenues to the new branch, admirably fitted out and so thoughtfully established just off the main shopping centre in the quiet area peopled by solicitors, accountants, and insurance and finance companies. 
<![if !vml]>

<![endif]>
<![if !vml]><![endif]> Image © Martins Bank Archive Collections

<![if !vml]><![endif]>

Image © Barclays Ref 0030-0556
<![if !vml]>

<![endif]>
Having associated Cardiff with the coal trade and docks we expected grime and industry and were surprised to find instead a wealth of clean, dignified buildings, green parks and a spacious­ness unlike anything we have seen before in a capital city. Those who planned the Renaissance style Civic Centre years ago to the east of Cardiff Castle did so on an impressive scale. Of course Cardiff has its railways, industries, docks, housing estates and the notorious though now law-abiding multi-racial quarter of Tiger Bay, but the lasting impression of the city is one of cleanliness, fresh air, spaciousness and wealth.   The business at Windsor Place, where we called again the next day to meet the staff, is already booming and, as the photograph shows, there are some lively young people led by Mr Bartley who joined Mr James from the main Cardiff office on completion of a Domestic Training Course. Already it seemed to us that the James Promotion Plan was only a beginning and we would not be in the least surprised to hear that businessmen in Cardiff are saying 'Oh yes. Perfectly grand fellow', but we mustn't start that again.
<![if !vml]>

<![endif]> 
Mind your 'Llanguage'!
<![if !vml]>

<![endif]>
<![if !vml]><![endif]>

<![if !vml]><![endif]>

<![if !vml]><![endif]>

The way in which our new branch at Windsor Place, Cardiff, was featured in the Autumn 1964 issue of our Magazine, accounts for this strangely addressed letter from Germany…

<![if !vml]><![endif]>

<![if !vml]><![endif]>
<![if !vml]>

<![endif]>