<![if !vml]>

<![endif]>
<![if !vml]>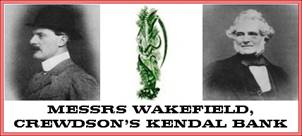 <![endif]>
<![if !vml]>

<![endif]>
The Bank of Liverpool acquires the branches of Messrs Wakefield Crewdson's Kendal Bank in 1893, and from that amalgamation, the Bank's coverage of the Lakes and Furness Peninsula is assured for well over a century. In fact Windermere Branch at Crescent Road, serves  Lakes locals and tourists until permanent closure by Barclays on 27 January 2022.  Nearby Branches at Ambleside, Bowness,  Broughton in Furness Coniston and Dalton in Furness, have all fared less well, with Ulverston also closed in January 2022.
<![if !vml]>

<![endif]>
In Service: 1883 until 27 January 2022
<![if !vml]>

<![endif]>
<![if !vml]>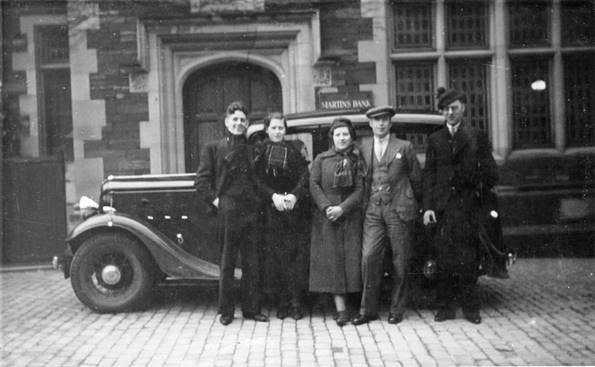 <![endif]>
Image © Martins Bank Archive Collections
<![if !vml]>

<![endif]>
Even at Barrow in Furness, which once boasted THREE branches of Martins Bank, not one of the original buildings is still open as a bank. Our main photograph features some of the Windermere Staff outside the Branch sometime around 1950 and they are either going on, or returning from an outing.  Sadly, we have no further details, and we can only identify one of the members of staff – Miss O McGarr who is standing second from the left in the line-up.  By what we think is just coincidence, our feature from Martins Bank Magazine's Summer 1950 issue also concerns a car journey – a nail-biting affair over some of the English Lake District's most twisty-turny roads, which everyone seems thankfully to have survived unscathed…
<![if !vml]>
<![endif]>
<![if !vml]>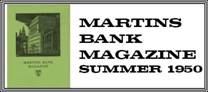 <![endif]>WE commenced our Spring tour on 1st April. We haven't yet discovered whether there was any special significance in the date and whether some involved practical joke lay behind Mr. Johnson's offer to run the Editorial bones to Windermere. Be that as it may he certainly made them rattle.  For one thing, he paid no special atten­tion to the trim of the car and with Mr. Laidlaw's and our weight on one side, offset by his and Eric Winnard's on the other, it was not surprising that the car threatened to become partially airborne on sharp curves. Why he had to drive as though the devil himself was behind is a mystery, but Mr. Dew trailed us at a discreet distance.  It was comforting to know that had anything happened he would have been almost immediately on the spot to inspect the remains. At the same time we could not restrain ourselves from involuntarily reminding him as we screamed over on switchback near Kendal of the application of the Rule in Clayton's Case; the point being that we had entered the car first.   
<![if !vml]>
<![endif]>
<![if !vml]><![endif]>

<![if !vml]><![endif]>

Images © Barclays – Ref 0030-3239
<![if !vml]>
<![endif]>
However, we arrived safely and at midday on the following day Mr. Fawcett, Manager of our Windermere branch, called for us and thus began our official visit to the first Lakeland branch to be visited in connection with this series of articles. Our choice fell on Windermere for several reasons, but primarily as a slight acknowledgment of the help which Mr. Fawcett has given to the Magazine on the pictorial side. His excellent photographs have been a feature of several past issues. Being Sunday we went first of all to his home, there to meet Mrs. Fawcett and partake of an excellent dinner. The day was cold and showery and there was a sprinkling of new snow on the hills following the storm of the previous day; but Mr. and Mrs. Fawcett are not deterred by unsettled weather, both being keen fell walkers and climbers.
<![if !vml]>
<![endif]>
<![if !vml]>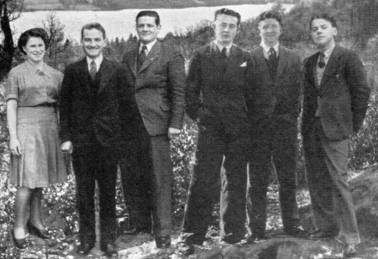 <![endif]>We set out by car for the Langdale valley, with a halt en-route to visit Dora's field at Rydal. The storm had left its mark on the flowers but the "host of golden daffodils" fluttered and danced in the breeze as they have done since Wordsworth's day, and very beautiful they looked. Langdale was as wild and beautiful as ever, a reminder of those eternal things which do not change with the passage of time. We returned to Windermere in the early evening and spent a very pleasant evening discussing the many things we have in common—photography, the hills, Switzerland, and books, toasting our toes until bedtime. Mr. Fawcett entered the service in 1911 at Lancaster and was transferred to Kirkby Stephen in 1915, going to Windermere the following year. He became second man ten years later and was appointed Manager at Bowness in 1939, returning to Windermere as Manager in 1943. The following morning we went to the branch, after giving the staff time to post the clearing and make what preparation they could for the ensuing disorganisation. After giving us a quick look over they persuaded Mr. Fawcett to take us out for coffee while they got used to the idea, so we retired to the "Postern Gate."   On our return we renewed acquaintance with those we had met at the dinner on Saturday evening and met Miss O. McGarr who had been too shy to come, as she was afraid she would know nobody.
<![if !vml]>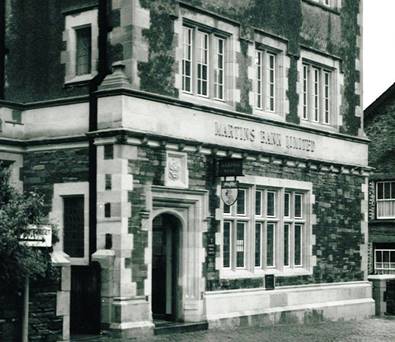 <![endif]>We explained to her quite gently that the only way to get to know people was by mixing and that we hoped to see her next year. She has been in the Bank since August, 1948, all the time at Windermere. J. Hollsworth managed to reach the Golf Finals at Southport last year and hoped to do the same again. Mr. Blamire and Mr. Cooper assured us that if he does as well in his golf as he's doing in his courting he'll be there! We wouldn't know. He joined the staff at Kendal in 1947 and went to Windermere last year. At the moment the Bankers' examinations occupy most of his leisure moments, so he told us, but this statement rather conflicts with those of his immediate superiors! E. Cooper (outside banking hours Major Cooper, C.O., 4th Battalion, The Border Regiment, T.A.) entered the Bank in 1929 at Wigton, subsequently serving at Keswick and Ambleside before military service from 1939 to 1945.  So far as we can ascertain he was the first member of our staff to be wounded—on the Somme near Amiens before the fall of France. After service in Africa and elsewhere he returned to Ambleside in 1945, going to Windermere the following year and becoming second man in 1949.  S. L. Blamire is another keen Territorial Army Officer, being a Captain in the same battalion as Major Cooper. He, too, was wounded, receiving his injury in Burma. He entered the service in 1937 at Carnforth, going to Windermere in 1939. Apart from war service and a spell on H.O. Relief in 1948 he has been at Windermere ever since. Our visit was a pleasant one, for Mr. Fawcett has a happy staff and they made us feel most welcome. Mrs. Fawcett joined us for lunch and we left in mid-afternoon after a perfect week­end among our friends in the lovely Lake country.
<![if !vml]>
<![endif]>
Stop press…
<![if !vml]>

<![endif]>
<![if !vml]>

<![endif]>Staff of Windermere branch paid a visit on 19TH December  to the offices of the Westmorland Gazette to see what was involved in producing a newspaper. They saw several other printing operations in progress and afterwards they were entertained by Mr Bernard Fisher, local director of the Westminster Press, and members of the editorial staff.
<![if !vml]>

<![endif]>