<![if !vml]>

<![endif]>
<![if !vml]>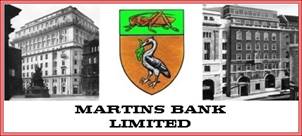 <![endif]>
<![if !vml]>
<![endif]>
Torquay is one of the earlier <![if !vml]>

<![endif]>members of Martins Bank's South Western portfolio.  The South Western District is not fully created until 1960, at which time there is a frenzy of activity to open new branches in the area.  Back in 1938, Torquay Bristol and Bath have all opened within a year of each other, and all in TEMPORARY premises, so that the business of the Bank can be established, and the name of Martins can become familiar in the area, whilst permanent branch buildings are either sought, being built or fitted out.  The following advertisment from the Western Morning News of 8 September 1938, heralds the opening of new Branches of the Bank at Plymouth and TORQUAY…
<![if !vml]>

<![endif]>
In Service: October 1938 until 22 March 1973
<![if !vml]>

<![endif]>
<![if !vml]>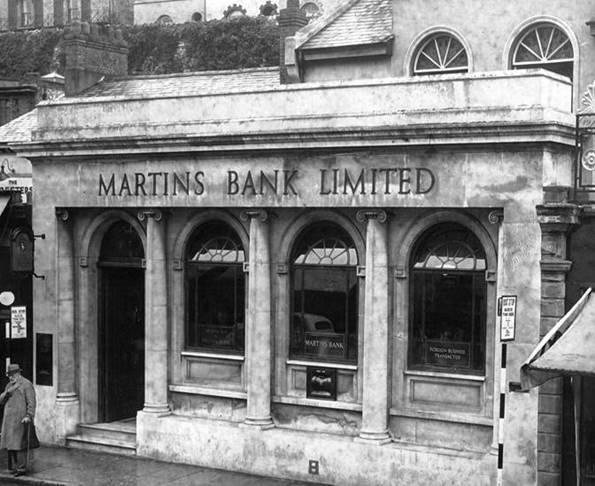 <![endif]>
Image © Barclays Ref 0030-2950
<![if !vml]>
<![endif]>
In 1967 a sub branch is opened in the Wellswood area of Torquay, but the main branch at Fleet street is itself closed by 1974, Wellswood fares slightly better, remaining open until 1992.  The early editions of Martins Bank Magazine often refer to "our pioneers",  and feature lonely little branches dotted about the South of the country, and the staffs who work in them.  Torquay receives a visit in July 1949, when the talk is still of how lucky the branch is to have escaped war damage.  Then in a  a brief celebrity interlude, entertainer Ken Dodd pops in to open an account. 

<![if !vml]><![endif]>

<![if !vml]><![endif]>

<![if !vml]><![endif]>

<![if !vml]><![endif]>

Image © Northcliffe Media Limited Image created courtesy of THE BRITISH LIBRARY BOARD

Image reproduced with kind permission of The British Newspaper Archive
Finally Mr Nelson, manager for seventeen years, retires, and is showered both with praise and gifts from staff and customers alike…<![if !vml]>

<![endif]>
<![if !vml]>

<![endif]>
<![if !vml]>

<![endif]>
<![if !vml]>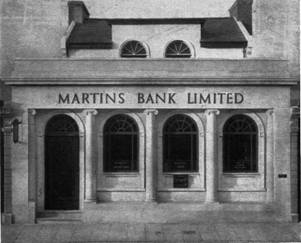 <![endif]><![if !vml]>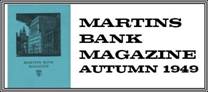 <![endif]>We reached Torquay in the early evening of 7 July  and made our way to our hotel with the intention of spending an unobtrusive evening looking around before visiting our branch in this famous southern resort on the morrow. But Mr. and Mrs. Nelson don't allow their visitors to creep in unnoticed. They came round to welcome us after dinner and we spent a very pleasant evening talking shop. Mr. Nelson and his staff may man an outpost of the bank but it is not an isolated outpost. The place is visited officially and unofficially by General Managers, Directors, Managers, pensioners and staff and news of all Districts comes to the branch. We were very amused by the story we heard concerning the visit of Sir Humphrey Noble, Bart., a member of our North-Eastern Board.  He was surprised when he called at the branch to be recognised instantly.
<![if !vml]>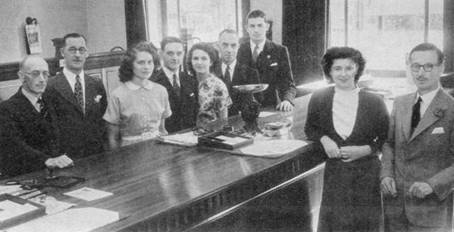 <![endif]>The answer was, of course, that when he opened his credit at the branch, they looked up his picture in our Magazine and memorised his face. It was an unsolicited and pleasing tribute to the work the Magazine does in bringing the family together. And, speaking of visitors, Mr. Nelson wishes us to say (and he really means it) that he is delighted to help any member of the staff with hotel accommodation when contemplating a visit to Torquay and he and his staff really do like to see visitors from other branches and to help and advise in entertaining them. Cook's have nothing on them as local travel experts!  Our business there has grown very satisfactorily and accommodation of staff is getting to be a problem.
<![if !vml]>

<![endif]>
<![if !vml]>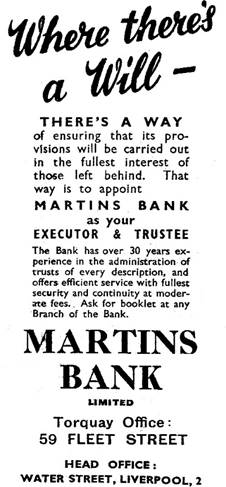 <![endif]>The branch is excellently sited on the main street, and is of attractive appearance.  It was lucky in escaping war damage, though the town itself suffered con­siderably from daylight tip-and-run raids in which several hundreds of people were killed and injured. Torquay is a rich town and the business is specialised — hotels, amusements, shops, visitors and residents. The pile of open credits would appal all but our other seaside managers. Mr. Nelson started his career at Charing Cross in 1922 and went to Liverpool City Office five years later.   He went to Torquay in 1938 and on his return from war service was appointed Manager in 1947.
<![if !vml]>

<![endif]>
D. E. Arkle started at Liverpool City Office in 1931, and served for various periods at Higher Tranmere, Waterloo, Birkenhead and Liverpool City Office before joining H.M. Forces in 1939. On demobilisation he went to H.O. Inspection Department, and was transferred to Torquay in 1947. being given signing authority the following year.  As a member of the Revillo Comedy Company he has taken his keenness for amateur dramatics with him and is an active member of that extremely energetic and progressive Society, the Torquay Amateur Dramatic Society. S. G. Eldridge comes from the London District which he joined in 1919, serving at London, Kingsway, Bexley, London Foreign, District Office and Baker Street before joining H.M. Forces in 1942. He went to Torquay in 1944. H. A. Robinson entered the bank at Torquay in 1938 and was away on military service until 1946, going back to Torquay on demobilisation in 1946.
N. H. Leese is a member of the H.O. Relief Staff, stationed at Torquay for health reasons. He comes from the London District and before military service was at London, Swanley, Sittingbourne and Longfield. He was Clerk-in-Charge at Longfield for a time. He went to Torquay in 1944. Mr. Leese's great hobby is sketching and we are trying to persuade him to let us have something before long for the Magazine. The three girls, Miss J. M. Hundley, Miss G. D. G. Tildesley and Miss M. Brook are all local girls.
Miss Hundley joined the Staff in 1941, Miss Tildesley in 1946 and Miss Brook in 1947. In concluding our remarks about Torquay we can say quite sincerely that we felt within the branch the same happy spirit of comradeship which prevails among the holiday makers who visit it. We left it with the feeling that everyone has zest and enthusiasm for the job which is being done—a wholly pleasant impression.

<![if !vml]><![endif]>

<![if !vml]><![endif]>Ken Dodd, the well-known comedian, has a cup of tea with the girls after opening his account at our Torquay branch and receiving his cheque book.  Left to right: Miss D. E. Holler, Miss M. A. Phillips, Ken Dodd, Miss M. R. Hawkins, (behind Ken Dodd), Miss S. J. Steer and Miss V. E. Slater.

<![if !vml]><![endif]>

<![if !vml]><![endif]>
<![if !vml]>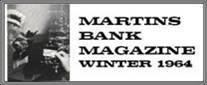 <![endif]><![if !vml]>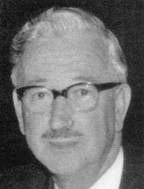 <![endif]>Mr Nelson, Manager of Torquay branch for the past seventeen years, retired at the end of September, unfortunately on grounds of ill health.  At a farewell party which he gave on September 30th at the Toorak Hotel, over 50 friends, colleagues and former staff from as far afield as Liverpool, witnessed Mr G. E. Clarkson (South Western District General Manager) present him with their gifts of a cocktail cabinet and glasses, a golf trolley, and a scroll with the names of the many subscribers.  Mr Clarkson paid warm and deserved tribute to Mr Nelson's 42 years' devoted service to the Bank which began at Charing Cross branch, Birkenhead in 1922. After eleven years at Liverpool City Office he moved Torquay in 1938 where he remained apart from four years in H M Forces.  He was appointed Manager in 1947.   After thanking his colleagues for their generosity and Mr Clarkson for travelling from Bristol to make the presentation, Mr Nelson spoke feelingly of the pleasure his work for the Bank had given him.  He thanked his wife, too, for her inspiration and encouragement.  Mrs Nelson was then handed a bouquet by Mrs Fisher,  formerly of the branch staff.  Mr Nelson's energetic work for Torquay local activities brought many callers and letters to the branch in his last few days of management.
<![if !vml]>

<![endif]>