<![if !vml]>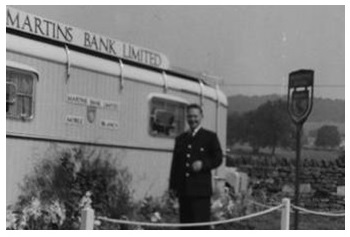 <![endif]>The Staff who attended the 1961 Wolsingham show took a number of snapshots like this one (right) depicting setting up for the event and packing away afterwards.  Our Wolsingham feature is from 1965, when at last it is time for the Branch Manager, Mr J Soulsby to retire after an collosal forty-three years in the Bank. Martins Bank Magazine features his retirement celebrations in their Summer issue…
<![if !vml]>

<![endif]>
<![if !vml]>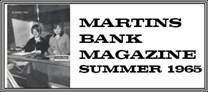 <![endif]>on april 30th Mr Soulsby retired after 43 years in the service. He began his career at Wolsingham branch and spent the last eighteen years there as Manager. From 1928 to 1946 he worked at Barnard Castle branch with a break of 4 years' war service. Earlier in the week Mr Weatherill called to wish him well in retirement and he was also entertained to lunch at Grey Street and by the General Management at Head Office. To mark his retirement Mr and Mrs Soulsby gave a buffet meal to many past and present colleagues at the White Horse Hotel, Darlington.
<![if !vml]>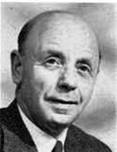 <![endif]><![if !vml]>

<![endif]>
Mr Norman Alderson, now retired, who spent many years with Mr Soulsby at Barnard Castle branch, recalled, in presenting Mr Soulsby with a clock on behalf of subscribers, many amusing incidents which occurred during their years together, particularly when they lodged in Barnard Castle and travelled to sub branches by horse and trap. Miss M. Longstaff of the Wolsingham staff presented Mrs Soulsby with a bouquet and Mr M. A. Charlton (Pro Staff Manager) added the good wishes of District Office. Mr Soulsby spoke very highly of his past and present staff and thanked his wife for her invaluable assistance over the years. He had been delighted to receive an additional gift earlier in the day from present members of his staff.
<![if !vml]>

<![endif]>