<![if !vml]>

<![endif]>
<![if !vml]>
<![endif]>
<![if !vml]>

<![endif]>
<![if !vml]>

<![endif]>Sedbergh is located in a remote and beautiful part of Yorkshire, and even in the twenty-first century, the journey to it is not straightforward. It is almost as if someone had thrown the tarmac into the air, and decided that the carriageway would be defined by the patches that landed.
<![if !vml]>

<![endif]>
In the depths of Winter only the brave might attempt these roller-coaster roads from Kendal  to the Yorkshire Dales, driving round bends whilst going up or down a sharp rise, and always, always with the low Winter sun directly in your eyes…  This is Martins Bank's second office in the town, built and first opened for business in 1953.
<![if !vml]>

<![endif]>
In service: 1953 – 13 February 2015 (see also SEDBERGH SCHOOL)
<![if !vml]>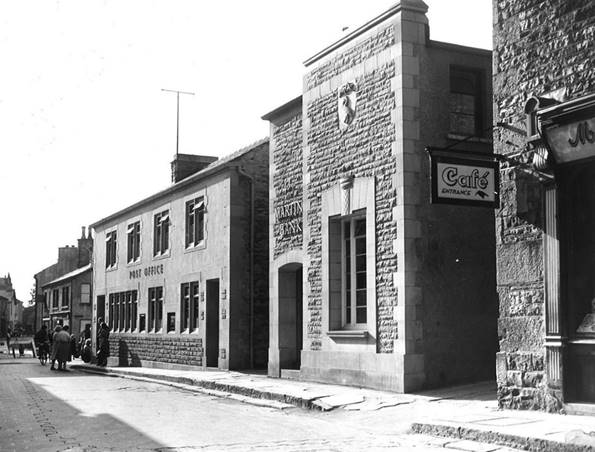 <![endif]>
Image © Barclays Ref: 0030-2578
<![if !vml]>

<![endif]>
The Bank previously operated from Evans House, part of the famous and prestigious Sedbergh School.  Martins Bank Magazine visits the branch towards the end of Martins' life, about a year before the merger with Barclays, and finds customers in a state of mild confusion…
<![if !vml]>

<![endif]>
<![if !vml]>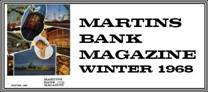 <![endif]>Inevitably, situated next door to the Post Office, our branch at Sedbergh receives requests for postage stamps from undiscerning members of the public. One mis­guided soul remarked 'What a marvellous post office; we don't have them like this down south' and another commented on 'the friendly civil servants'. But then Sedbergh is altogether a friendly sort of place. We had not stepped more than a few yards down Main Street (just wide enough for a bus) before we had acknow­ledged greetings from the policeman, a tweed-clad gentleman with a dog, and three small boys.  Sedbergh is a small market town folded into the shelter of the Pennines, giving it protection from the north and east winds so that it enjoys a bracing but not rigorous climate.
<![if !vml]>

<![endif]>
<![if !vml]>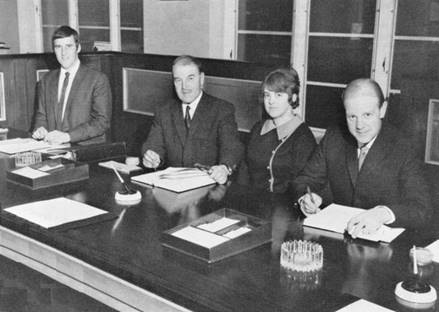 <![endif]>
Image © Martins Bank Archive Collections
<![if !vml]>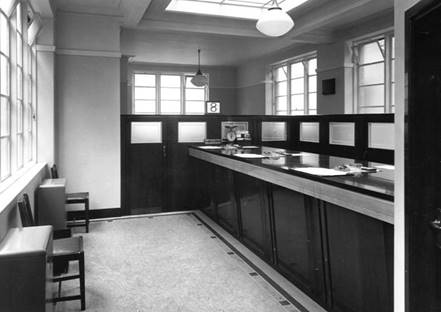 <![endif]>
Image © Barclays Ref: 0030-2578
<![if !vml]>

<![endif]>
<![if !vml]>

<![endif]>
A signpost tucked into a hedge on the road from Kirkby Lonsdale tells you that you have arrived but, apart from the tower of St Andrews Church standing above the trees, there is little to be seen of the town.  And what of its famous school? This too is blended into the landscape, its buildings widely dispersed and woven into the fabric of Sedbergh. Founded in 1525 it has become one of the most important schools in the north of England.  It is perhaps significant that the school and Martins, both with four centuries of tradi­tion, should have an association going back many years through the early Kendal bankers, Maude Wilson & Crewdson. And before our present office was built some fifteen years ago the branch was located in Evans House, one of the school buildings.
<![if !vml]>

<![endif]>