<![if !vml]>

<![endif]>
<![if !vml]>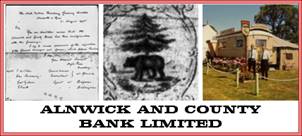 <![endif]>
<![if !vml]>

<![endif]>
Wooler is a branch of the Alnwick and County Bank, which is taken over by the North Eastern Banking Company in 1875.  This makes Wooler one of the oldest Martins Branches to still be in service today, the branch being the best part of one hundred and forty years old.  We have two features for Wooler, and each one comes from 1949. 
<![if !vml]>

<![endif]>
First of all Martins Bank Magazine pays the branch a visit, and then there is the retiement of Mr T Blenkinsopp who in 1949 has been manager of Wooler for twenty-three years.  His career totals forty-three years' service, which as we have seen countless times elsewhere within the Archive, is not uncommon at this time when banking really is a "job for life"…
<![if !vml]>

<![endif]>
<![if !vml]>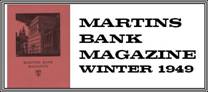 <![endif]>
<![if !vml]>

<![endif]>
We must confess that on the morning of 9th November when we set out for Northumberland, we thought somewhat wistfully of more attractive prospects. The rain was slanting down and it was very cold but, as in the case of Ilkley, when we got there our luck was in. 
<![if !vml]>

<![endif]>
In Service: 1863 until Thursday 8 November 2018 
<![if !vml]>

<![endif]>
<![if !vml]>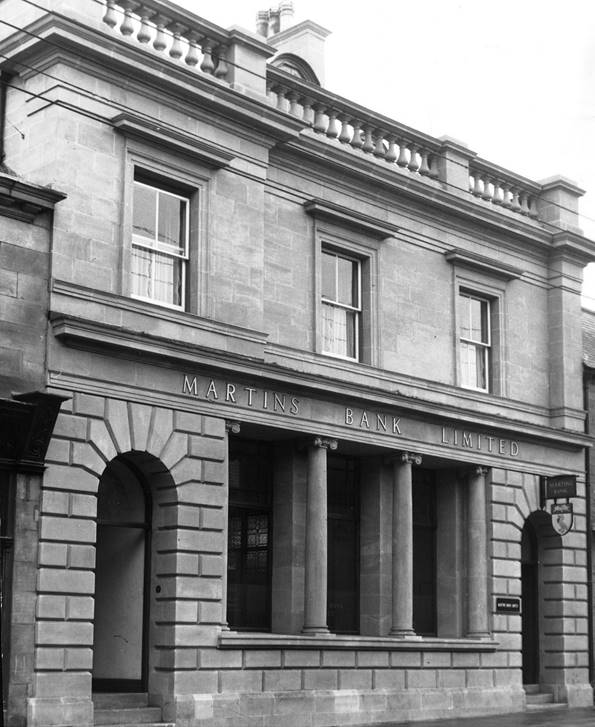 <![endif]>
Image © Barclays Ref 0030-3282
<![if !vml]>

<![endif]>
<![if !vml]>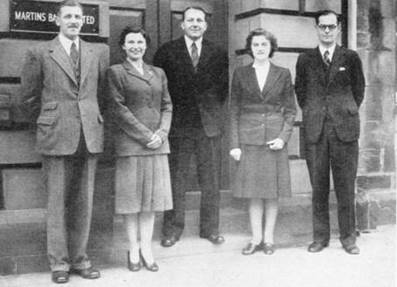 <![endif]>The following morn­ing dawned cloudlessly with blue skies and brilliant sunshine and as we boarded the Edinburgh bus in the Haymarket, Newcastle, it was obvious that we were going to enjoy the lovely run to Wooler, outpost of the North-Eastern District, under the best possible conditions. The reds and browns of the leaves, the gold of the autumn sunlight on the hills, the deep blue of the sky, the beginnings of a rainbow in a cloudlet on the Cheviots, the long shadows across the landscape all combined to leave an impression of unforgettable beauty. H. V. Morton's "In Search of England"  followed the beaten track;  there is room for other writers yet with material such as this. We received a warm welcome from Mr. Gibson and his staff in their little office situated a few minutes away from some of the most incomparable scenery in the country. Mr. Gibson is well-known to most of us as Captain of the North-Eastern Cricket Team this year. He entered the service in 1928 and served at Sedgefield, Spennymoor, on the Newcastle D.G.M's staff and as a visiting Inspector before his appointment as Manager at Wooler in January of this year. He served with H.M. Forces from 1941 to 1946.
<![if !vml]>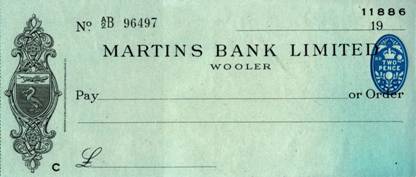 <![endif]>His second man, E. MacDougall, entered the service in 1922 and has served at Coxhoe, Chester Road, Easington Colliery, Newcastle City Office, D.G.M's Staff, Alnwick and Morpeth before going to Wooler at the beginning of the year. During the war he served with the R.A.F. regiment. He is a keen fisherman, and unusually modest for a devotee of this fascinating sport. J. G. Ross is another keen sportsman who has tried his hand at various pastimes. His present passion is wrestling, which is just starting up in Wooler in a big way. He entered the service in 1928 and has served at Byker, Wingrove, and Alnwick. This is his third spell at Wooler. He served with H.M. Forces from 1940 to 1946.  By the time this issue of the Magazine appears Miss S. M. Blenkinsopp will have left to get married. She has been with us since 1942 and comes of a family well steeped in the banking tradition. Miss I. Patterson, too, will not be with us for very much longer for a similar reason. She has been in the bank since 1940 and served for a few months at Berwick before going to Wooler. During the course of the afternoon Mr. Gibson took us round his "country" and we gazed into Scotland and across to Holy Island. The sun was setting behind the hills as we returned to Wooler to have tea with Mr. and Mrs. Gibson and their little son and to say goodbye to the staff before returning to Newcastle on our way home. We took with us an impression of a very happy little branch.
<![if !vml]>

<![endif]>
<![if !vml]>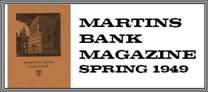 <![endif]><![if !vml]>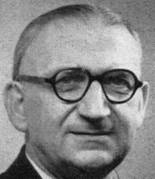 <![endif]>The retirement of Mr. Thomas Blenkinsopp was marked by a goodly assembly of former colleagues and members of his staff, despite the inaccessibility of the old Border town in which he has spent so many of his days. Mr. George Dryden, the senior serving member of his staff, made the presentation of a portable radio receiver on behalf of the subscribers and Miss Patterson presented Mrs. Blenkinsopp with a bouquet of flowers. Mr. C. V. H. Vincent spoke of the success that had attended Mr. Blenkinsopp's career as a Branch Manager and of the many kind­nesses shown by Mr. and Mrs. Blenkinsopp to all officials of the Bank when visiting the Border country. A letter from Mr. Maxwell regretting his inability to be present and conveying his best wishes, was read. Mr. G. W. Gibson, the new Manager, acted as Chairman of the proceedings which were preceded by a tea arranged by the lady members of the staff.  Mr. Blenkinsopp entered the bank in 1906 at Barnard Castle, being transferred to Bishop Auckland in 1918, and to Tow Law in 1919. He became Manager at Tow Law in 1919 and of Wooler in 1926. Outside the bank Mr. Blenkinsopp has been a man of many parts. A J.P. for the County of Northumberland since 1937, a member of the Rural District Council of Glendale and Chairman of the Finance Committee for the past twelve years, Treasurer of Wooler Parish Council, Golf Club, Mechanics Insti­tute, Town Improvement Committee, and Entertainments Committee, as well as of the Wooler and Doddington Angling Association, local treasurer for Dr. Barnardo's Homes, President of the British Legion Flower and Vegetable Show, actively associated with the Glendale Agricultural Show, interested in the Berwick and District Motor Club and Vice President of the Wooler Motor Cycle Club, a keen angler and interested in cricket, tennis, photography, and gardening, former Captain of the Barnard Castle Tennis Club and Hockey Club, these interests have occupied his leisure hours. Somehow we feel that retirement for him will not spell inactivity.
<![if !vml]>
<![endif]>
<![if !vml]><![endif]>

It is becoming increasingly normal to find the name of Martins Bank appearing again on high streets in the early part of the twenty-first Century, as branches are closed, put up for sale, and echoes of the past can be so clearly seen in the stonework above the door…

<![if !vml]><![endif]>

<![if !vml]><![endif]>

Image © Barclays Ref 0030/3282

<![if !vml]><![endif]>

Image © 2019 Martins Bank Archive Collections – John Robertshaw

<![if !vml]><![endif]>

Our thanks go to friend of the Archive John Robertshaw, for the contemporary view of Wooler Branch, where the building shows briefly once more, the name of Martins Bank. John took the photograph in April 2019, some six months after the closure of Wooler Branch.

<![if !supportMisalignedColumns]>
<![endif]>
<![if !vml]>

<![endif]>