<![if !vml]>

<![endif]>
<![if !vml]>

<![endif]>Bexley is not the first example of a change for the worse – WELLING branch has a similar fate, see also HARTLEPOOL YORK ROAD. With that most useless of commodities – hindsight – we know that today everyone yearns for something that looks substantial and traditional – it's not some kind of architectural snobbery – we know now that people's quality of life is affected by the buildings they live in or use.   In the excitement of the late 1960s, the Summer of Love, "Round the Horne", and Colour TV for the first time, the desire to remove tradition and what it stood for must have been very strong indeed!  In order to redress the balance, here is an image from Geoff Taylor's collection, which shows Bexley in much happier times, April 1954…
<![if !vml]>

<![endif]>
Image (right) © Martins Bank Archive Collections - Geoff Taylor
<![if !vml]>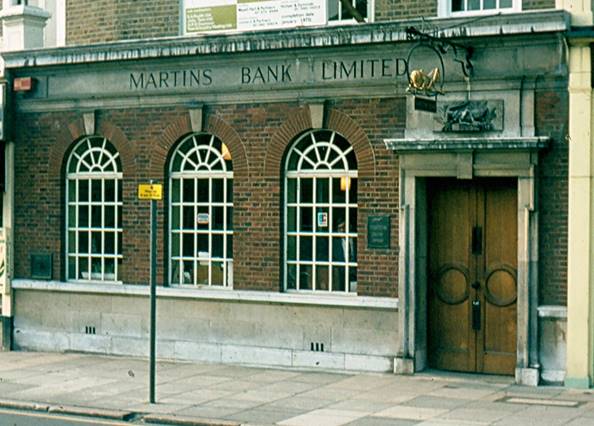 <![endif]>
<![if !vml]>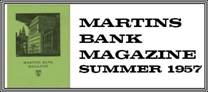 <![endif]>On the last day of March Mr. S. E. Lawrence retired from the managership of Bexley branch, a position he had held for over 20 years. On March 28th nearly 50 of his friends and colleagues were entertained by Mr. and Mrs. Lawrence at the King's Head Hotel in Bexley. Mr. L. G. Tunnah, London District General Manager, and a number of managers of branches in the London District were among those present.
<![if !vml]>

<![endif]>The proceedings which preceded the presen­tation were introduced by Mr. T. J. W. Ivey, second-in-command at Bexley, who paid his own personal tribute to Mr. Lawrence. The presentation on behalf of the subscribers of a battery clock and a book token was made by Mr. R. G. Thorogood, Manager at Chislehurst. There was also a book of signatures. Mr. Tunnah then paid his own tribute on behalf of Mr. E. Norman-Butler and the General Management in London, and con­veyed their good wishes for a long and happy retirement.
Mr. Lawrence expressed his thanks and said how happy he had been in the service of the Bank, and a bouquet was presented to Mrs. Lawrence, whom we were all delighted to see, by Miss P. Tidy, Bexley branch. Mr. Lawrence entered the Bank in 1915 and after service in the First World War 1915 to 1919, was posted to Bromley in 1919, being transferred to Swanley in 1921. He was appointed Pro Manager at Swanley in 1932, and Pro Manager at Sittingbourne the same year. His appointment as Manager at Bexley came in 1936.
<![if !vml]>

<![endif]>
<![if !vml]>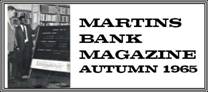 <![endif]><![if !vml]>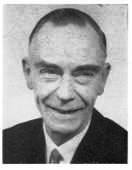 <![endif]>A newcomer to golf who would now have plenty of time to improve his handicap. So Mr H. Ryder (District General Manager) described Mr Kirk, retiring as Manager of Bexley branch at the end of May. Mr Ryder was making the presentation of a cheque and book of signatures at the Kings Head, Bexley, where Mr Kirk, with his wife, son and daughter, was entertaining 70 col­leagues including Mr S. W. P. Barter. After Mr Ryder had concluded with good wishes for the future Miss Stephen handed Mrs Kirk a bouquet.
Specifically avoiding reminiscences. Mr Kirk thanked everyone for the gift, adding that music as well as golf would have more of his attention in the future. Mr Kirk's 44 years' service was spent mostly in Kent branches, beginning at Bromley in 1921. His first appointment was as Pro Manager at Mottingham in 1939, followed by four years' war service. After five years with the visiting inspectors he became Pro Manager at Holborn in 1953 and Manager at Bexley in 1957.
<![if !vml]>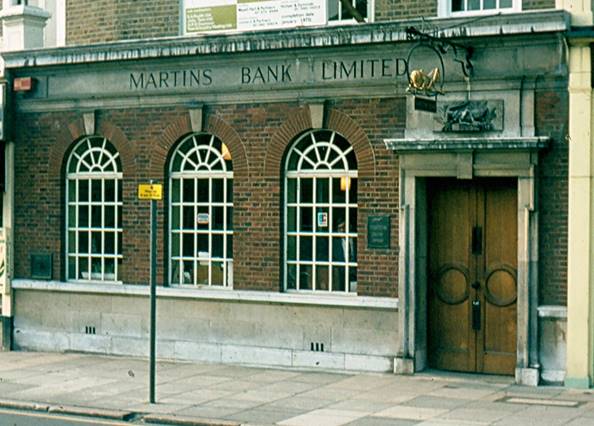 <![endif]>