Western Morning News
19 July 1958
ESTATE BANK EXPERIMENT STARTS SOON
The "social experiment" bank on Plymouth's Ernesettle housing estate will open for business on August 5.  It aims to show people who may never have previously regarded themselves as bank customers how to make the best use of their money.  The branch, in premises built by Plymouth City Council, is being established by Martins Bank.  The idea resulted from a chance conversation between Mr T Quayle, manager of the bank's Plymouth branch, and Mr W A Miller of the Housing Committee.  The scheme is equally supported by the present committee chairman, Ald. H M Pattinson, who hopes that it will foster the abandonment of the "weekly" attitude towards wage and rent payments.  "We are moving into an era – it is already showing itself in other parts of the country and will be encouraged here – in which people will not budget on a weekly basis.  They will pay their rent by cheque or even by banker's order", Ald Pattinson said yesterday.
MEETING LIKELY
Such a change could have a useful effect on the administrative costs of the Housing Department. For Mr Quayle the immediate problem is to discover what kind of service the people of Ernesettle want.  If special opening hours are required, arrangements will be made to provide them.  A meeting will probably be held between representatives of the bank and the estate tenants' association before the branch opens. The single-storey premises include a small banking hall and a manager's office.
<![if !vml]>

<![endif]>
Getting closer to the "working classes"…
1 January 1957 – the following is a minute from a meeting of the Standing Committee of Martins' General Board.  It rubber stamps the Ernesettle experiment, and reveals quite a lot about the Bank's opinion of itself and its potential new customers…
<![if !vml]>

<![endif]>
<![if !vml]>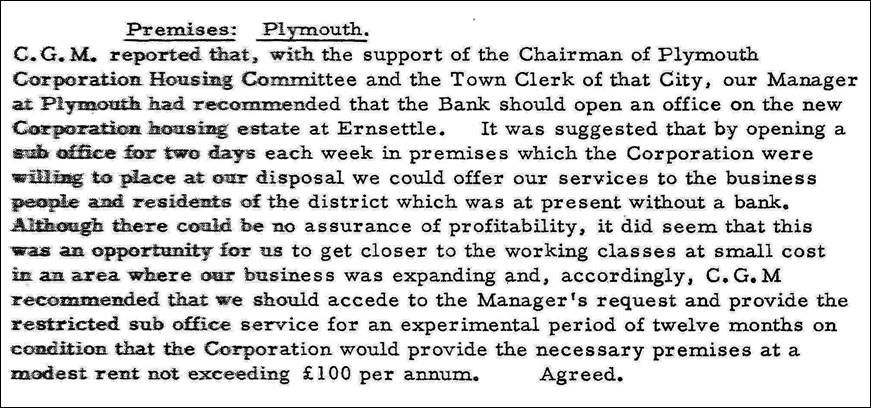 <![endif]>
Image © Barclays Ref 0080-0600
<![if !vml]>

<![endif]>
We find it hard to understand why this experiment lasted only four years when the Bank had placed itself at the disposal of hundreds if not thousands of potential customers, the majority of whom would benefit from operating a bank account. Perhaps it was simply that cash really was king, and that the stereotype of someone with a bank account being a wealthy individual or businessman was too strong to break?
<![if !vml]>

<![endif]>