<![if !vml]>

<![endif]>
<![if !vml]>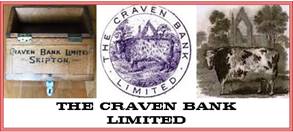 <![endif]>
<![if !vml]>

<![endif]>
In this rare, lovely colour image, it looks as if you can still just walk in and do your banking the 1960s way…  Settle is the original Head Office of the Craven Bank, which is quite fitting when we consider that a member of its staff becomes Chief General Manager of Martins Bank.  The image below (right) serves to remind us of the huge changes there have been to the British High Street in only the last few decade, and we are delighted to see the inclusion of the Co-Op and its "new" Ford® delivery van!  By the way, we are not sure what the unidentified flying object is, top left, although the phrase "pigs might fly" does come to mind.
<![if !vml]>

<![endif]>
In Service: 27 October 1791 until 18 February 2022
<![if !vml]>

<![endif]>
<![if !vml]>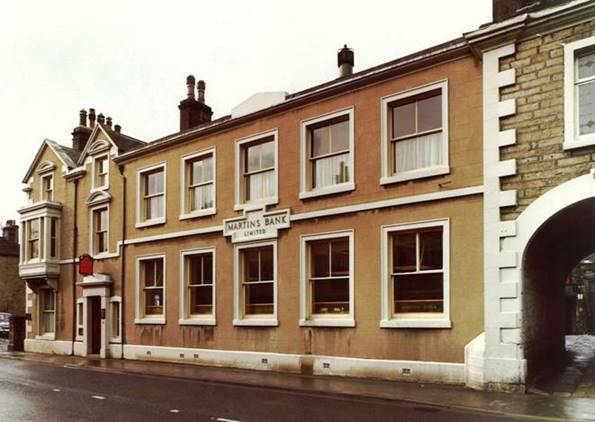 <![endif]>
 All Branch Images © Barclays Ref 0030-2587
<![if !vml]>

<![endif]>
Martins Bank Magazine sets off for Settle in the Autumn of 1951 and as usual gets down to the business of Branch life…
<![if !vml]>

<![endif]>
<![if !vml]>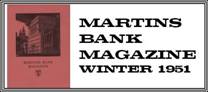 <![endif]>Settle branch was the branch which gave birth to a future Chief General Manager, and until a short time ago one of the "exhibits" shown to interested visitors was the stamp box, with the initials "C J.V." carved on the lid. The box is still there, but the lid has mysteriously disappeared: perhaps it will turn up at Christie's one day!  So far as most of the members of the staff are concerned Settle seems to have been a word with two meanings.  Mr. V. E. Pitts, Pro Manager since last year, has been at the branch all his working life, since 1916. Mr. R. S. Bownass commenced his career at Settle and returned there after service with H.M. Forces, but he had four years at Skipton from 1923.
<![if !vml]>

<![endif]>
| | |
| --- | --- |
| <![if !vml]><![endif]> | <![if !vml]><![endif]> |
All Branch Images © Barclays Ref 0030-2587
<![if !vml]>

<![endif]>
Mr. J. F. Kirk also commenced his career at Settle in 1919, leaving the branch in 1927 and returning in 1945. Miss M. M. Slayden, daughter of the retired Manager of Settle branch, has been there since 1946. Northerners, or should we say " Craveners," will not forget her in a hurry after her oratorical efforts at the 1949 Craven Dinner.  Miss H. Bulcock has been at the branch since she entered the service in 1939, likewise Miss M. Smith who entered the Bank in 1948.  Mr. T. H. Kinder entered the service in 1919 at Clitheroe, subsequently serving at Keighley, Colne and Head Office before his first appointment in 1939 as Manager at Exeter. In 1939 he was called up for service with H.M.' Forces and on his return in 1945 was appointed Manager at Garston. He received his present appointment last year.
<![if !vml]>

<![endif]>
| | |
| --- | --- |
| <![if !vml]><![endif]> | Settle is situated in very beautiful country, in the heart of the Pennines. It is also in the centre of the potholing country and the first thing we noticed on entering Mr. Kinder's room was the excellent photograph of the main chamber of Gaping Ghyll, in the heart of Ingleborough. We remember it being taken by E. Simpson, of Settle, Recorder of the British Speleological Association. The flash powder, thirty-shillings-worth in pre-war days, was placed in several half-pound tins on a plank. These were all connected to a single length of fuse which was lit, everybody then retiring to a safe distance. The resulting flash took the striking picture, since published all over the country, which hangs in Mr. Kinder's room. When Mr. Simpson went back to move the plank it had gone! We have reproduced a couple of Mr. Simpson's photographs taken in the caves which abound in the Craven district, in an endeavour to show colleagues in other parts of the country what it is that attracts people to the exploration of underground caverns and waterways. |
<![if !vml]>

<![endif]>
We joined Mrs. Kinder and then retired to the Craven Heifer to enjoy a lunch which only these country places can produce, after which we went over to Stainforth where Mr. and Mrs. Kinder have a very beautiful home with an acre of ground. On the way up there Mr. Kinder gave us the impression that gardening was somewhat burdensome to him and that it was his wife who was the enthusiast, but a glance at what has been accomplished quite satisfied us that is was the work of more than one enthusiast. The house itself, first modernised in 1800, and now modernised again, is a showpiece and a home of which anyone would be proud.  Its setting, close to the fells, is most attractive, but, as we were reminded, it snows in those parts in winter and icy roads are an ever-present menace. Situated in the heart of farming country, with two members of the staff children of farmers, our branch has indeed a farming flavour. Three members of the staff, apart from Mr. Kinder, we had met before at one of the Craven dinners and it was very pleasant to renew acquaintance and spend a short time with them again, though the day of our visit, September 12th, was showery and misty and we did not see the district at its best.
<![if !vml]>

<![endif]>
Here is another lovely and rare shot of Settle Branch from the collection of Martins photographs inherited by Barclays in 1969.  This view can be dated exactly to 2 April 1949, which judging from the light and shade of the image, was probably a bright and sunny day in this part of Yorkshire!

<![if !vml]><![endif]>

<![if !vml]><![endif]>

Declaration of Outside Interests?

<![if !vml]><![endif]>

<![if !vml]><![endif]>In an occasional series of short articles, "People like You", Martins Bank Magazine features a number of staff who are prolific in a number of interests or organisations in their local community.  In 1965, they focus on Miss M M Slayden, (daughter of the former Manager of Settle), whom it would seem has many fingers in many pies in Settle!

<![if !vml]><![endif]>

<![if !vml]><![endif]>People like you…

<![if !vml]><![endif]>

MISS M M SLAYDEN

"Second cashier at Settle, she is a member of the Settle Business and Professional Women's Club, and twice its president, a member of the local Savings Committee and of the Dramatic Club Committee.  She is Treasurer of the Skipton Women's Conservative Club, and also actively engaged in local politics"…

Time-cheques…

Nothing marks the passing of banking times quite so neatly as these three Settle cheques, which show both the evolution of the modern day Martins Bank, and the drive towards computerisation, which is represented by the appearance of the MICR LINE from the early 1960s onwards…

<![if !vml]><![endif]>

RIGHT: Image © December 1923 Martins Bank Archive Collections

<![if !vml]><![endif]>

BELOW LEFT: Image © April 1931 Martins Bank Archive Collections

<![if !vml]><![endif]>

BELOW RIGHT: Image © 1963 Martins Bank Archive Collections

<![if !vml]><![endif]>

<![if !vml]><![endif]>

<![if !vml]><![endif]>

<![if !vml]><![endif]>

<![if !vml]><![endif]>