<![if !vml]>

<![endif]>
<![if !vml]>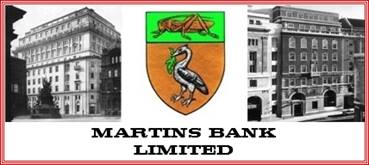 <![endif]> 
<![if !vml]>

<![endif]>
<![if !vml]>

<![endif]>Worthing Trustee and Investment Office opens in 1967, just a year or so before Martins Bank combines the businesses of all of its regional Trustee offices into Martins Bank Trust Company Limited.  
<![if !vml]>

<![endif]>
The new Office opens next door to Martins Bank's existing Worthing Branch, and we are currently looking for an image. 
<![if !vml]>

<![endif]>
<![if !vml]>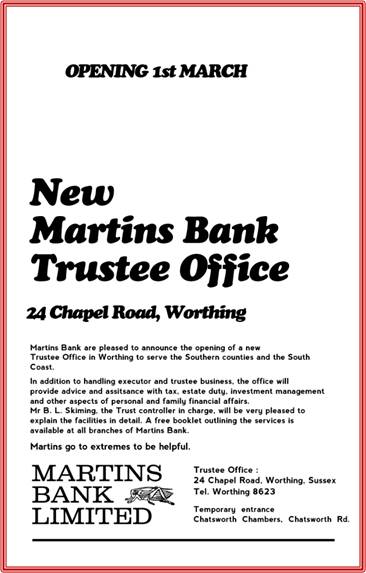 <![endif]>
Image © Martins Bank Archive Collections
Advertisement Restored August 2022
<![if !vml]>

<![endif]>
In Service: 1 March 1967 until 21 November 1969
<![if !vml]>

<![endif]>
In the meantime we will all have to imagine a shiny new office in one of the shop units seen here, either side of the Branch!   Martins Bank Magazine does not visit Worthing Trustee, and we have only one image for our Staff Gallery below. If you can help with images or memories of working at this office, please do get in touch with us at the usual address – gutinfo@btinternet.com.  Martins Bank has a policy of looking first to its own experienced Staff to fill vacancies, before recruiting from outside the Business. 
<![if !vml]>

<![endif]>
When Mr B L Skiming is appointed Manager of Worthing Trust Company in 1968, he has already accumulated twenty-four years with the Bank, the last fifteen or so working in Trustee and Investment departments.  In 1953 after a five-year tour of Branches in the Liverpool District, he joins Liverpool Trustee.  Ten years later he moves into the Northern District, to take up a post at Kendal Trustee.  Two years after that he is appointed Pro Manager, the first step on the Management ladder.  He moves to Worthing in 1967, with another promotion, this time as Trust Controller of the newly opened Trustee Office. This is the first - and lowest - appointed role in the Bank, and at Branch level it equates to the position of "Pro Manager" or "Clerk In Charge.  However, Mr Skiming does not have to wait long to climb the next rung of the ladder, and his appointment as Manager of Worthing Trust Company comes early in 1968.
<![if !vml]>

<![endif]>
An advertisement similar to this one will have been placed in newspapers across the South of England. It explains that the coverage area Worthing Trustee Office will be quite a large geographical area - the Southern counties and the South Coast.  The advertisement is not terribly eye-catching, an image of some kind placed at the top might have been more appealing…