<![if !vml]>

<![endif]>
<![if !vml]>

<![endif]>
<![if !vml]>

<![endif]>
The North Eastern Banking Company opens a Branch at Chester le Street in 1873 in these unassuming premises in Front Street.  Although "High Street" is an almost universal generic road title throughout the UK, the North of England is home to a number of imaginatively titled thoroughfares, such as Front Street, and Main Street. In 1956, aware that it has been recently singing the praises only of newly built branches, Martins Bank Magazine pays Chester le Street a visit, in order to show that life does indeed continue in some of the Bank's oldest outposts…
<![if !vml]>

<![endif]>
In Service: 15 May 1873 until 1984
<![if !vml]>

<![endif]>
<![if !vml]>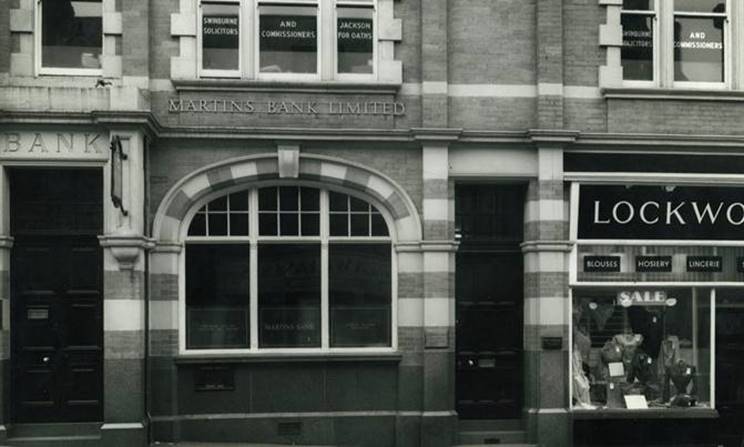 <![endif]>
Image © Barclays Ref 0030-0633
<![if !vml]>

<![endif]>
The Branch where tigers are welcome?
<![if !vml]>

<![endif]>
<![if !vml]>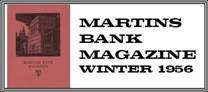 <![endif]>Every Branch featured in these pages during 1956 is a new branch and a great deal of publicity has been given both here and elsewhere to the contemporary trends in the architecture of our new branches and to their beauty and amenities. We have been reminded from time to time, perhaps just a little sourly, that bank profits are also made by the older branches whose staffs contend with antiquated heating appliances, overcrowding, inadequate staff facilities and out-of-date buildings.  We thought it would be rather a nice gesture to the Manchester and North-Eastern Districts in particular, therefore, to conclude our 1956 programme with a visit to one such branch, representative of many, and our choice fell on Chester-le-Street which we visited on November 15th.
<![if !vml]>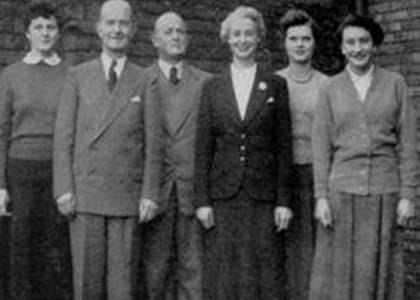 <![endif]>Chester-le-Street is a town of Roman origin, half way between Newcastle and Durham, with a population of some 19,000 people. Its industries are coal mining, clothing manufacturing, sweet manufacturing and, recently, a big new factory producing one of the principal raw materials of the plastic industry. Our branch, one of the North Eastern Banking Company branches, has been operating there since the latter part of the nineteenth century and its con­tribution towards the prosperity of the Bank as a whole is no mean one. The Manager is Mr. T. S. Glendinning, who after managing West Cornforth from 1948 was promoted to Chester-le-Street in 1952. Prior to that he served at Benwell, Newcastle upon Tyne, Durham and on the North-Eastern Inspection staff. He commenced his career in the Bank in 1920 and during the last war served in the Royal Marines.
Mr. R. J. Soulsby, second-in-command, is nearing the end of his service which commenced in 1913 and has all been spent in the North-Eastern District, at Stan­ley, Jesmond, Wallsend, Team Valley and on the North-Eastern Inspection Staff. He was ap­pointed Clerk-in-Charge at Team Valley in 1943 and held the position until 1945 when he became a member of the District General Manager's staff at Newcastle. He has been at Chester-le-Street since 1946. The remainder of the staff are all girls. Miss Audrey Hutchinson takes the second till and is a most popular and efficient cashier. She is well known to many members of the staff in other districts who have met her with the Bank parties in Austria and Switzerland. She has been in the Bank for 14 years, 12 of them at Consett.
<![if !vml]>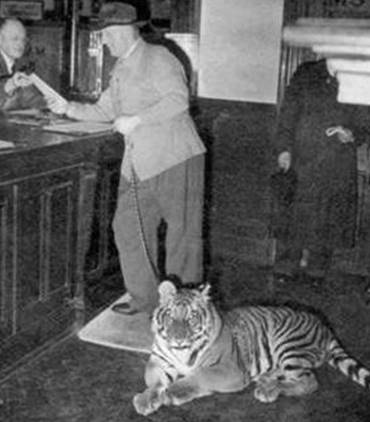 <![endif]>Miss Dorothy Crosby has been in the Bank since 1950, all the time at Chester-le-Street and is the leading lady of the backroom girls. Next comes Miss Joan Churchman who entered the Bank last year, and the remaining girl is Miss Mollie Greathead, a trainee. Mr. Glendinning is fortunate in his staff. Shortly after our arrival we went to the house of Mr. J. Walton, customer of the branch whose passion for keeping wild animals and whose book on the subject have brought him some fame. Readers will recall the picture we published earlier in the year of Mr. Walton at the counter of the branch accompanied by Ranee, his pet tigress. Well, Ranee is too big and powerful now to go about on a chain and the staff have to content themselves with Rikki, a young lion, whose delight at the moment is to seize one's hand and suck one's fingers as a kind of comforter. We were fascinated and delighted to be able to play with him as he runs about the house loose at present, his worst offence being his passion for destroying cushions. We were also thrilled to be allowed to stroke Ranee's head and fondle her ears, through the bars of her cage, and felt it to be quite an experience to be able to fondle a fully grown tigress, even from the safe side. Mr. Walton told us of his horrifying and terrifying experience when he was mauled by a lion and nearly killed, only the prompt arrival of his wife and daughter, who both shot it, saving him Mr. and Mrs. Walton are two most interesting and refreshing personalities whom we felt most privileged to meet.
<![if !vml]>

<![endif]>
<![if !vml]><![endif]>

Image © Martins Bank Archive Collections - Stephen Walker

We visited Lumley Castle, belonging to the Earl of Scarborough, now used as a dormitory for Durham University, and Lambton Castle, seat of the Earl of Durham, now used by Durham Education Committee as a residential college for week-end training courses for students. Miss Crosby has been on one of them. The setting of Lambton Castle, in woodlands through which the River Wear runs, is truly magnificent. We had the pleasure of entertaining Mr. and Mrs. Glendinning to lunch and we shall long remember this most pleasant and crowded day.

<![if !vml]><![endif]>
<![if !vml]>

<![endif]>
<![if !vml]><![endif]>Chester-le-Street is seen here in the 1960s, and then as Barclays in the 1970s, when the business has expanded into the former Lockwoods store next door.  Judging by the wkward shape and size of the window signage, this is perhaps seen as a stop gap measure before more suitable premises can be found, and in 1984 the Martins building is closed with Barclays moving to 103 Front Street where they continue to trade today.

<![if !vml]><![endif]>

<![if !vml]><![endif]>

<![if !vml]><![endif]>
Images © Barclays Ref 0030-0633
<![if !vml]>

<![endif]>