<![if !vml]>

<![endif]>
<![if !vml]>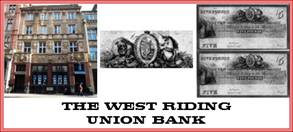 <![endif]>
<![if !vml]>

<![endif]> 
Last of the Summer wine?
<![if !vml]>

<![endif]>
Holmfirth is a branch of the West Riding Union Bank, which merges with the Lancashire and Yorkshire Bank in 1902, becomes a Branch of Martins Bank in 1928, and is stil open today as Barclays.  The Lancashire and Yorkshire Bank decide to immortalise their name above the main doors, and a keen eye on this photograph will note that a bracket has been drawn in next to this signage, perhaps in preparation for Martins Bank's Premises department to have a new sign made to cover up the old one. Under Martins, Holmfirth operates as a full Branch, open across the full six day banking week, and has no sub-Branches to maintain or staff.
<![if !vml]>

<![endif]>
Now this will seem a little corny, we know, but we just couldn't resist remembering that Holmfirth was home for so many years to a long running and much loved TV series.  Our two candidates for walk on parts are Mr Parkin who retires in 1950, and his successor Mr Heald, who hangs up his Bank tie in 1959.  As far as we know, neither has ever lusted after Nora Batty, or indeed ridden down a steep hill in a bathtub on wheels.  (At this point, our international visitors would do well to search for episodes of "Last of the Summer Wine" on YouTube®)…
<![if !vml]>

<![endif]>
In Service: 1888 until 23 June 2023
<![if !vml]>

<![endif]>
<![if !vml]>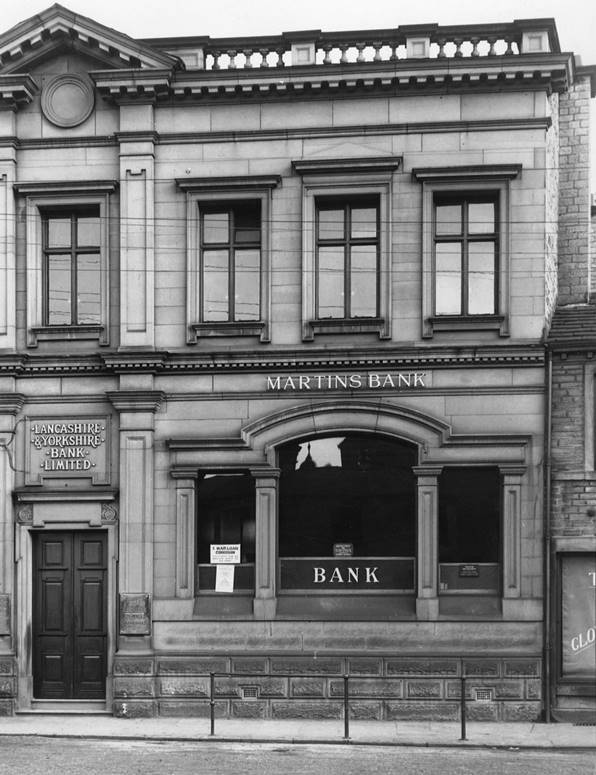 <![endif]>
Image © Barclays Ref 0030/1336
<![if !vml]>

<![endif]>
<![if !vml]>
<![endif]><![if !vml]>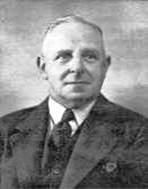 <![endif]>The retirement of Mr. J. A. Parkin, Manager of Holmfirth branch since 1946, at the end of the half-yearly balance; con­cluded a period of forty-four years' service in the Bank. Prior to his appointment at Holmfirth, Mr. Parkin was at Market Place branch, Huddersfield. Entering that branch of the then Lancashire and Yorkshire Bank, he remained there for thirty-nine years, and when he left to take the Managership of Holmfirth, the staff of Huddersfield branch made a presentation to him in recognition of his long service there.  His period of duty at Huddersfield was broken only by the advent of the 1914 World War, during which he spent four years on active service, returning to the Bank in 1919. On the occasion of Mr. Parkin's retire­ment, the staff at Holmfirth made a presentation to him, expressing their very best wishes for his happiness in the future.
<![if !vml]>

<![endif]>
<![if !vml]>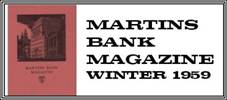 <![endif]><![if !vml]>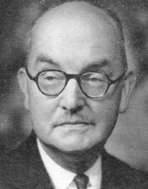 <![endif]>On the occasion of his retirement after 44 years' service Mr. Heald entertained a party of his past and present colleagues at the White Horse Restaurant, Huddersfield, on 31st August. During the course of the evening Mr. A. N. Smith, the new manager at Holmfirth, presented Mr. Heald with a cheque as a token of appreciation of "this gentle and amiable man" from his many friends, pensioners and those still serving.  Mr. Heald intends to plant a rose bed at his new bungalow at Slindon, near Arundel, as a permanent reminder of his happy days in the Huddersfield district. Mrs. Heald was presented with a powder compact in appreciation of her many kindnesses to past and present members of Holmfirth staff. Mr. Heald commenced his service with the Lancashire & Yorkshire Bank in 1915. His first appointment was as Accountant at Huddersfield in 1946, and he became Manager at Holmfirth in 1950.
<![if !vml]>

<![endif]>
<![if !vml]>

<![endif]>We are indebted to Sheila Marie Lange for the contemporary image of Holmfirth below. Sheila took the photograph whilst passing the Branch in March 2019, and it is good to see this lovely old building still looking so good…
<![if !vml]>

<![endif]>
| | |
| --- | --- |
| <![if !vml]><![endif]> | <![if !vml]><![endif]> |
| Image © Barclays 1959 - Ref 0030-1336 | Image © Martins Bank Archive Collection - Sheila Marie Lange 2019 |
<![if !vml]>
<![endif]>