<![if !vml]>

<![endif]>
<![if !vml]>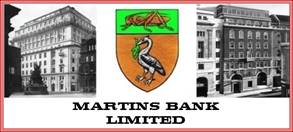 <![endif]>
<![if !vml]>

<![endif]>
<![if !vml]>

<![endif]>At last – a Liverpool Branch that wasn't opened by the Bank of Liverpool!  Childwall Five Ways is a relative baby in Martins Bank's family of Liverpool Branches, and it opened in this somewhat Dutch Barn type of building in 1938. 
<![if !vml]>

<![endif]>
The Branch sits on one edge of the famous Childwall Five Ways Roundabout (it goes five different ways, you know) and sits on the border of Liverpool 15 and Liverpool 16.  The choice of this location for a bank branch was obviously a good one, as Childwall survives the merger with Barclays, remains open until October 2015.
<![if !vml]>

<![endif]>
In Service: 1938 until Friday 2 October 2015
<![if !vml]>

<![endif]>
<![if !vml]>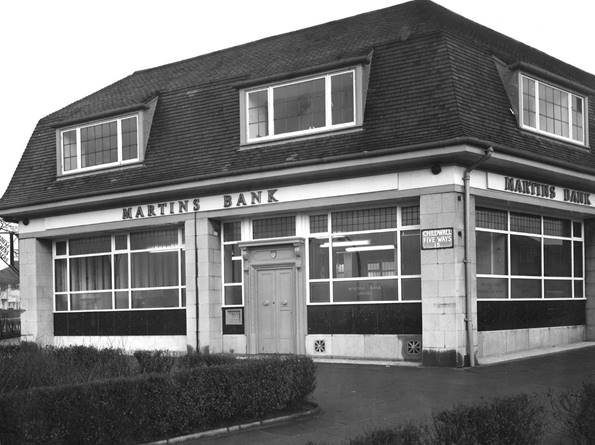 <![endif]>
Image © Barclays Ref 0030-1663
<![if !vml]>

<![endif]>
Our retirement feature centres on Mr W A Foulkes, who is Manager at Childwall from 1946 to 1960. He enters the Bank in 1917 and serves for an amazing forty-three years…
<![if !vml]>

<![endif]>
<![if !vml]>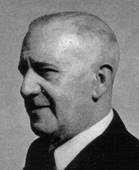 <![endif]><![if !vml]>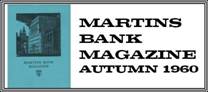 <![endif]>At the end of June, Mr. W. A. Foulkes re­tired after 43 years' service and to mark the occasion a gathering took place at Childwall Five Ways branch on June 23rd to witness the presentation of a cheque by Mr. Ian Buchanan, Liverpool Assistant District Manager, on behalf of the subscribers.  The proceedings were opened by Mr. E. E. S. Riley who spoke in the warmest terms of Mr. Foulkes's managership. Miss B. M. Carter, who has been Mr. Foulkes's secretary for a number of years, then presented a bouquet to Mrs. Foulkes. In his remarks Mr. Buchanan referred in the kindliest terms to the man we have all known as 'Father' Foulkes, to his competence and patience as a trainer of new juniors, to the basic kindliness of his character, and to his loyalty, faithfulness and devotion to the service of the Bank throughout the whole of his career. Mr. Foulkes replied by thanking everyone with whom he had worked for their help and co-operation, and especially his wife.
<![if !vml]>

<![endif]>
<![if !vml]>

<![endif]>The gift was to be devoted to the purchase of a Parker Knoll chair, he told us, and there was a special word of thanks to Miss B. M. Carter whose help all the years he had been at Childwall had been invaluable.  A cocktail-cum-tea party followed and among the gathering of friends it was specially pleasing to note the presence of the local Managers of the Westminster and Midland Banks. Mr. Foulkes entered the Bank in 1917. He served with H.M. Forces from 1918-19, afterwards serving for varying periods at Smithdown, Head Office, East, on H.O. Relief staff and at Woolton Road before his first appointment as Clerk-in-Charge at Woolton Road in 1938. He became Pro Manager at Heathfield in 1942 and Manager at Childwall Five Ways in 1946.
<![if !vml]>

<![endif]>
Images © Barclays Ref 0030-1663
<![if !vml]>

<![endif]>
<![if !vml]>

<![endif]>Many thanks to Gary Owens, who previously sent us a photograph of LIVERPOOL BOOKER AVENUE Branch following its closure in 2016, when the original Martins Bank signage had been revealed above the door.  The same thing has happened at Childwall Five Ways, which closed in 2015, and whilst it is sad to see such buildings in an "unloved" state, it is also heartening to have another direct link with the Bank's past…
<![if !vml]>

<![endif]>